CIMB Classic: Phil Mickelson eyes fourth win of 2013 as PGA Tour heads to Malaysia
Open champion Phil Mickelson is hoping to shine again when he makes his debut at this week's CIMB Classic in Malaysia.
Last Updated: 23/10/13 10:24am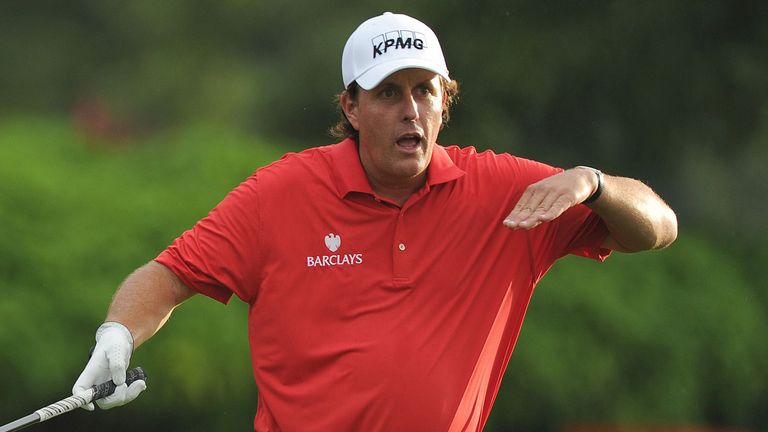 The 43-year-old will be chasing his fourth title of the year at the Kuala Lumpur Golf and Country Club in an event sanctioned by the Asian Tour and PGA Tour. It will be Asia's first FedEx Cup tournament.
World number three Mickelson, the highest ranked played in the field this week, will be up against a stellar line-up which includes fellow major champions Bubba Watson, Keegan Bradley, Ernie Els, Stewart Cink and Retief Goosen.
"I'm optimistic that I'll play well," said Mickelson. "The golf course is difficult though. The greens are not holding very well, and that's making it difficult for guys to get the ball close to the hole. I don't think the scores will be that low.
"The rough is extremely thick and difficult around the greens, and I think it's a hard test."
Having competed in the region previously, Mickelson said the Malaysian heat and humidity would not pose a problem for him.
"I don't mind the heat at all. I actually enjoy it. I feel that it's much easier on your body when it's warm like this. The muscles become looser and perform better, and I think that the golf ball performs better in warm conditions, and I think that the heat is helpful to the golfers to play well," said Mickelson.
While he plans to scale down on his schedule in the foreseeable future, the popular American said the opportunity to add to his 46 career victories drives him to compete.
Love competing
"I love what I do. I love competing. I've always been a competitive person by nature, and I love the opportunity to compete in golf at the highest level," said the five-time major champion.
"I have learned more and more each year, and this past year I've had some wonderful things happen to me that have helped me play some of my best golf.
"I've had a phenomenal putting year. I'm starting to drive the ball better than I ever have, and I'm excited about upcoming years because I'm starting to play some really good golf again."