Thailand Golf Championship: Sergio Garcia eyes first win of 2013 after moving four clear
Sergio Garcia says he needs to stay aggressive if he wants to take victory in the Thailand Golf Championship.
Last Updated: 14/12/13 1:34pm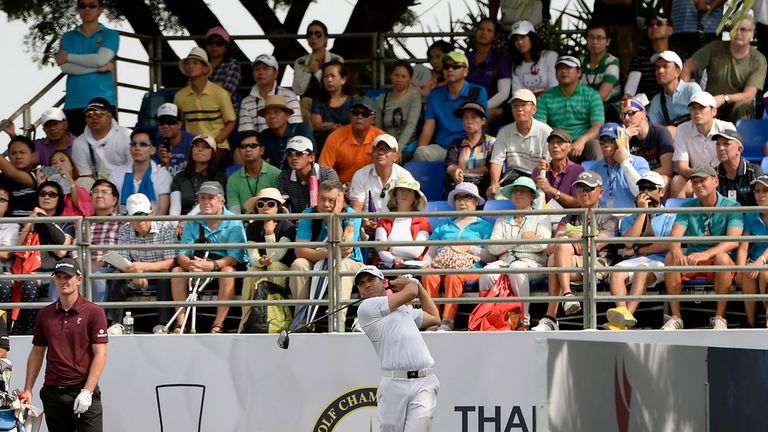 Garcia carded a second straight seven-under-par 65 on Saturday to establish a four-shot lead after the third round in Chonburi.
The Spaniard collected five of his eight birdies on the back nine, including a closing pair on 17 and 18 to cap a superb day's work.
"It was great obviously to be able to go out there and shoot 65 again," the 33-year-old said on www.asiantour.com.
"I played nicely and felt pretty comfortable. I was able to hit some really nice shots and then was able to roll two or three really good putts in and it was nice to be able to finish birdie, birdie on this difficult finishing stretch."
He will head into Sunday's final round four strokes ahead of Sweden's Henrik Stenson and India's Anirban Lahiri, who remained firmly in the hunt with rounds of 65 and 67 respectively.
England's Justin Rose, the overnight joint leader, was a shot further back after falling off the pace on Saturday with a two-under 70.
Despite his healthy advantage, Garcia acknowledged there was still plenty of work to be done at the Amata Spring Country Club.
"Not only Henrik... there're probably five or six guys who can shoot a really good number," said Garcia, whose girlfriend Katharina Boehm is acting as his caddie this week.
Do the same things
"It's going to be exciting tomorrow. I'll just try to do the same things I've been doing and stay focused, stay patient and hopefully I'll be able to play well enough to win.
"I want to try to be as aggressive as possible. I want to still try to make as many birdies as I can and, if I manage to do that, then I'm going to make it quite difficult for the rest. I think if I start getting a little defensive, then I can give them a good opportunity of catching me."
US Open champion Rose was disappointed to have dropped back, despite the only bogey of his day coming on 18.
The world number four said: "It's a frustrating sort of way to finish the round. I played better than any other day or as good as any other day.
"Sergio got ahead and a couple good birdies for him to finish. But I felt like I had the opportunity to put a good round together and to not do it is frustrating."