Jose Maria Olazabal backs Europe to overpower Asia at Royal Trophy
Jose Maria Olazabal is determined to complete a captaincy treble this week as Europe take on Asia in the Royal Trophy.
Last Updated: 20/12/13 8:57am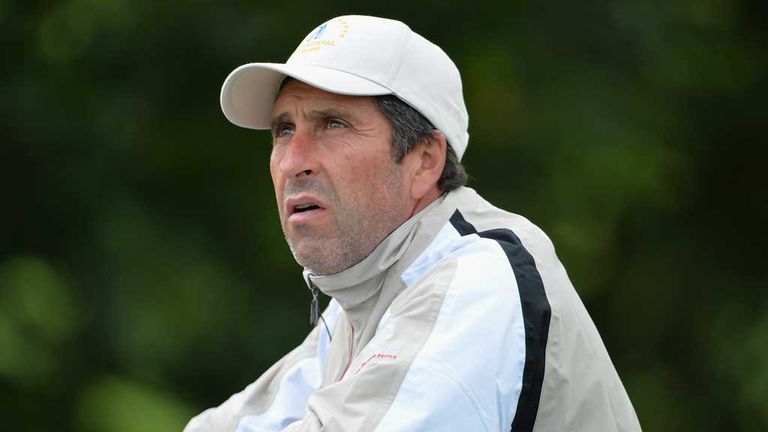 The Spaniard was at the helm for the Ryder Cup "Miracle at Medinah" last year, and he was also the winning captain in the Seve Trophy in October.
But his two stints as Royal Trophy skipper have both ended in defeat, and he has warned Asian counterpart YE Yang to expect a backlash at Dragon Lake in China.
Olazabal said: "I regard not winning the Royal Trophy so far as a blot on my record as a captain, and I serve notice to the Asian captain, YE Yang, and his players that I do not intend to allow this state of affairs to continue.
"I take the captaincy very seriously whatever the event, and the Royal Trophy is very special to me because my dear friend Seve Ballesteros asked me to take over from him as the team leader in 2009 when he became too ill to travel to Asia.
"He was a winning captain in the first two editions of the Royal Trophy of course, and if you can follow in Seve's footsteps at anything it can only be a good thing.
"To lose in a play-off last year was tough to take, but in those situations someone is always going to be overjoyed, while the opposition will have to handle bitter disappointment.
"But back home we have a saying which goes: 'third time lucky'. And in a tight corner sometimes you need that little bit of luck to go your way. So if it goes down to the wire again, maybe it will be our turn to celebrate."
Olazabal believes his big hitters will have a huge advantage at Dragon Lake, and backed the likes of Nicolas Colsaerts, Alvaro Quiros, Bernd Wiesberger and Stephen Gallacher to prosper.
But he has also solidified his team with plenty of experience, and he insisted Europe have the right balance to overcome Asia this year.
"It may look like I am putting all my eggs in one basket by going for monster hitters, but that is most definitely not the case," he said.
"I have also sought to select players with recent experience of team match play, and Paul Lawrie, Marc Warren, Nicolas Colsaerts, Stephen Gallacher, and Thorbjorn Olesen all fall into that category.
"In addition, David Howell is a two-time Ryder Cup winner while Alvaro Quiros and Bernd Wiesberger are players I believe will play in the Ryder Cup before too long.
"But at the same time, it certainly does not do any harm to have so many big hitters. If you can add accuracy to raw power, it is a great combination.
"I am told most, if not all, the par fives at Dragon Lake Golf Club will be reachable in two shots for the majority of the field.
"If that is the case I believe several of my players will be able to hit their approaches with mid-irons rather than fairway woods, and you will always have a better chance of making birdie or eagle that way.
"I think we could see some spectacular scoring this week, and I am confident I have a team full of players who are very capable of shooting low scores.
"I genuinely hope that both teams serve up a real birdie bonanza this week - as long as we make one or two more than the Asians, and it does not go down to another play-off.
"After Medinah and what happened in last year's dramatic Royal Trophy, I don't think my heart could take much more of it!".
Coverage of the seventh Royal Trophy starts at 6am on Sky Sports 4
Teams:
Europe: JM Olazabal (playing captain), N Colsaerts, S Gallacher, D Howell, Paul Lawrie, T Olesen, A Quiros, M Warren, B Wiesberger.
Asia: K Aphibarnrat, H Fujita, R Ishikawa, H-S Kim, K-T Kim, W-C Liang, H Matsuyama, T Jaidee, A Wu. YE Yang (non-playing captain).
Schedule:
Friday, 20 December: 4 x foursomes
Saturday, 21 December: 4 x fourballs
Sunday, 22 December: 8 x singles