Solheim Cup star Charley Hull is keen to progress further in 2014
Charley Hull may have enjoyed arguably the greatest year of her life but she is keen to progress even further in 2014.
Last Updated: 29/12/13 9:49pm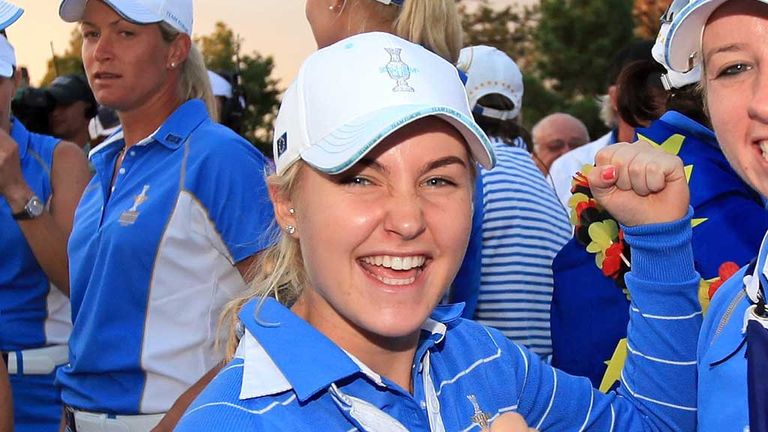 The 17-year-old from Kettering was named Ladies European Tour (LET) rookie of the year and played a key role in helping Europe win the Solheim Cup on American soil for the first time ever.
Hull became the youngest player to compete in the tournament, the women's equivalent of the Ryder Cup, beating Paula Creamer 5 & 4 in the singles.
But she has set her sights high and after finishing second in her first five tournaments since turning professional in March, she is keen to become the top-ranked player in the world during her career.
"It was a great season and I loved every minute of it. Looking back on it now, I couldn't wish for a better rookie season," she told Sportsline on Sky News.
"Beating Paula Creamer on the final day was fantastic as I have looked up to her for years. To beat one of the most famous names in golf was pretty awesome.
"I didn't feel very well when I played her but I just went out and played really well."
Hull was offered the chance to work with England Golf but opted instead to stick with her own coaching and support team, a move she feels has paid dividends.
"I was always an individual player. I've never been into big team sports, even though it was awesome in the Solheim," she added.
"Golf is an individual sport and I (would) have to have their coaches. I have done so well with the coaches I have had, so why change?
"That was the route I chose to go and it has done me pretty well."
Hull also confirmed she will look to play some tournaments on the American LPGA Tour after impressing during the Solheim Cup but has no immediate plans to move to the USA.
"I am going to play on some invites on the LPGA and then play LET as well," she said.
"I feel I am too young to go over there at the moment. I still want to enjoy going out with my friends, so I don't want to move over there yet.
"I think I have balanced it out well and you have to enjoy life."