Solheim Cup: Juli Inkster has been named as USA captain for the 2015 event in Germany
Juli Inkster has been named as USA captain for next year's Solheim Cup in Germany.
Last Updated: 19/03/14 11:40am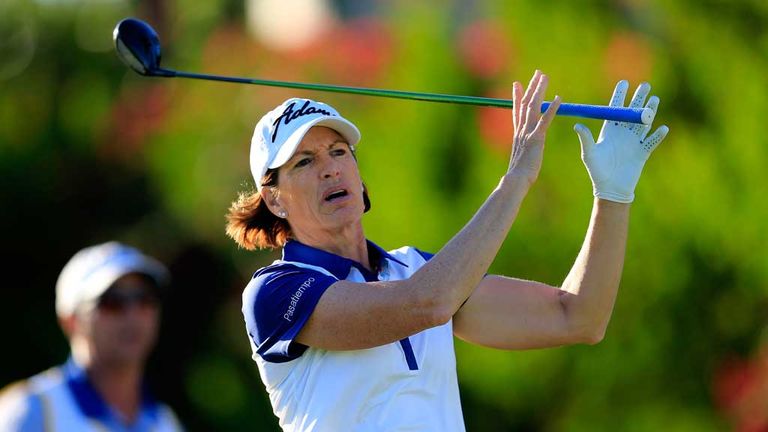 The 53-year-old holds the American record for most Solheim Cup appearances (nine), most points won (18) and most matches won (15).
Her last appearance in the event was in 2011 when Europe won 15-13 at Killeen Castle in Ireland.
Europe retained the trophy by romping to an 18-10 success in Colorado last year and will be defending the title at St Leon-Rot in Germany when Inkster takes charge.
Inkster, who will be officially introduced on Tuesday night at the JTBC Founders Cup in Phoenix - the first domestic event of the LPGA season - said: "It's not do or die. You're still going to be the same person when get on that plane and fly home, but it will be a lot more enjoyable flight if we have that cup with us.
"It's not rocket science. You just go over there and play some golf, and I think the girls just ... believe me, if they just play the way they should play, we're going to have fun, and we're going to win.
"The Europeans, they're hungry. They always seem to play their best golf as a team during Solheim Cup. And we've just got to find a way to play to match their intensity and match their golf."
Guide
Seven-time major winner Inkster, who will have her long-time friend Pat Hurst as her assistant, believes having daughters the same age as some players will help her.
"I think I kind of know where they're coming from and know what they're thinking," she said.
"Hopefully, I don't get any roll of the eyes, but you never know. But I do think it'll help. No one wants to be micromanaged, and I don't micromanage my kids, and I'm not going to micromanage the team. They know what they're doing. It's not like their first rodeo.
"I'm just going to be there to help them, guide them and lend an ear. That's pretty much what parenting is helping them make the right decision. And, hopefully, I can do that with the kids."