Sportswomen: Ex-Solheim Cup player Trish Johnson hails Royal & Ancient ballot
Trish Johnson is pleased the R&A is balloting its all-male membership over the possibility of allowing female members.
Last Updated: 01/04/14 5:38pm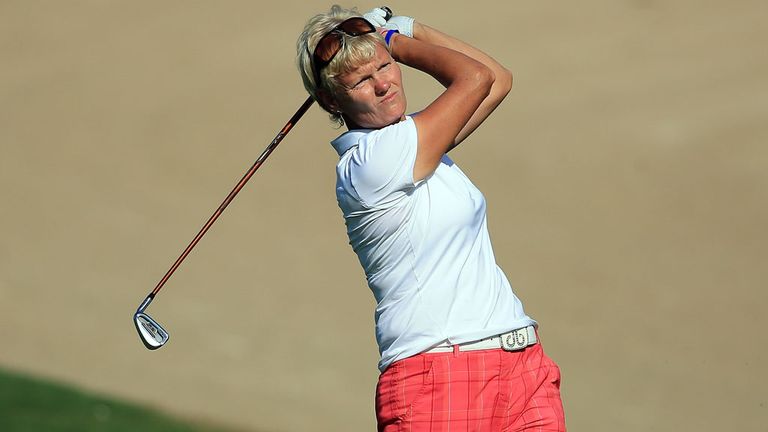 The R&A, based at St Andrews, is the world's governing body for amateur golf outside of the United States and are recommending their members vote in favour of the historic change this September.
However, speaking to Sky Sportswomen Johnson accepts it will take a lot more than a positive outcome to this initiative to boost female membership at clubs across the country.
The number of women members in the UK has fallen dramatically in recent years and, of the 254 clubs contacted by Sky Sports during the past month, 75% have reported a decline in female membership.
Shona Malcolm, the chief executive of the Ladies Golf Union, says that between 2005 and last year there was 'a drop in female membership of around 23 per-cent,' and statistics provided by the European Golf Association show England has less than half the number of female club members than in Germany.
"First of all this is a positive step in the right direction and probably predictable," said Johnson. "But credit where credit's due. It's been like that a long, long time.
"I hope they (R&A) have done their homework because if it doesn't go through, they will look ridiculous."
As for a decline in overall female membership, Johnson - a three-time winner in the United States - believes there are a number of factors for this.
"The economy doesn't help, it's expensive and for many mothers golf will not be a priority - ahead of the family," she said. "I know it sounds ridiculous but the weather doesn't help. Men are much more likely to go out and participate for four or five hours in hideous weather.
"I see it every day. Women will go out if conditions are good and the last few winters in our country have not been good. I also think golf is trendy for men. You get a lot of sports stars and celebrities like Justin Timberlake playing golf.
"But girls don't have these role models, like actresses saying 'I play golf.' There is no one they can look up to and try to emulate. They don't have sports stars playing other sports - such as Jessica Ennis - who would make it trendy for the girls to play. It is certainly an issue.
"Golf is also time-consuming and boys are more likely to go out and do it. It's also quite a lonely sport and if you want to get to the top you have to go out and do it on your own and it's more suited to males."
Johnson also says in Europe, most countries have a single federation governing golf, whether it be for men or women, amateur or professional. This is not the case in the UK which have various bodies and unions looking after separate groups.
Johnson, a winner of 18 events on the European Women's Tour and an eight-time Solheim Cup performer, added: "In Europe they have just one federation that allows progression from amateur to professional, they get grants and if they make money they pay it back.
"So they don't have to worry when they start out as pros because they have these grants. But there is no easy transition from amateur to professional in this country. We have no system in place."
And with Sport England reducing funding, this is a further blow to young talented players wishing to make golf their profession.
"That makes no sense, especially for a sport in decline," said Johnson.