The Masters: Jack Nicklaus wishes Tiger Woods a speedy recovery from back surgery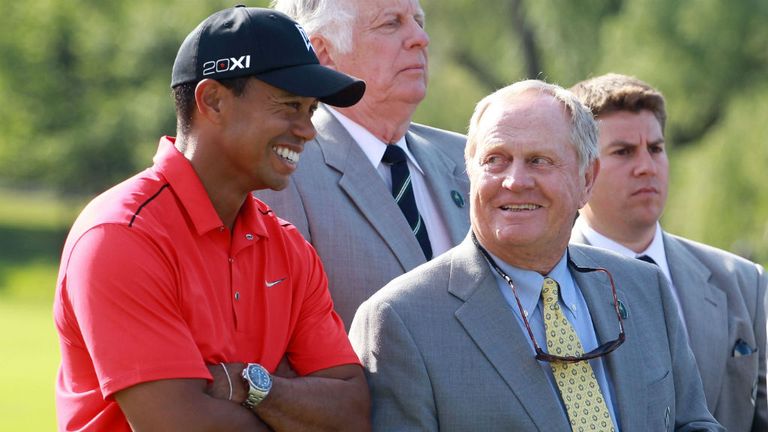 Jack Nicklaus wished Tiger Woods a speedy recovery to getting back to chasing his record of major wins after the world No 1 was ruled out of the Masters.
Woods revealed on Tuesday that he would not be able to make a 20th consecutive Masters appearance at Augusta after having back surgery.
The 38-year-old has been stuck on 14 majors since winning the 2008 US Open as he chases Nicklaus' record 18 victories, and he insisted that he would be back as strong as ever to continue his chase after his recovery.
"There are a couple [of] records by two outstanding individuals and players that I hope one day to break," said Woods.
"As I've said many times, Sam [Snead] and Jack [Nicklaus] reached their milestones over an entire career. I plan to have a lot of years left in mine."
Speedy Recovery
In a statement on his website, Nicklaus wrote: "I am sorry to hear that Tiger will miss the Masters Tournament. I know Tiger has been working very hard to return to form, and as I have said many times, Tiger has a lot of years of good golf ahead of him.
"I hate to see him robbed of some of that time by injury. But we all know he is doing what is in the best interests of his health and future. I wish him well on a speedy recovery."
Billy Payne, chairman of Augusta National, said in a statement: "Tiger was gracious in keeping us updated of his condition and making us aware of his decision.
"We wholeheartedly offered our best wishes for his immediate and long-term recovery. Tiger will be in our thoughts and will be missed by our patrons and all of us at the Masters Tournament next week.
"He is one of our most decorated champions and we look forward to his healthy return in 2015 and beyond."
Three-time Masters champion Gary Player wrote on Twitter: "My best wishes @TigerWoods for a full & quick recovery to your back surgery. We will miss you in Augusta @The--Masters."