Martin Kaymer admits he has already set his sights on securing a Ryder Cup spot
After his victory at Sawgrass, Martin Kaymer admits he has already set his sights on securing a Ryder Cup spot.
Last Updated: 12/05/14 4:13pm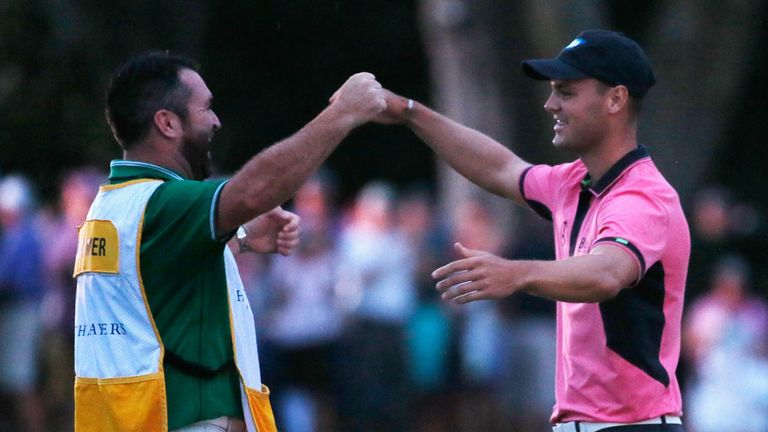 Kaymer ended a two-and-a-half-year wait for a win in brave style as he held his nerve down the stretch to complete a one-shot victory over Jim Furyk.
The highlight was a remarkable par at the iconic 17th island hole where he poured home a dramatic 30-footer to maintain his lead as darkness closed in.
His success means the former world No 1 jumps from 61st to 28th in the latest round of world rankings and is now well-placed to secure a spot in Europe's Ryder Cup side.
Having holed the crucial putt at Medinah in 2012, Kaymer acknowledged that qualifying for Paul McGinley's team had always been one of his major aims for the season.
"Once you play The Ryder Cup you always want to be there, that's the bottom line," Kaymer told reporters. "And my experience of two years ago added a little bit more of it. I just don't want to miss out on that tournament.
"Paul McGinley walked with me on Wednesday a little bit. We had a very nice chat and I think he will be a brilliant captain because as a person, the way he talks to you, he's a very respectful man who really listens to you and he wants to help.
Justified
"He wants us to feel as comfortable as possible, and hopefully I can make the team. I need to continue to play well as there is a long way to go but this week was a good start."
Having won the US PGA Championship back in 2010 and topped the world rankings the following year, Kaymer embarked on making major changes to his game that saw him struggle to maintain his exceptional consistency.
But he feels that work has now been justified and was quick to pay tribute to long-time coach Gunter Kessler.
"The belief was always there," he continued. "I knew that I could win a golf tournament again; it was not as traumatic as a lot of people made it.
"I knew I was doing the right thing, I just didn't know it would take me this long, but it did.
"It proved that everything I did, even though it took a little bit longer than expected, was all good because I work with really good people.
"My coach and I have worked together for 15, 16 years now and he's always really under the radar but he has the biggest influence of my game. He has the talent to teach really everyone, and that is for me really a world class coach."