Justin Rose is confident his career goal of becoming World No 1 is now within touching distance
Justin Rose is confident his career goal of becoming World No 1 is now within touching distance.
Last Updated: 21/05/14 4:15pm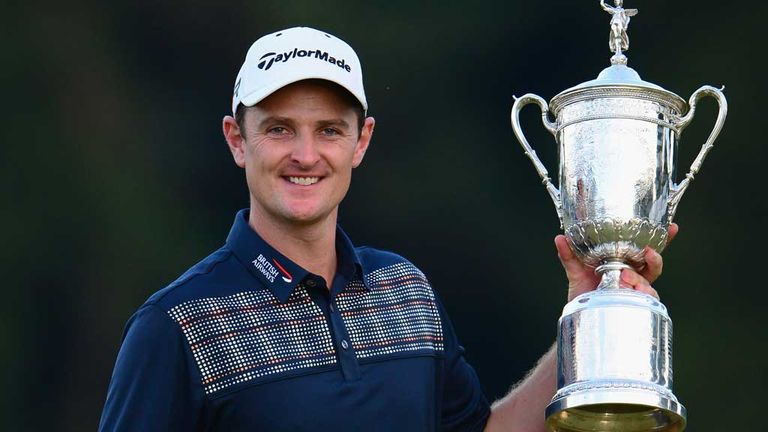 The Ryder Cup star, currently lying eighth on the list, believes the dip in form and recent injury of Tiger Woods affords him the chance of closing in on the coveted prize.
The 33-year-old, who will defend his US Open crown at Pinehurst next month, said: "Yes. It's a career goal of mine, absolutely.
"I have no timeline on that one, but I think it's more achievable now than it's ever been in the sense that I think Tiger's probably been up to an average of 15 points at some point in his career and that's an amazing amount of points to collect.
"I think right now it's about eight, so I'm around six average points. For me playing 50 tournaments, if I was to win two weeks in a row, for example the next two I'd probably be right around the world No 1.
"It's achievable and attainable in a very short amount of time for me, but also I have no time frame. I'm just focusing on week to week and winning golf tournaments, and it's a by-product of that."
Great memories
Rose, who ended his wait for a major title at Merion last year, insists he will not give up his title - or his trophy - lightly.
Speaking ahead of Wednesday's star-studded pro-am he said: "About a week or two ago I put it (the cup) on the dresser in our bedroom. I thought, we're getting to the last few weeks in our possession and I'm going to really stride and enjoy it now.
"My son Leo ate some ice cream out of it. He was the first to christen the trophy. I had not even had a drink but he had some ice cream out of it and we got some great video, I think will last a lifetime, and some great memories. It holds five bottles of champagne, just FYI.
"I've never played Pinehurst... but I had not been to Merion at this stage last year so my preparation is going to be very similar. I'm going to head up to the venue the week before, spend some time, get to know the golf course, and put a game-plan in place."
Before heading Stateside, Rose, who is 12/1 joint-favourite alongside fellow-Englishman Lee Westwood this weekend, is keen to tick off another box with victory in the European Tour's flagship event.
"It's a bucket list tournament for me as I've been saying the last couple of days," said Rose, who will accompany Westwood and defending champion Matteo Manassero in a three-ball over the first two days.
"It's a tournament I grew up watching as a kid so it's definitely special to me; the Majors, a World Golf Championships or two possibly, and I don't see a tournament I wouldn't more like to win."
Follow all four days of the BMW PGA Championship from Wentworth live on Sky Sports 4 from 10am this Thursday