US Open 2014: USGA stress they're clear on bunker rules at Pinehurst No 2
Last Updated: 11/06/14 9:11pm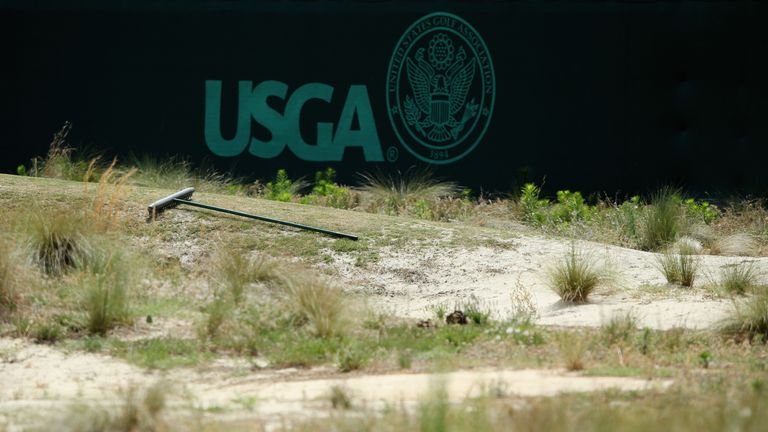 Tournament officials are confident there will be no repeat of the incident which cost Dustin Johnson the chance to win a major championship in this week's US Open at Pinehurst.
Johnson's errant drive on the 72nd hole of the 2010 US PGA Championship flew into the crowd and landed in what he thought was a waste area, meaning he could ground his club.
In fact, it was in one of Whistling Strait's 1,200 bunkers and the resulting two-shot penalty dropped the American Ryder Cup player out of a play-off with Bubba Watson and eventual winner Martin Kaymer.
Pinehurst has far fewer bunkers and most of them are clearly defined, but the walking rules official with each group will be left to adjudicate in the event of any uncertainties.
European Tour chief referee John Paramor told Press Association Sport he was happy with that situation as he walked around the course on Tuesday, when the first group of players he came across contained Luke Donald, Keegan Bradley, Chris Doak and, coincidentally, Dustin Johnson.
Speaking on Wednesday, USGA executive director Mike Davis said: "The way we explain it to the players and certainly our own rules officials is that the bunkers, really by definition, are hollows and they contain sand.
"That's what you have out there and balls are almost always going to roll to the bottom.
Walking rules official
"But where there's maybe any question about, am I in a bunker or am I through the green, we will have a walking rules official with every group, just like we have since 1991 at every US Open, and they will make a decision.
"If it's so close you'd say I'm not sure, because somebody raked this further than maybe it should have gone, we've told our rules officials to treat it as a hazard, which basically means you can't ground your club or remove a loose impediment that's within the bunker.
"We don't think it's going to be an issue this week. We don't have any bunkers outside the rope lines, so we won't have spectators walking through them. We feel good about the situation."
One area of concern is the ninth green, which has been proving particularly difficult to hit due to its small size and undulating putting surface, especially when played from the back tee 191 yards away.
Rory McIlroy admitted he was struggling to keep an eight-iron approach on the green and tournament officials are likely to move the tee forward in order to avoid a repeat of the final round at Shinnecock Hills in 2004, when a combination of extremely dry conditions, fast greens and a questionable pin position led to a stoppage of play while the seventh green was watered.