US Open: Martin Kaymer happy to birdie the last to hold five-shot lead at Pinehurst
Last Updated: 15/06/14 11:20am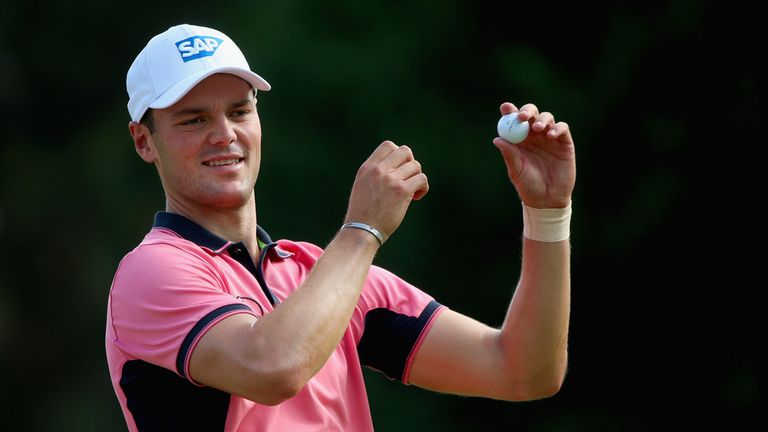 Martin Kaymer felt he "kept it together" during the third round of the US Open after maintaining a healthy cushion at the top of the leaderboard.
The German had built up a six-shot lead after back-to-back 65s but found the Pinehurst course much tougher on Saturday, signing for a two-over 72.
It could have been much worse, though, had it not been for a stunning eagle on the fifth and a birdie from six feet on the last, that putt on the final green meaning he sits five clear at the summit.
"It was good," said Kaymer. "I didn't play as good as the first two days, but I kept it together very well.
"I felt like today if you have 25 feet or 30 feet on every green, you've done well. The USGA put the pins in very, very tough positions. On 18 it was probably the easiest pin today and, fortunately, I could take care of it.
"I made a couple bad swings on the first nine, put myself in bad positions, but I only made bogey, which is okay. Only one birdie and one eagle, so I'm happy."
Challenge
Kaymer is seeking to claim a wire-to-wire victory in the second major of the year, just as he did at the Players Championship at Sawgrass in May.
The 2010 USPGA champion insists he will not be defensive simply because he is so far ahead, with Rickie Fowler and Erik Compton the nearest challengers after they both carded 67s.
"You could see it today. I made three bogeys the first six holes," Kaymer continued. "I didn't hit many fairways today. 
"So the challenge will be tomorrow to keep going and not try to defend anything, because if you try to defend then you're not free enough. You don't swing as free. So we'll see how it will react tomorrow, how the body feels and how I handle the situation."
Kaymer has received messages of support from compatriot Bernhard Langer, who won the 1985 and 1993 Masters.
                  
"Bernhard has sent me very nice texts already," he added. "Just hearing something from him, obviously it gives you a lot of confidence and it's really nice of him.
                  
"He doesn't have to do that, but he takes the time to send out a text and it does push me a little bit."