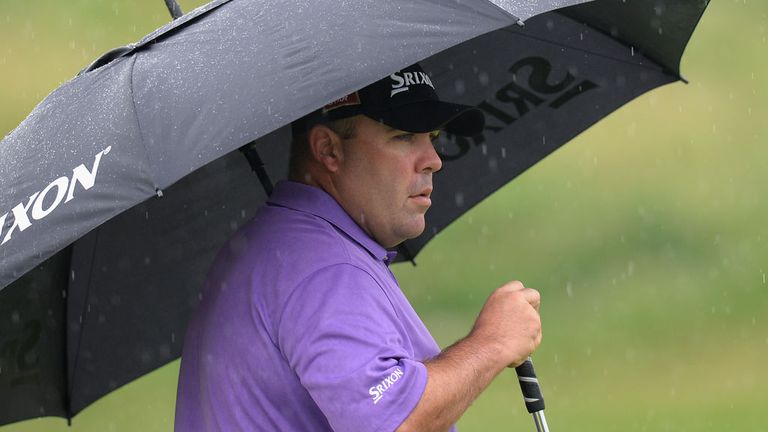 Kevin Stadler described his final round collapse in Paris as 'miserable' after throwing away a healthy lead during the final round of the French Open.
The 34-year-old American had teed-off on Sunday four strokes clear of the field at Le Golf National where he closed with a disappointing five-over-par 76 to finish in a tie-for-second.
Stadler, who reached the turn in 41, made six bogeys and a double bogey during his round that even included three birdies on the back nine.
Stadler concluded his day by missing a two-footer at the last as the tournament was won by Northern Irishman Graeme McDowell who came from eight shots back to post a 67 for a one-stroke triumph.
And Stadler, seeking a first European Tour title in eight years, admitted: "It was so miserable on the front nine today, I was practically expecting to bogey every hole.
"It was virtually impossible. Just hung in there and obviously made a couple of birdies late to have a chance.
"It was unfortunate on the last, I played a little safe second shot and I felt good over the putt, and just whiffed it unfortunately."
Stadler, who won his first PGA Tour title in Phoenix earlier this year, added: "It was tough and I drove it terrible today. If you miss the fairway, you're going to get punished out here. That's just the way it is.
"I played great for a couple of days and had tons of chances and spent all day in the knee-deep stuff today and the score showed it.
"It's very hard to lose the same tournament twice in the same day but I managed to do it. But it's been a good week overall.
"If you had given me second place coming over here I would have taken it in a heartbeat."
Champion McDowell admitted: "It's not really the way you like to win. I was ready to go for the play-off but I'll take it and run.
"I really needed this victory. It's a special one for me. It's pretty timely. There's a busy summer ahead."