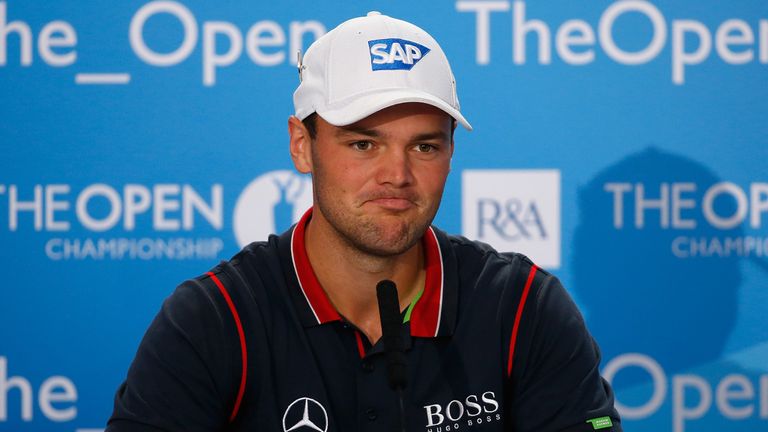 German Martin Kaymer has been inspired by his country's World Cup triumph in Brazil as he bids to maintain his fine run of form at this week's Open Championship.
Kaymer has played some of the best golf of his career this year having topped victory in the Players Championship with an emphatic win at last month's US Open.
Now, just days after Germany beat Argentina in the World Cup final in Rio, Kaymer is looking for more major success at Royal Liverpool.
Kaymer said: "I was very, very proud to be a German athlete, and not because of my own success.
"The win is one thing, that they won the World Cup, but it was also the way they played and the way they were acting after all those wins.
"They kept going and they had so much belief. The people were behind them and then you see a whole country changing. It was so nice to see what sport can do to you.
"They didn't have only one star on the team. At the end of the day there were probably 15 or 16 great players. They all kept it together and they fought for one team.
"All the values that we live for in Germany, they played football that way.
"So it's a great inspiration for me as an athlete and I hope for a lot of the people in Germany."
Minority sport
Kaymer, 29, hopes that his own achievements have started to make an impression in a land where golf is a minority sport.
He said: "After I won the US Open, Thomas Muller had an interview, and one of the first things that he said was, 'It was a very nice way to start the World Cup, because Martin Kaymer won the US Open'.
"What he did was very helpful and was very nice, even though he just said it because he wanted to say it, not because he wanted to make me feel good or wanted to bring golf closer to the Germans.
"But there was definitely more response and I have noticed a lot that now every time I leave my house people recognise me. It wasn't like this before the US Open."
Kaymer, who also won the USPGA Championship in 2010, is now chasing a third major title and, for him, victory at Royal Liverpool would top the lot.
He said: "Obviously the motivation is very high to keep going. The Open was probably the major that I always wanted to win in my career.
"I was not really planning on winning the PGA or the US Open because, for us being Europeans, it would be quite nice to have such big success on your own continent."