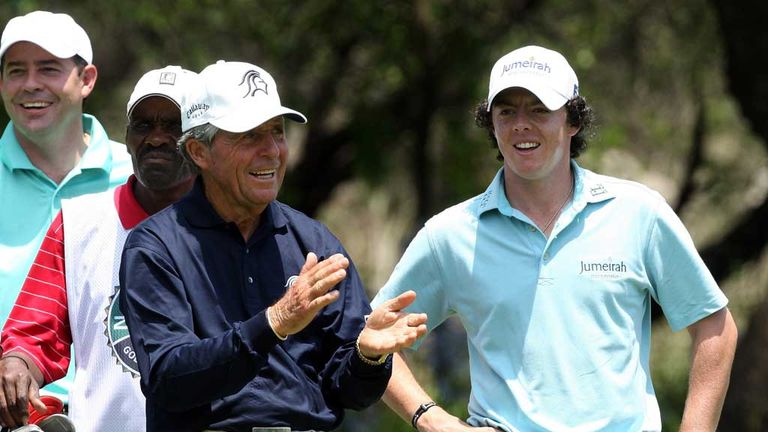 South African legend Gary Player has paid tribute to Rory McIlroy following the Northern Irishman's Open Championship success at Royal Liverpool on Sunday.
McIlroy's victory took his Major haul to three – following his 2011 US Open and 2012 PGA Championship triumphs – and nine-time Major winner Player expects the 25-year-old to add to that tally in the future with a Masters victory to complete the Grand Slam.
Player, 78, told Sky Sports News: "He is unbelievably talented. We know what a great golfer he is, but I think what surpasses that is his manners. He is well mannered, liked by everybody, had a great upbringing and we couldn't have a greater champion.
"I said long ago he'll be the next man to win a Grand Slam. The Masters is ideally suited to him. He has so much talent.
"I just hope he stays away from all the different coaches who have different ideas. That's not to say they're not right, but he's got to stick to his natural tendencies. I'm sure he's got a good coach, so stick with him and we're going to see some amazing things happen.
Focus
"Tiger (Woods) is not finished. He is one of the most focused and is the most talented man I have ever seen, but Rory is not far behind. I expect great things from Rory.
"I think he will complete the Grand Slam in the next two years. It's all about how you focus, how you work on your mind."
McIlroy will be a key member of the European team for the Ryder Cup at Gleneagles later this year and Player expects Tiger Woods to be in the United States team for a close-fought battle.
"At this stage I'd put it as a tie. You could spin a coin," said Player.
"They've chosen a course that is not typically British. It always boils down to which side holes the putts at the right time. The putter is the master of golf. 
"Without a question you can't leave Tiger Woods out. When he gets on a golf course, he's a different kind of a machine, you've got to have him in your team, no question.
"I don't care how badly he's playing before the event. Golf is a strange game. It can change overnight. The night before I won the Open at Carnoustie I was playing bad golf, but I went on the practice tee and found something and won the tournament."