US PGA Championship: Jason Dufner to defy neck problem to play at Valhalla
Last Updated: 07/08/14 12:02am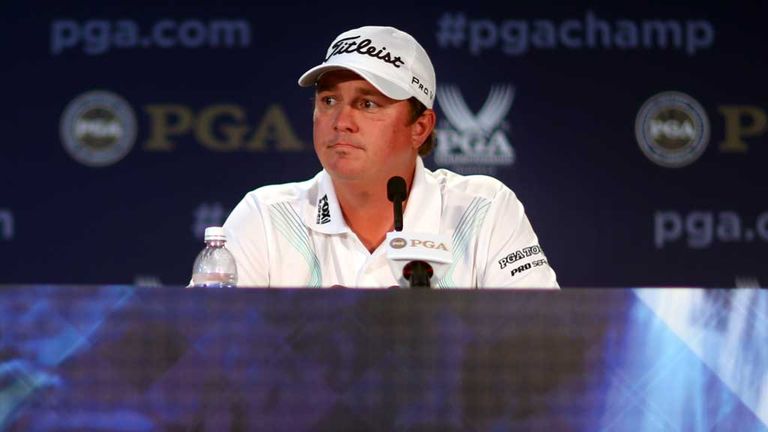 Jason Dufner is set to defy a neck problem in order to defend his US PGA Championship title at Valhalla this week.
The 37-year-old American had an epidural last week to ease the pain caused by two bulging discs in his neck and admits he needs to take up to two months off.
However, Dufner knows his Ryder Cup place is not secure as he currently lies eighth in the standings with the top nine on Sunday evening qualifying automatically for Tom Watson's US team for Gleneagles.
"I'm probably not going to be healthy until I can take six to eight weeks off," said Dufner. "I'm not sure when that's going to be but I'll get through it.
"I'm hoping this week I'll be able to feel a little bit better, get through 72 holes. Defending my title is pretty important to me and being on the Ryder Cup. I'm right on the edge of those points and there's a lot of points this week.
"I'm not going to qualify if I don't make some points this week. I seriously doubt I would be a captain's selection with an injury if I didn't play so I kind of need to suck it up and make some points and try and get healthy.
Healthy
"I think if I were to make the team after this week, I think I could be healthy by the time the Ryder Cup rolls around."
That could mean skipping all four FedEx Cup play-off events but Dufner added: "Mr Watson may feel uncomfortable, but I would not feel uncomfortable taking the play-offs off if I needed to and coming in trying to be healthy and participate in the Ryder Cup.
"There's been many times where I've taken a four or five-week absence from tournament play and come in and felt comfortable with my game."
Dufner can also see at least one benefit from his current situation, adding: "To be honest, it's kind of a blessing. I need to take a serious look at my health and maybe make a better effort to be in better shape, because if you don't have your health out here, as you see with a pretty prominent player (Tiger Woods) and myself, it's pretty hard to be competitive out here."