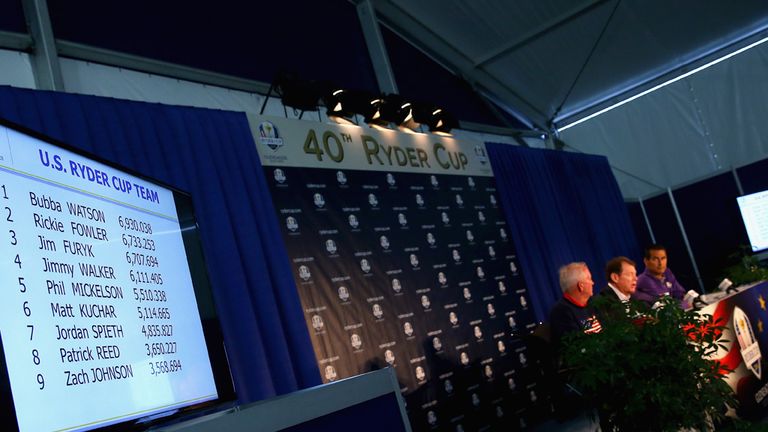 Captain Tom Watson is hoping Keegan Bradley will be 'America's Ian Poulter' in their Ryder Cup showdown with Europe this month.
Watson named Bradley, Hunter Mahan and Webb Simpson as his three wildcard picks for this month's showdown with Europe at Gleneagles.
And Watson believes Bradley could play a similar role to one of McGinley's wildcard picks.
"Keegan Bradley could be our Ian Poulter," he said. "He's a wonderful man. He's got the kind of desire which I think will help carry our team in a big way.
"He is a bad weather player. He takes his rain suit wherever he goes. He was a competitive skier at high school and plays a bit like Henrik Stenson."
Bradley won all three of his matches with Phil Mickelson at Medinah, his only defeat coming to Rory McIlroy in the singles.
Crazy
And Bradley admitted he would have been devastated to miss out.
"We play all year for all this money and all this fame and amazing trophies, the history," he told Sky Sports News HQ. "But the Ryder Cup has such a force to it. It is unexplainable. To be a part of that team, to be in the team room, to have a captain like Tom Watson…it's something that can't be put into words.
"A big majority of the team were in Chicago last year. To think I wouldn't have a chance to have a say in what happens in Scotland would have been tough. The Ryder Cup has this pull – it can make you do some crazy things. It's an amazing event."
Watson's announcement came 12 hours after Europe counterpart Paul McGinley named Stephen Gallacher, Poulter and Lee Westwood as his three wildcards, which meant no place for former world No 1 Luke Donald.
Watson admits he did not relish the prospect of telling players they had missed out on selection.
"I couldn't be happier with the three players," Watson told Sky Sports News HQ. "But the problem with having three picks is you have to eliminate some others that were in strong consideration.
"I know my counterpart Paul McGinley has had that phone call with Luke Donald. I had that phone call with Bill Haas and Chris Kirk who just won (the Deutsche Bank Championship). Those are hard phone calls to make.
"One thing I did think about was form in the Ryder Cup. Hunter and Keegan have winning records. Webb has a 50-50 record. I think that's important that they have a taste of victory, that they have an understanding of what it's like to go out there and get it done, and win.
"That is one of those factors that I used in picking those three players."
Redemption
Mahan was thrilled to make the cut, having been on the wrong end of the Miracle of Medinah.
"Redemption is going to be a strong word amongst the players," he said. "Europe has pretty much kicked our butt the last two times. Everyone is going to work extremely hard over the next 24 days to get ready for it.
"We are extremely motivated. We have a lot to prove. We can't wait to get over and go to work, put on the uniform and see the flags everywhere. We have a tough challenge but we have a lot to prove. Get ready for battle."
And Simpson admitted he could hardly contain himself when he took the call from Watson.
"It was one of the greatest calls I've ever had," he said. "There were so many guys who were in the mix to be picked. I didn't sleep much last night. I got a call early this morning. Captain Watson was calling me. He asked me what I thought I brought to the team. We had a good conversation and he told me I was a pick. I was elated. I was pretty pumped up."
Watch all the action live on Sky Sports' dedicated Ryder Cup channel - the build up starts on September 18 ahead of the first day's play on September 26.