A done deal?
Matt Cooper reflects on a day that saw most of the field struggle, but one man thrive, in the wind at Wentworth
Last Updated: 27/05/11 7:17am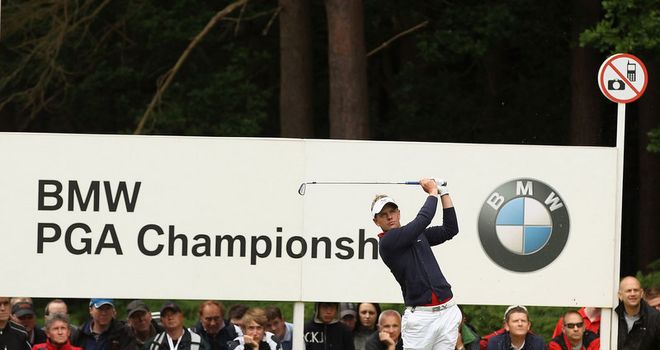 Asked what it felt like to shoot a sparkling seven-under-par 64 on day one of the BMW PGA Championship, Luke Donald said: "I guess a little bit invincible."
Donald might have been reticent about how invincible was (and is), but many others weren't. Plenty of voices could be heard suggesting (already! on day one) that the tournament is "his to lose". Meanwhile the bookmakers slashed his price to 6-4 and, if you think that is an unnecessarily low quote, consider this: in recent weeks Donald has consistently been their greatest liability - punters love to back him, almost regardless of price, so confident are they of his ability.
But in the cool light of day (something we didn't see much of in the early evening, with the clouds scuttling over the Surrey skyline), is Donald really worthy of such a price, one that suggests he would win four times if this situation was played out on ten occasions?
The tournament stats suggest otherwise: the last man to lead in every round of the PGA Championship was Nick Faldo in 1989 and not one of the last 15 winners of the title led after 18 holes.
Donald himself has led at this stage of an event seven times and he has won just the once - in the Madrid Masters this time last year. Leading after 18 holes and still leading the tournament 54 holes later is mentally tough - 58 players have held the first round lead on the PGA and European Tours this year and only five have completed the job.
6-4 looks a less and less accurate reflection of his chances of winning.
None of which is to suggest that Donald cannot win. He might well do, but to pretend that the job is close to done is a bit foolish. It also adds pressure - if Donald doesn't win it will be another opportunity wasted.
What would make more sense is to celebrate a fine round of golf that has put him in a great position to continue contending. Donald said afterwards, "It was probably one of the best rounds I've ever played. It was tough out there, with the wind swirling, and it's not the easiest course in the best of conditions.
"To have total control of the golf ball doesn't happen very often but that's how I felt today. I had a lot of good feelings and not much negativity.
"That's rare. I'm obviously high on confidence and the swing is good. In these conditions I had to commit to every shot and I did."
The conditions that the players faced today were extreme. Scott Drummond's family thought it was easily the worst they had witnessed since his victory in 2004. The wind was variable in every possible way - it changed direction, it changed in intensity and sometimes it fooled the players by disappearing altogether.
Johan Edfors hit a superb five-under-par round of 66 (not the first time he has thrived in mucky weather; he was magnificent when getting the worst end of the draw at the 2009 Irish Open) and said afterwards: "I must have had my rain jacket on 15 times today. We had nice spells, big gusts and then pouring rain; it was tough."
Soren Kjeldsen has played well at Wentworth in the past but he struggled in the rain and wind, shooting a five-over-par 76 and then marvelled at Luke Donald's score. Kjeldsen felt that even his A game would have reaped no better than three-under-par so was astonished by Donald's 64.
Donald's playing partner Graeme McDowell indicated that although the weather conditions will continue to play a part this week, no-one should overlook the state of the ground either.
"The place is so firm," he said. "It's just so hard to get the ball close to the hole. It's unbelievable - the greens are firmer than the fairways. Playing into the wind is tough, but holding greens when playing downwind is even tougher."
The greens have been a talking point at Wentworth in the past. Padraig Harrington, Ian Poulter and Retief Goosen have all been vocal critics of the old putting surfaces, and the South African might have his doubts about the new ones if his missed putt on the first green was anything to go by. He eventually carded a three-over-par 74.
One man, however, seems quite content on the putting surface and was more than happy to admit it. Unusually that man was Johan Edfors, usually a long-hitting, greens in regulation freak who misses more putts than he makes.
Perhaps he has found the key though. "I have a new putter this week," he said. "It's a new Odyssey with a two-thumb grip. It worked really well. If I keep putting like I did today, I'll be really dangerous."
Also displaying quiet confidence is Italy's remarkable teenager Matteo Manassero, who has a simple strategy: "Putting is not easy but if you put the ball in play, you've done 50% of the job.
He is also happy with his position in the field: "It's good to be near the top of the leaderboard - that's where you want to be." It is where players want to be, but they also know that the tournament won't be won until the final round - and probably the final holes of the final round.
Between now and then we have more rain and more wind forecast. Whoever wins this week will have earned the trophy.