US Women's Open
Matt Cooper with the lowdown on this week's US Women's Open field at The Broadmoor.
Last Updated: 06/07/11 3:30pm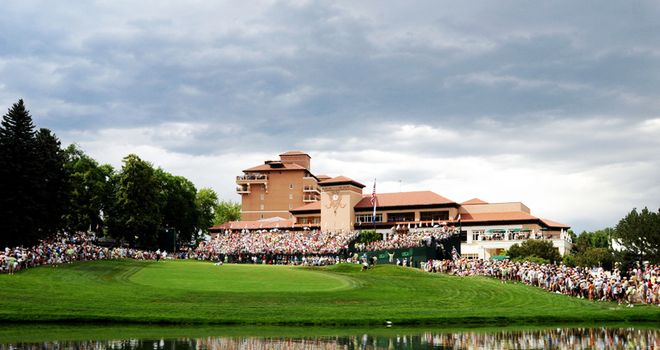 Last year
Paula Creamer defied a thumb injury to claim her maiden major title. The Pink Panther had missed a big chunk of the season after an operation and was still in pain as she teed it up, but the old adage 'Beware the injured golfer' was never more apt as she trounced the field by four shots on a brutal Oakmont layout.
Creamer ended the week on three-under-par, the only golfer in the field to end the week in red figures. Na Yeon Choi charged through the field on the final day with a superb 66 to tie Norway's Suzann Pettersen in second.
The other big story of the week was the top ten finish of the then 15-year-old Lexi Thompson who, two weeks later, finished runner-up at the Evian Masters.
This year
One thing stands out in 2011: Yani Tseng has taken control of the ladies game.
Post-Lorena Ochoa's retirement the world number one ranking has been held by five different players and none looked too comfortable with the honour until Tseng reached the top spot. But whilst others got to number one largely courtesy of season-long consistency, Tseng did so by specialising in major wins. Eventually she had so many she assumed the mantle of world number one.
She now has four majors and, at 22 years of age, is the youngest man or woman to claim that total. She has won three of her last six major starts, finished runner-up in another and not finished outside the top 20 in that short sample.
Her US Open record is the weakest of the four majors, however (past performances: MC-42-MC-10). Her mentor Annika Sorenstam won ten majors, three of them US Opens, and it seems certain that Tseng will want to correct her record so far. Apart from anything else she bought Sorenstam's old house in Florida and hopes to fill the trophy cabinet with as many trophies as the Swede once did.
The other big news of 2011 is that, thus far, there has been no Korean winners on the LPGA. Blip or new trend? Veteran golf writer Ron Sirak of Golf Digest reports that the Koreans are already asking questions.
Oddly, although the trailblazing Se Ri Pak was a winner in 1998, this has never been an event the big-name Koreans have excelled in. The three other Korean winners were all shocks: Birdie Kim (2005), Inbee Park (2008) and Eun-Hee Ji (2009).
The course - Broadmoor (East), Colorado Springs
At 7,047 yards it is the longest course in US Open history but will play approximately 15% less than the true figure because the course is at an altitude of 6,400 feet (which made it America's highest course when it was first built).
Donald Ross originally designed the course and considered it one of his finest layouts. The first six and final three holes remain of his design with the nine holes in-between the result of Robert Trent Jones Senior's 1952 revamp.
A par-71, it is notable for the severity of the undulations in the greens, as a consequence of which the stimpmeter will run at 11 (it was 14 at Oakmont last year).
USGA Course Director Mike Davis says of Broadmoor's greens: "They are the hardest I have ever been around anywhere. You have the effect of the Cheyenne Mountain. Everything breaks away from the mountain. But even thought you know that, trying to do it is a different story."
The course hosted the 2008 US Senior Open when Hale Irwin said: "It's been a long time since we played a course that has greens a, this size, b, with this much contour, and c, with such an overpowering influence of the mountain."
Tom Watson reckoned, "this course is like NASCAR with the loops." And added that: "It suits someone who hits right-to-left from the tee and left-to-right with irons."
US Open Specialists
Aside from the defending champion Creamer (who hasn't finished outside the top 20 in a US Open since missing the cut on debut in 2003), there are three players whose recent record in the event will make them worth watching.
Korea's In-Kyung Kim has finished 3-3-4 in the last three US Open and is in great form (she's finished top ten in 17 of her last 25 starts). Her compatriot Na Yeon Choi has finished 9-2 in her last two US Opens, but after some superb form in 2010 and early 2011 has struggled in recent weeks.
Norway's Suzann Pettersen is another suited by the USGA challenge - she's been sixth and second in the last two years. She hasn't finished outside the top 20 in her last 12 starts and won the recent Sybase Matchplay Championship. It is also worth noting that eight of her last 14 major starts in the US have reaped a top five finish, including one win.
Interestingly all three also have good records in Mexico, on courses at altitude - one of key factors this week.
Form players
Brittany Lincicome won the ShopRite LPGA Classic last month and followed that up with a third place finished the week after. What makes Lincicome interesting is that she likes and understands the challenge of a major.
Two years ago she told me that her length from the tee and strength hitting from rough was an advantage on long course with thick rough - an argument few have appreciated in recent years.
She also has some unfinished business with the event having led the field after 54 holes in 2006, only to shoot a final round 78 and finish seventh.
Not many can match Cristie Kerr's current consistency: four of her last five starts reaped top three finishes. She also has a great US Open record - she's finished first, second, third and fourth, and hasn't finished worse than 32nd in her last 11 starts.
Solheim thoughts
The next four weeks will be crucial for those players seeking to make the Solheim Cup. Big qualification points are on offer this week and in the Evian Masters and Ricoh Women's British Open that follow.
Team USA looks pretty settled with the top eight in the rankings (ten qualify plus two captain's picks) already looking safe. They are Cristie Kerr, Morgan Pressel, Stacy Lewis, Paula Creamer, Michelle Wie, Angela Stanford, Brittany Lincicome and Brittany Lang. Solheim veterans Christina Kim, Kristy McPherson and Natalie Gulbis will want a good few weeks, as will possible debutants Vicky Hurst, Katie Futcher and Amanda Blumenherst.
The European team will be made up of four players from a European points list, four from a world rankings points list and four captain's picks. In the Euro list Laura Davies, Mel Reid and Christel Boeljon look on course to make the team with the fourth spot currently held by Virginie Lagoutte-Clement. It does looks inevitable, however, that she will be hunted down by either Diana Luna, Becky Brewerton or the two-time 2011 winner (and rookie) Caroline Hedwall.
In an added complication Suzann Pettersen and Sandra Gal will not have played enough events to qualify via the world list so will require captain's picks. From that list Anna Nordqvist, Maria Hjorth and Catriona Matthew are in good shape to qualify and Solheim veteran and Ireland expert Sophie Gustafson is currently next in line.
Behind her are Aza Munoz, Bea Recari and Karen Stupples who need to overtake Gustafson to guarantee a start - or impress the captain - in the next few weeks.