Golf comes to you!
Simulator Golf is indoor golf with a twist. It's a mobile system that can be set up in your own office!
By Dave Tindall
Last Updated: 11/06/12 10:58am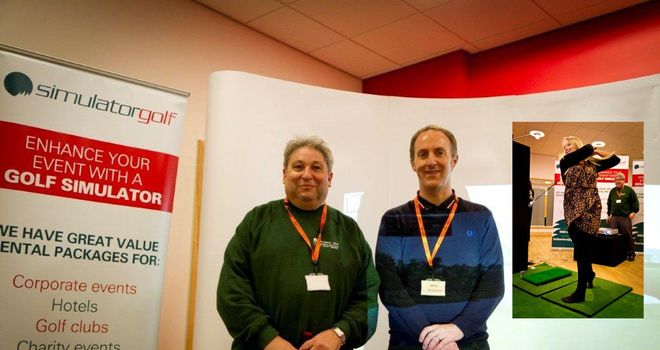 A visit to an indoor golf centre always makes for a fun social occasion - especially in the winter when only the diehards are willing to brave the elements outdoors.
But trying to coral and co-ordinate a big group can have its problems. Will everyone turn up on time? How many will reveal a last-minute prior engagement on the night and will the non-golfers, who promised to give it a go, let self-doubt get the better of them and make up a last-minute excuse?
But what if the simulator came to you? What if the room where you usually hold dreary work meetings turned into a place where you could play some of the most iconic holes in golf.
That's the idea of golf-loving accountant Leslie Eriera, the owner of Simulator Golf, the only mobile system in the UK.
Intrigued by the idea, I arranged for Leslie to turn up at Sky Sports HQ in London.
With the system needing just 4 x 4 metres of space and a minimum ceiling height of 2.35m, there are numerous places where Leslie can set up but we opt to sneak between Zumba classes and head to the gym.
Set-up time is about an hour but with Leslie taking care of that, all we need is the signal that it's ready to go.
The first wave of contestants are the Sky Sports golf team and the game of choice is nearest the pin, the 10th green at Celtic Manor being our chosen target.
In other simulators I've used, the technology works by you smashing a golf ball at a screen.
Simulator Golf uses a golf ball on a wire which you hit but stays attached (well, most times!). The ball is there more as a visual aid as the reading is actually taken by the club passing a sensor.
It feels a little odd at first but after a few goes it's easy for your brain to move from watching club hit real ball on a wire to watching computer-generated ball on a screen hopefully tracking towards the green.
Producer David Randall is first to hit and manages to find the green and land one 40 feet from the pin after a few goes.
The fun really starts
Once a mark has been set the fun really starts. Before you know it a spontaneous mix of encouragement, goading and pantomime boos and cheers erupt from the watching crowd who are itching to try and set a new best themselves.
If you work in sport, there's always bound to a competitive edge not too far below the surface and assisant producer Steph Evans looks like she means business as she steps up to the tee.
After a couple of wild ones, she puts her eight iron (Leslie brings along a range of clubs) to 18 feet and we have a new leader.
The rest of the Sky Sports golf team can't better it and Steph's mark looks like winning the day.
Until I manage to beat it.
Although I better explain.
Up to this point I've been a noisy spectator but when the busy golf crew return to work, I have the simulator all to myself.
Of course, I could just have a few shots and then step aside and have a chat until the next wave of participants turn up in 30 minutes' time.
But no. I'm going to beat Steph's mark if it kills me and I spend the next half hour thrashing away like a maniac. I get one to 30 feet then 20 but still it's not enough. Boy, this is addictive. Finally I strike one just right. It looks great in the air, plops down on the green and rolls to 10 feet. Get in!
Of course, I'm immediately texting Steph who, as you might expect, wants photographic evidence!
Soon after, some of the Skysports.com team turn up and finally remove me from the tee and once again the banter is flying straight away.
Whether it's a party, a corporate event, a trade show or just something to boost office morale, this is a great way of having some fun.
And it proves that the best way of getting people golfing is not to try and sell the game to them and hope they go out and play.
No, it's actually bringing the game to them!
* For more information: Tel: 0208 501 3991 or e-mail: leslieeriera@gmail.com