Ping i20 review
David Keywood, a one handicapper, tests out the new i20 range from Ping and is mightly impressed.
Last Updated: 20/01/12 9:44am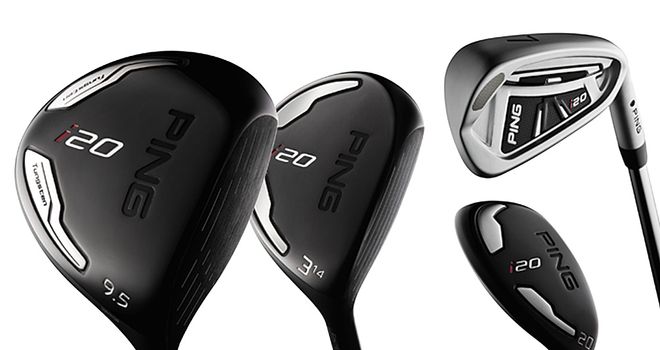 Lee Westwood released a picture of the new Ping i20 irons on Twitter back in December and since then the buzz surrounding the new range has grown and grown.
I'll admit, I've always used forged clubs in the past and being a typical Yorkshireman I really don't like change. However, when I saw the Westwood photo and then got the clubs in my hands I couldn't wait to get to the range.
Irons
The Ping i20 irons are a multi-material progressive set with the longer irons having slightly larger heads. I found when hitting these I got a lot more height and a lot more distance than I'm used to. I quicky realised it was no surprise that these irons won the 'Editor's Choice' award in the 2012 Golf Digest's "Hot List".
With a low-glare satin finish and Tungsten weights in the toe the forgiveness of these irons is second to none. My first few shots were out of the toe (I hadn't picked up a club for a couple of weeks so was a little rusty) but I saw no change in ball flight or distance.
After I worked my way through PW - 4 iron it was time to get the big weapons out.
Hybrid
In the test set I received, the 3 iron had been replaced with a 20 degree hybrid. This won a gold award in the 2012 "Hot List" for look, sound and feel and I would agree with everything Golf Digest said.
They are geared towards better players who are looking for more control over ball flight, trajectory and spin. The low centre of gravity should help you get a nice high flight but in return provide a soft landing.
Fairway woods
Along with the hybrids, the fairway woods also feature a new matt-black finish; this absorbs light to allow players to be more confident at address. The shape of the head has been designed to glide through heavy grass and obtain a higher ball flight.
I thought the head on the 3-wood actually looked quite small but in comparison to my Titleist 906 I would say there isn't much difference at all. The i20 fairway woods look gorgeous. If you see one and don't get an urge to give them a go please contact me and let me know why!
In my opinion I saved the best for last.
Driver
The driver, like the fairway woods, has a matt finish - again to reduce glare - and has been designed to combine workability, forgiveness and distance.
As an avid user of Ping drivers I instantly wanted to see how this compared to previous models. I have used the i15 for the past couple of seasons but, after losing my way a bit, I've been thinking about switching. But if my mind wasn't entirely made up before, it is now!
The Ping i20 driver looks, feels and sounds gorgeous and the ball flight you get is outstanding. It's going straight in the bag.
Obviously this club won't be for everyone and for higher handicappers I would suggest the Ping G20. But, for me, the i20 driver is what I've been dreaming of and I'm convinced many better golfers will think the same.
PGA Tour star Chris DiMarco is one who wholeheartedly agrees.
Before his seasonal debut in Hawaii he tweeted: "Loving the new Ping I-20 driver and 3-wood. Definitely longer with the driver. #longhittingI-20"
DiMarco has struggled in recent seasons but, with the new clubs in his bag, he shot 70-65-70-67 to finish tied 13th.
In conclusion, I cannot talk highly enough about Ping's new range.
I fell in lust with them when I saw them and have fallen in love with them since hitting them. It's safe to say that I will be investing in a set of these sooner rather than later.
* Thanks to the staff at Rudding Park driving range in Harrogate for the use of their facilities. The short Repton Course at Rudding is a six hole, par 3 layout consisting of signature holes from some of the world's top courses. It includes a replica of the notorious 17th at Sawgrass. For more information please visit http://www.ruddingpark.co.uk/golf