Under Armour
The UK's top Winter men's apparel brand have three new products for Spring/Summer.
Last Updated: 19/03/12 6:48pm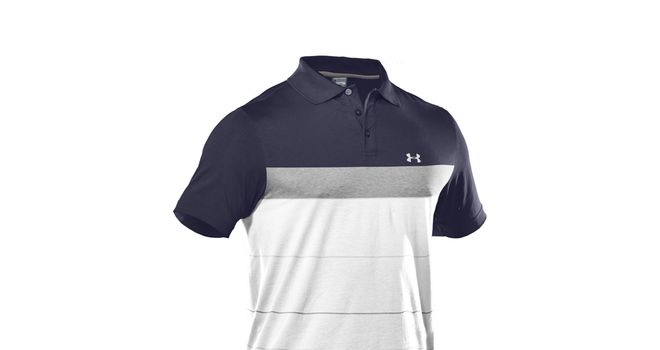 Under Armour, whose clothes are worn by PGA Tour stars Hunter Mahan and Gary Woodland, continue to go from strength to strength.
The American company, which specialises in equipping professional athletes with hi-tech and innovative sportswear, launched its golf range in the UK in 2007. And recently it was named the top winter men's apparel brand in the UK by Golf Datatech, the leading authority on golf market research.
Despite the difficult economic climate, Under Armour grew its golf business in the UK by 51% in 2011 and is confident of making further strides this year thanks to three new innovative technologies.
When Under Armour studied the Spring/Summer market they identified three distinct customers - they then set about building products that would appeal to each of those customers individually.
The results are:-
COLDBLACK - For the player looking for the next generation of performance
Under Armour looked at the developed performance polyester market and asked the question - what next?
Performance Polyester revolutionized golf apparel by providing the ability to move perspiration from the inside of the shirt to the outside and keeping the wearer feeling cooler and more comfortable. Combining this with easy care and UV protection it was clear to Under Armour that the golfer had become accustomed to these new performance benefits on course.
"They knew that we needed to maintain these key benefits - but felt they could change the whole way the shirt worked with the body. The result was ColdBlack'.
ColdBlack is a unique technology that works by blocking 60% of the suns UV rays - this reduces heat build up of the fabric leading to a significant reduction in body temperature. Extensive laboratory testing has shown that the Coldblack shirt keeps the body temperature an average of 9 Degrees Fahrenheit cooler than standard shirts when outside temperatures reach 20 degrees - reducing perspiration levels by up to 58%.
The Coldblack range will originally be launched in black and grey colours.
Notes:
* Coldblack Technology offers a minimum of UPF 30 protection.
* Visible UV Rays penetrate deep into the skin whereas invisible rays penetrate only a few mm into the skin
* Coldblack has been tested on a cylinder representative to the dimensions of a human body which is warmed through scientifically developed UV rays.
* Coldback keeps golfers cooler when the temperatures of a torso reaches 35 degrees and over. A normal body temperature is 37 degrees.
CHARGED COTTON - For those that love the comfort of cotton
Under Armour identified the clear demand from many golfers for cotton golf shirts. This was the easy bit - what they had to do next was take Cotton and make it perform (as no Under Armour product can be built unless it has performance within it).
In the words of Kevin Plank himself "cotton never made anyone better, until now".
The new Charged Cotton collection combines 95% Extra Soft Peruvian Pima Cotton with 5% Elastane for performance & recovery of shape.
To provide performance Under Armour combined each classic strand of cotton with a uniquely 'charged' strand of cotton. This creates a Push/Pull effect that transports moisture from the inside of the shirt to the outside - the result is the world's first performance cotton golf shirt that dries 5 times faster than standard cotton.
It is true that Mother Nature is often a golfer's worst enemy. Now it appears that Under Armour is giving them both a helping hand.
Notes:
* Pima Cotton Grown in the USA, Australia and Peru
* Charged Cotton available in shirts and caps to start with
* Idea of a new kind of cotton came from Under Armour's founder Kevin Plank
* Elastane is the same material used to make Spandex
CATALYST - For the player who is Eco Conscious
The third new product technology for 2011 is Catalyst. Each shirt is made completely from 4 recycled plastic bottles.
In their typical scientific approach Under Armour recycle used Water Bottles - cleaning them, crushing them into tiny strands, heating together and then cooling them down to produce a revolutionary shirt known as Catalyst. This revolutionary shirt gives golfers four way stretch movement that limits abrasion in key impact zones leaving golfers to swing freely, with total confidence and has exceptional moisture transport and UV protection.
The Catalyst shirts will be available in green, black, blue and purple to start with in turn fitting with Under Armour's mission to provide a brighter future not only for the performance of golfers, but also for the well being of the environment.
Notes:
* Bottles are cleaned and carefully selected before being used to create a shirt
* Catalyst shirts are also available for gym ware and general exercise
* Catalyst shirts are made from 100% recycled materials
* Catalyst golf polo shirts retail at £35 each
* Comes in four different fits- compression, semi fitted, fitted, loose.
* Comes in four different sizes- S,M,L, XL.
What Next?
Under Armour constantly remind us that they have yet to develop the product that defines them.
They have recently developed a multi-million dollar Innovation Centre where they have tasked some of the brightest minds in the industry to challenge convention and drive the brand's ability to improve athletes even further.
Their mission is to provide a constant stream of innovative products appear in good hands and hope to strengthen their business with their account base for many years to come.
Under Armour factfile and prices
* Under Armour's worldwide revenue 2010 $1bn
* Golfers wearing Under Armour include Hunter Mahan, Gary Woodland, Steve Marino and Richie Ramsey
* Coldblack shirts originally available in Black and Concrete Grey - retailing from £45
* Charged cotton available in 6 colours - retailing from £45
* Catalyst shirts available in 7 colours - retailing from £35
* For more information on these players or anything to do with Under Armour products please, visit www.underarmour.co.uk