Rhodes to profit
Sky Bet already have a whole host of Ryder Cup markets to bet on. John Rhodes reveals the latest.
By Dave Tindall
Last Updated: 24/09/12 5:09pm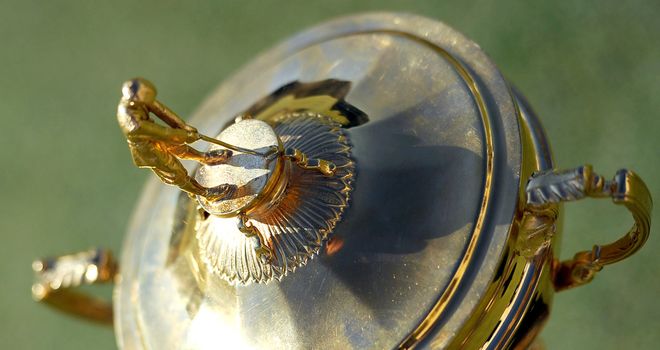 Sky Bet already have a whole host of Ryder Cup markets to bet on. John Rhodes reveals the latest
Sky Sports: Hi John, it's just over two weeks until the start of the Ryder Cup. Tell us Sky Bet's latest prices and where the punters' money is going.
John Rhodes: The current prices are 4-5 USA, 11-8 Europe and 10-1 the Tie. All the money so far has been for the USA, with little or no interest in the European side as yet.
Sky Sports: Rory McIlroy and Tiger Woods are now No.1 and No.2 in the world. I see you've got several markets which pit the two superstars.
JR: Yes, we have actually seen some money at 7-1 for the world's top two players to be pitted head-to-head in the Sunday singles at 7-1 and are now 6-1. In conjunction with that market we are 12-1 that Woods wins the match up, 14-1 Rory wins and 40-1 a tie. If you're convinced that both captains will send their biggest gun out first, this is the market for you!
Sky Sports: I expect both players are likely to be popular in their respective top scorer markets. How have you priced the two sides up and have you taken any early money?
JR: Yes, they are the most popluar so far, Rory the most of the two. For top USA points scorer we have Woods as 5-1 favourite with Mickelson and Stricker next best at 8-1. On the European side McIlroy is also the 5-1 favourite with Donald at 13-2 and Westwood/Poulter at 7-1.
Sky Sports: Many pundits believe this is going to be extremely tight and I see you've released a special market catering for a close scoreline.
JR: Yes, I've just released a special Correct Score Two Chances To Win market which covers the exact score no matter which team wins. The narrowest margin - 14.5-13.5 for either side - is a 9-2 shot, and this has been a popular final score in recent years. Either side to win 15-13 is 5/1.
Sky Sports: You love a pun and I see you've produced a couple with your markets on the two captains' wildcard picks.
JR: Yes, we have a Love Fool and a Love Sensation market up which offers odds on Davis Love's wildcard selections and how they will do in their singles matches. I have just added a "No Way Jose" market too, which is Olazabal's picks, Poulter and Colsaerts, both to lose their singles matches at odds of 7-2.
Sky Sports: Are you betting on a hole-in-one? Three of the last nine Ryder Cups have witnessed an ace (there were actually two each in 1995 and 2006) so I guess the odds shouldn't be that big?
JR: Yes, there have been six holes-in-one in total in the event's history, and we are 7-2 that it occurs this time. We also have prices on each individual player getting one too. A Tiger ace is 100/1.
Sky Sports: Any plans to release more markets and will you be doing one of your #request-a-bet sessions on Twitter?
JR: Certainly, on the week of the event I plan on doing a whole host of markets as this showpiece will really attract the punters' imagination. And with the TV times of the event (roughly 1pm to midnight) it should be really busy throughout the three days' play. We will also have a twitter request-a-bet going, probably two days before the event which starts on Friday 28th.