Remarkable rookie
Nicolas Colsaerts produced the best Ryder Cup rookie performance of all time, says Colin Montgomerie.
Last Updated: 29/09/12 9:59am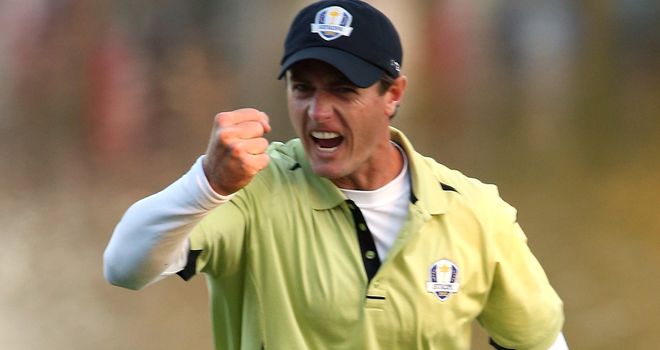 Nicolas Colsaerts produced the best Ryder Cup rookie performance of all time on Friday, Colin Montgomerie told Sky Sports.
Despite being the only debutant on the European team, the Belgian, who was one of captain Jose Maria Olazabal's wildcard picks, showed no nerves and produced a superb display on the opening afternoon to help secure Europe a vital - and their only - point in the fourballs.
After finishing the morning foursomes session 2-2, Europe slumped in the second round of the day, eventually slipping 5-3 behind - but young Colsaerts produced some much-needed sparkle.
"This was a fantastic day of golf to witness as a sports fan - but it was eight Americans against one European out there in the afternoon," said 2010 captain Montgomerie.
"That's why we lost 3-1 in the fourballs - and we were lucky to get away 3-1 to be honest.
"All credit must go to Nicolas Colsaerts; he was brilliant. That was probably the best rookie performance ever witnessed in Ryder Cup history. To be ten under par, playing against Tiger Woods, in America - hats off to him. It was a fantastic performance."
However, Monty said Europe must step up on Saturday to keep themselves in the hunt to retain their crown.
"Europe have got to regroup overnight," he said. "We cannot go into the singles down. We have to win 5-3 on Saturday - but if the Americans can do it to us, we can do it to them."
US potential
Butch Harmon was also impressed with Colsaerts - and reserved praise for the US rookies too.
"Nicolas Colsaerts made it look easy," he said. "He was phenomenal.
"However, on Friday we also discovered how good these young American guys can play. We saw some people on the US side who'd never been in the Ryder Cup be phenomenal. Keegan Bradley was unbelievable out there with Mickelson.
"The fans were also a huge part of the American spirit. The guys came out and made birdies at the start and the fans got behind them. It was some kind of day!"
Harmon believes the key for Europe is not to lose faith, despite a disappointing Friday afternoon.
"If you're a European fan you have to feel you can go out on Saturday and get 5-3 to get back in there - and that's what Ollie's going to tell his players when he gets them back in his team room.
"In terms of America, Tiger Woods isn't going to play the foursomes. To be honest I wouldn't have put him back out there in the afternoon. He played very poorly in the morning. However, he did do a phenomenal job at the end, when he had to, when Steve Stricker, who's 45 years old, was running out of gas at the end."