All in the mind
Butch Harmon says self-belief is the key to Ian Poulter's remarkable Ryder Cup exploits.
Last Updated: 30/09/12 10:25am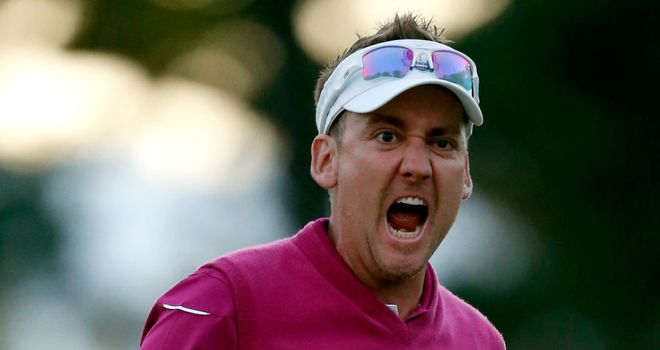 Butch Harmon says self-belief is the key to Ian Poulter's remarkable Ryder Cup exploits.
The Englishman gave Europe hope on Saturday evening with a display of superb putting to secure a point for the holders in his fourballs match alongside Rory McIlroy against USA's Jason Dufner and Zach Johnson.
Europe's celebrations after Poulter held his nerve on 18 showed how much that win meant to the team and with USA 10-6 up, there's still hope Jose Maria Olazabal's side can retain the trophy.
"It's self-belief that makes him able to do that," Harmon told Sky Sports.
"One of the things I've always loved about Ian Poulter is that people say 'he's not that great a player, he doesn't do anything special, his swing doesn't look that great, he doesn't hit it that great' but he thinks he's the best player in the world. That's why I love the guy.
"He put this whole European team on his back for those last five holes and made every single putt - and that is something special. We see this self-belief from the greats. It comes from the inside."
Colin Montgomerie said Poulter's performance had given Europe belief going into the decisive singles on Sunday.
"Ian Poulter has given us hope and renewed vigour," he said. "If there's a video to be played in the team room I'd take those last six holes - because Rory birdied 13 remember - and show the team how it can be done.
"That's the way it has to be done on Sunday by everybody going out there.
"Ian Poulter has a huge heart. It's all about belief. If you think you're going to do it you're half way there. He believes he's the best player in the world - and that's half the battle."
Doubts
Harmon believes Poulter's exploits may just have put some doubts in the minds of the American players.
"The Americans are saying 'ok, we've still got a nice lead here. All we have to do is go out and take care of business'. Well, that's what they're saying outwardly," he said.
"Inside they're thinking 'did you see what just happened? We had these matches in hand and all of a sudden here they come, they birdy the last six holes in a row, we've got to stop this now'.
"They're thinking 'we've got to come out on Sunday, load the front end of our singles with some fire power and keep some guys at the back in case we need it'.
"What we saw on Saturday was a slow afternoon before we got to the last hour, hour and 15 minutes when the whole place was alive and electric. And I think that's the way it's going to be on Sunday."