Perth stat pack
A preview and stats for this week's European Tour event - the ISPS Handa Perth International.
Last Updated: 17/10/12 8:37am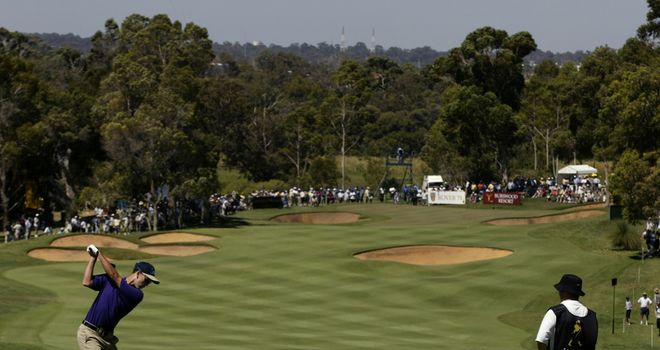 The European Tour returns to Australia for the first time in almost three years this week.
This week's ISPS Handa Perth International is being played at Lake Karrinyup Country Club, which is regarded as one of the finest courses in Western Australia.
The venue has twice staged tournaments on the European Tour, having hosted the Johnnie Walker Classics of 2002 and 2003.
Since then, over $3m has been spent on upgrading the venue, with every green and bunker rebuilt ahead of the Perth International.
So who's travelled Down Under for this week's event?
Greg Chalmers: The Aussie returns home on the back of a solid season in the United States. He finished 35th in the PGA Tour's FedEx Cup standings for 2012.
Jason Dufner: The highest ranked golfer teeing-up and now firmly established as one of the hottest talents in American golf. His most recent outing was the Ryder Cup in which he was one of only three US pros to win a final day singles.
Tommy Fleetwood: The young Briton has enjoyed some respectable performances this year and has more than enough ability to shine in what is a fairly average field.
Brett Rumford: Would love nothing more than to win on home soil this weekend. The Perth-born 35-year-old finished second behind Paul Lawrie at Gleneagles in August.
Charl Schwartzel: Has not enjoyed a vintage season by recent standards but is one of the few class acts taking part this week.
Bo Van Pelt: The American is moving in the right direction up the World Ranking. The 37-year-old enjoyed his overseas travels last autumn with a top-12 finish in China and a victory in Malaysia.
CURRENT FORM for SELECTED PLAYERS
Last Eight Weeks
Player: 1 / 2 / 3 / 4 / 5 / 6 / 7 / 8
Richard Bland: MC / - / 17 / 17 / [11] / - / MC / 37
Rohan Blizzard: - / - / [31] / - / - / - / MC / [45]
Gary Boyd: 19 / MC / MC / 5 / - / - / MC / MC
David Bransdon: - / - / - / - / - / - / - / [36]
Markus Brier: 67 / 76 / MC / MC / - / - / MC / 52
Mark Brown: - / [29] / - / - / - / - / - / [11]
Michael Campbell: MC / 14 / MC / - / - / - / 47 / 3
Alejandro Canizares: MC / MC / 37 / MC / - / - / 34 / 68
Paul Casey: - / MC / 46 / - / - / - / MC / [3]
Greg Chalmers: *9* / *39* / *16* / - / - / - / - / -
Robert Coles: 43 / 23 / 58 / 35 / - / - / MC / MC
Adam Crawford: - / - / [MC] / - / - / - / MC / [MC]
Nick Cullen: [MC] / - / [31] / - / - / - / MC / [4]
Rhys Davies: 32 / 49 / MC / MC / - / - / MC / MC
Andrew Dodt: MC / MC / MC / MC / [MC] / - / MC / 16
Jason Dufner: - / *18* / *28* / - / *20* / - / - / -
Johan Edfors: 54 / 27 / 64 / 35 / - / - / MC / 27
Darren Fichardt: MC / 19 / 26 / 66 / - / - / 29 / MC
Tommy Fleetwood: 43 / 19 / 17 / 22 / - / - / 55 / MC
Alistair Forsyth: - / - / [MC] / 66 / - / - / MC / -
Mark Foster: 26 / 64 / MC / 27 / - / - / 15 / 16
Lorenzo Gagli: MC / 34 / 17 / 27 / - / - / 34 / 12
Ignacio Garrido: MC / 71 / MC / 72 / - / - / MC / MC
Matthew Griffin: - / - / [Won] / - / - / [2] / MC / -
Emiliano Grillo: 43 / - / MC / 22 / - / - / 29 / MC
Ashley Hall: - / - / [MC] / - / - / - / 22 / [47]
Ryan Haller: - / - / [MC] / - / - / - / MC / [28]
Peter Hedblom: MC / 41 / MC / 35 / - / - / MC / 37
Michael Hendry: - / - / [MC] / - / - / - / - / [7]
David Howell: 32 / 27 / MC / 17 / - / - / 34 / 37
Mikko Illonen: MC / MC / - / 27 / - / - / 22 / 27
Scott Jamieson: 43 / MC / 4 / 27 / - / - / 34 / 12
James Kingston: - / MC / MC / MC / - / - / 47 / MC
Jason Knutzon: - / 41 / [6] / [2] / [MC] / - / [MC] / [14]
Rick Kulacz: - / - / [MC] / [46] / [65] / - / [68] / [31]
Jose Manuel Lara: 63 / 76 / MC / MC / - / - / MC / MC
Stephen Leaney: - / - / - / - / - / - / - / [25]
Craig Lee: 14 / - / 46 / MC / - / - / MC / MC
Mikael Lundberg: MC / - / MC / 17 / - / [25] / - / MC
Gareth Maybin: MC / MC / 67 / 35 / - / - / MC / MC
Edoardo Molinari: - / - / - / MC / - / - / 22 / MC
George Murray: MC / MC / MC / MC / - / - / MC / 27
Peter O'Malley: - / - / - / - / - / - / MC / [28]
Hennie Otto: - / 64 / MC / 22 / - / - / MC / 37
Gareth Paddison: - / - / [9] / - / - / - / [MC] / [16]
Craig Parry: - / - / - / - / - / - / - / -
Terry Pilkdaris: - / - / [MC] / - / - / - / MC / [19]
Kieran Pratt: - / MC / [10] / [27] / [32] / - / MC / [14]
Brett Rumford: 2 / 19 / 64 / - / - / - / 22 / -
Charl Schwartzel: *24* / *47* / *28* / - / - / - / 66 / -
Marcel Siem: 19 / 14 / - / - / - / - / MC / 68
Andre Stolz: - / - / [MC] / - / - / [33] / - / [19]
Graeme Storm: MC / 41 / 5 / 35 / - / - / 15 / MC
Scott Strange: MC / - / - / MC / - / - / - / [35]
Bo Van Pelt: *24* / *26* / *10* / - / *10* / - / - / -
Steve Webster: MC / 34 / 54 / 57 / - / - / 12 / 37
Oliver Wilson: MC / - / MC / 35 / [MC] / - / 34 / -
Matthew Zions: MC / MC / MC / MC / - / - / MC / 63
Key to how results displayed:
54 - European Tour
*54* - PGA Tour
[54] - Other event
Lake Karrinyup: Par 72; 7,143 yards
Winning Totals:
2003 - 259 (Ernie Els)
2002 - 274 (Retief Goosen)