McGladrey stat pack
A preview and stats for this week's PGA Tour event - The McGladrey Classic in Sea Island, Georgia.
Last Updated: 17/10/12 9:31am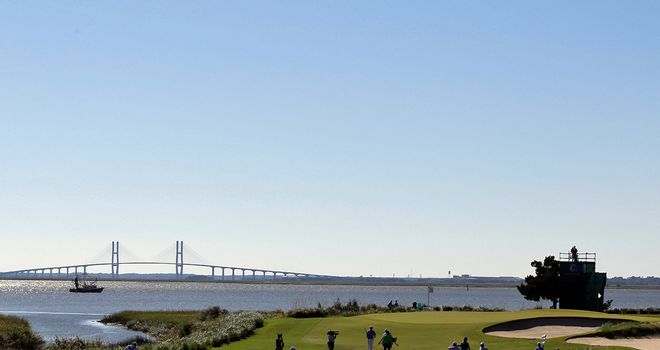 Sea Island in Georgia is the penultimate stop for this season's PGA Tour, with the third staging of The McGladrey Classic.
Although the Seaside Course on St Simons Island has been around for more than 80 years, it only made its Tour debut in 2010.
Another creation of well known architect Harry Colt - in partnership with Charles Allsion - the course was renovated 14 years ago by another famous designer, Tom Fazio.
As its name suggests, the Seaside Course is a coastal links that runs alongside the Atlantic Ocean and is at the southern tip of the island.
The layout is both flat and low-lying, and surrounded by marshland.
So who's involved this Thursday?
Brendon de Jonge: Has fashioned some decent performances this year and is now inside the world's top 100. The Zimbabwean has posted five top-12s during 2012 and in his most recent start on the PGA Tour was a runner-up in Las Vegas.
Jim Furyk: Another solid yet largely frustrating season in the States. The 42-year-old from Florida posted a tie-for-11th over the Seaside course 12 months ago.
Zach Johnson: Has a strong record in Georgia and is a two-time winner this season. At the recent Ryder Cup in Illinois he won three of his four matches - including a singles.
Jeff Overton: During the past 18 months has struggled to repeat the sort of form that made him a Ryder Cup rookie at Celtic Manor in 2010. However, last week in California he finished a creditable eighth at CordeValle.
Michael Thompson: Finished third on Sea Island last year having led thru 54 holes. Is yet to win on the PGA Tour but continues to produce some promising performances, none more so than at this season's US Open when he trailed winner Webb Simpson by just one stroke after 72 holes.
Jhonattan Vegas: Since winning on Tour in January 2011, the Venezuelan has largely travelled beneath the radar. However, showed some good form last week on the west coast where he tied-for-22nd at the Frys.com Open.
SELECTED PLAYERS with GOOD to REASONABLE FORM over SEA ISLAND's SEASIDE course
Tour History
(A previous Top-10 at Sea Island or two top-35 finishes)
Player: '10 / '11
Robert Allenby: 3 / 32
Arjun Atwal: 3 / MC
Angel Cabrera: - / 6
Ben Crane: - / Won
Joe Durant: 6 / MC
Charles Howell: 6 / 32
Jerry Kelly: 33 / 20
Nick O'Hern: - / 6
Jeff Overton: - / 6
Heath Slocum: Won / 15
Michael Thompson: - / 3
David Toms: 3 / MC
SELECTED PLAYERS with POOR to MEDIOCRE FORM over SEA ISLAND's SEASIDE course
Tour History
(No Top-40 finish in two appearances)
Player: '10 / '11
Cameron Beckman: MC / Wd
Jason Bohn: MC / 44
Brian Davis: MC / Wd
Chris DiMarco: 45 / MC
James Driscoll: 54 / MC
Robert Garrigus: MC / 69
Nathan Green: MC / MC
Tim Herron: MC / 60
Ryuji Imada: MC / MC
Matt Jones: 54 / MC
Justin Leonard: 45 / MC
Jeff Maggert: 66 / MC
Rod Pampling: MC / MC
Tim Petrovic: 45 / MC
DA Points: MC / 54
Chris Stroud: 66 / MC
Vaughn Taylor: MC / 54
Boo Weekley: MC / 44
Tim Weinhart: MC / MC
LEADING 12 STROKE AVERAGES over SEA ISLAND's SEASIDE course
(Tour History)
Average (Rounds)
67.25: Heath Slocum (8)
67.88: Robert Allenby (8)
68.00: Charles Howell (8)
68.00: David Toms (6)
68.38: Jerry Kelly (8)
68.50: Arjun Atwal (6)
68.50: Joe Durant (6)
68.63: Ben Curtis (8)
68.67: Chris Kirk (6)
68.67: John Rollins (6)
68.75: Billy Mayfair (8)
68.88: Michael Bradley (8)
68.88: Brendon de Jonge (8)
(Min. No. of Rounds = 6)
MOST TOP-10 FINISHES
In eastern seaboard states of Georgia, Florida, North Carolina & South Carolina
(Last Four Years on PGA Tour - not including Sea Island results)
Total
13: Jim Furyk
6: Zach Johnson
6: David Toms
5: Brian Davis
5: Jason Day
5: Robert Garrigus
5: Charles Howell
5: Nick O'Hern
5: Camilo Villegas
LOWEST ROUNDS at Sea Island's Seaside course
62: Charles Howell (2010)
62: Trevor Immelman (2011)
63: John Rollins (2010)
63: Jerry Kelly (2010)
63: Zack Miller (2011)
63: Webb Simpson (2011)
63: Ben Crane (2011)
64: Nine times
Sea Island (Seaside): Par 70; 7,055 yards
Winning Totals (Last Two Years):
2011 - 265 (Ben Crane)
2010 - 266 (Heath Slocum)