Chris Hanson Q&A
Ahead of Q-School Euro Stage 2, we talk to 2011 Europro Order of Merit winner Chris Hanson.
By John Rhodes
Last Updated: 06/11/12 3:12pm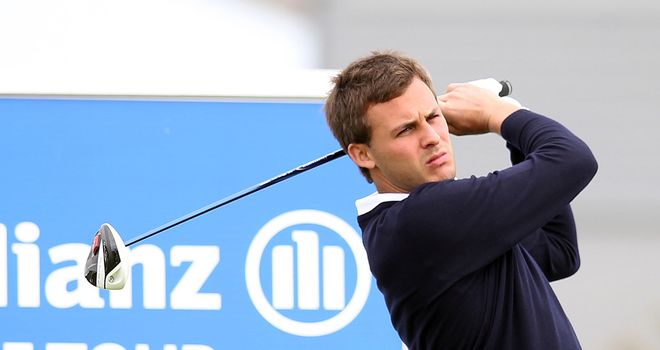 Sky Sports: After winning the 2011 Europro Tour Order Of Merit, you gained a full Challenge Tour Card for this season. It must have been a culture shock when you first event of the season was in India for the Kensville Challenge?
CH: It sure was, we landed in India in the middle of the night and had a two hour drive through the slums of the local towns in a bus that looked like it was falling to bits! The next day at the course there were homeless people washing in the pond on 18! It was a great week and sure gave me a taste of what some of the travel was going to be like.
Sky Sports: After a top 30 in India, your best event of the season came in Colombia where you led at halfway and went on to finish fourth behind fellow Englishman Phil Archer. Talk to us about your experiences that week, with such a star-studded leaderboard including former European Tour winner Nick Dougherty.
CH: To follow up India with my performance in Colombia was a massive confidence boost and set me up well for the season. It was great to be in the company of so many good golfers and past Tour players. It just makes you realise how tough this game is and the standard you have to achieve. It was another long week of travelling and it was made a lot easier with my good friend and caddy Steve on the bag all week.
Sky Sports: How have you adjusted to life on Tour this year with so much travelling to far-flung countries, compared to the English and Irish based Europro Tour you were used to?
CH: I'm not sure I have got used to it really, it's totally different and Tuesday's are long travel days as you tend to play a practice round that afternoon. So Wednesdays you're pretty tired and getting ready for you first round on the Thursday. It was a big change from the Europro Tour when you could drive home that evening after your last round and be with your family. Sometimes out on the Challenge Tour you're stuck for a day, this never helps your expenses either.
Sky Sports: What has been your favourite event of the season?
CH: It's easy to say Colombia as I played well, but aside from that event it was probably Kazakhstan, it's the Challenge Tour 'Major' and a pretty amazing place to play golf.
Sky Sports: How would you rate your season overall, and what are you looking to improve on for the end of this year and into next season?
CH: Overall.... it's been disappointing not to finish inside the top 80 after such a positive start. But my game really has not been consistent enough. You can't afford to make mistakes out there because these guys are good!
Sky Sports: In mid-season you had your first child. In the betting world many people look for the "Nappy-Factor" to kick in - some studies show that a new baby can have a very positive effect on a golfer's fortunes, giving them a new sense of priority but also an extra reason to perform well.
CH: The 'Nappy-Factor' kicked in for my first 18 holes back as I went on to lead in France but that did not last long! I'm pretty sure the 'Nappy-Factor' will kick in again pretty soon.... who knows, it's Tour School coming up!
Sky Sports: Who is the best player you have played with this season in a round, and who is the player that the golfing world should look out for next season in your opinion?
CH: Best player this year... Hmm, that's a tough one! He' s not the most impressive but I can see why Daniel Vansik has had success in the past, he's pretty confident and the longest off the tee I have seen so far!
Sky Sports: You're having to go back to European Tour Qualifying School in November to stage 2. With not getting into the final 3 Challenge Tour events of the season, is your preparation fully focused on Stage 2 now?
CH: 110% focused on Tour School now! My game is coming together nicely with some better results lately on the 1836 Tour.
Sky Sports: As a pro golfer, when you go to events, how aware are you of course characteristics and location i.e. who designed it, the differences/similarities to previous courses you may have played and whether you do well in certain areas of the world. Is it a big mental factor going back to a place you've done well before?
CH: I think you get a good confidence boost from going back to a venue you have done well at before, but I really don't know much else about the course's I play until the practice round. Maybe I should?!
Sky Sports: For 2013, obviously the goal is to get a European Tour card through Q-School. If this doesn't come off, would it be back to the Europro Tour, or are you planning on playing any other tours, in a way to get onto the European Tour?
CH: I will still have a Category on The Challenge Tour for next year, positions 81-120 get Cat 11 so hopefully that will still get me 10/12 events and maybe some invites on top of that! It only takes a couple of good weeks so you never know what will happen, I would look to pay some other Tours or mini events too, maybe further afield but I'm not sure yet! But it's 100% focus on Tour School and see where I am in six weeks' time!
* Chris Hanson was talking to John Rhodes. Check his website here.