Score with VPAR
We took a team to the VPAR golf day in Cheshire to learn more about golf's new live scoring system.
By Dave Tindall
Last Updated: 16/11/12 1:37pm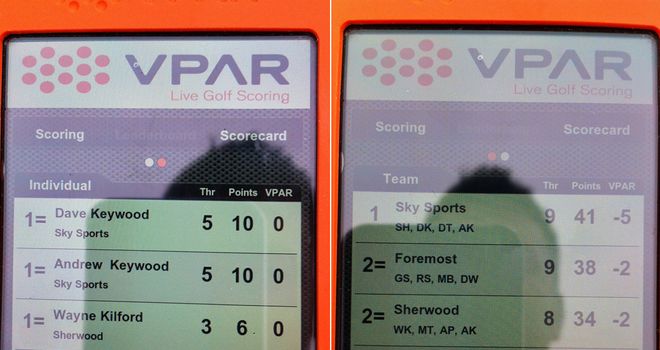 It's five holes into the VPAR challenge and we, Sky Sports, are tied for the lead at -3 in the nine-team challenge.
But how do we know this? Have we shouted scores across fairways to each other? Is there someone frantically driving a buggy between groups and updating everyone?
No. We're looking at our hand-held score pad in front us. We can even tell that two of our team - David Keywood and his Dad, Andrew - are joint leaders in the individual points race.
VPAR, as you may have worked out, is the much talked about live scoring system which provides golfers with a real-time leaderboard.
Players know exactly where they stand at any point during the round while friends and family can keep track too, either in the clubhouse or live online.
For our game at Wychwood Park in Cheshire each team has been given one of the orange score pads to monitor all the lives scores although in the future anyone with a smartphone will have access via a downloadable VPAR app.
Scoring at our fingertips
And with this instant scoring at our fingertips we spend the walks between tees (and sometimes between shots) seeing where we are.
Thanks to the Keywoods the excitement has been steadily growing. After a quiet start, we've caught the leaders and our quartet (filled out by me and VPAR co-founder Sven Hansen) are now starting to pull clear.
As we tuck into a hog-roast and a beer at the ninth (thanks Wychwood), we're three clear and cruising. We've reached the turn at -5 and are looking good for the victory.
And then it starts to go a bit wrong.
The 10th, somehow Stroke Index 18, trips us up badly. We drop two shots and Keywood Jnr is incredulous after his approach gets a plugged lie up against the lip of a bunker.
My neglected game starts to pick up a little but as the back nine progresses we can see our hopes slipping away.
By the 18th we're three shots off the lead now held by Greenhill.
"They might still bottle it," says Sven, trying to give us fresh hope.
"Doubtful," says David, "they've already played 18."
It means we're left needing a miracle but the good thing is we know we need a miracle and can actually try and pull it off.
Without VPAR we might have already presumed all hope was lost and rushed our way up the last on the way to the bar.
However, knowing a net eagle and birdie could still see us tie, we give it our best shot.
David and I actually manage birdies (mine, a net one) so almost pull it off.
As we wander off to the clubhouse, playing the classic golfers' game of 'if only', I can't help but think that knowing where we stood gave us extra focus on that last hole.
We know that victory has eluded us but, at the bar, we can see the VPAR monitor in the corner and are keeping a close eye. There are still a few groups out there and the leaderboard is pretty packed.
As they finish up on 18, the scores update and we see that we've finished in a tie for second. Not quite gold but a medal nonetheless so, all in all, not a bad performance.
One thing is for sure, we're all extremely impressed by VPAR. It's a doddle to input the scores - you simply type them in and all the calculations are worked out for you - so there's no clumsy totting up and "double check that, I think it's wrong" as you hold up the group waiting to hit into 18.
It also removes a common habit of mine, losing my pencil, whilst there's no smudging of scores due to rain.
After the round I sat down with co-founder Sven to find out more.
Interview with Sven Hansen
Sky Sports: Where did the name VPAR come from and can you explain the scoring to our readers?
Sven Hansen: VPAR stands for 'verses Par' or 'v' Par which is your score relative to Par. The majority of our initial events were stableford team events so we needed to sort the live leaderboard in a way that allowed for relative live positioning on how each team was doing compared to the other in real time. That's opposed to who has the most points at any time as historically the more holes you play, the more points you have and that's not a true reflection on who is actually the better team at any point. For example, in games where the best two scores count in each four-ball, level par for each hole is four points. So if a team is through six holes and has 25 points, they would be one better than par so effectively would be one under (-1). If a team is through 10 holes and has 39 points they would be one shot worse than par so one over (+1). Therefore live team scores could then be sorted into a column on the leaderboard and we called that column VPAR which still remains today. VPAR then became so inherent to live golf scoring that we thought it would be a good name for our business.
Sky Sports: How did the idea for VPAR come about? Was it a classic case of spotting a gap in the market?
SH: Live golf scoring is something that has been around in professional golf for many years but the infrastructure has never been scalable enough to roll out to the amateur game. Myself and the other founders of VPAR have worked together for the last 10 years providing interactive bespoke technology solutions to events. We also love golf and are quite a competitive bunch. We realised one day on the golf course that we had the technology to feed players live scores on a course through leaderboards on handsets and, as we have with other technology businesses we have founded, simply gave it a go. The rest, as they say, is history.
Sky Sports: Ian Poulter recently tweeted about a VPAR golf day in Florida. Do you have a strong presence overseas now?
SH: We currently have operations in 10 countries and the aim is to have presence in every golfing nation by 2020. Just in the last couple of months alone we have launched VPAR in Belgium, the UAE and the Caribbean and will have provided live scoring to over 550 tournaments (professional, pro-ams and amateur) across the world this year.
Sky Sports: Currently, VPAR uses special orange handsets (officially referred to as 'score pads'). Will there be an app for smartphones soon?
SH: Yes, we are currently developing an app that consumers will be able to use enabling them to use VPAR whenever they step on the course.
Sky Sports: What is the ultimate goal for VPAR? Where do you want to see it being used?
SH: VPAR's goal is simple - to become the most recognised technology company in golf. We want VPAR to provide live scoring to all levels of golf, from grass roots to the majors.