SA Open stats/bets
Key stats and best bets for this week's second Euro Tour event - the South African Open at Serengeti.
By Andrew Swales (stats) & Dave Tindall (words/bets)
Last Updated: 14/11/12 5:35pm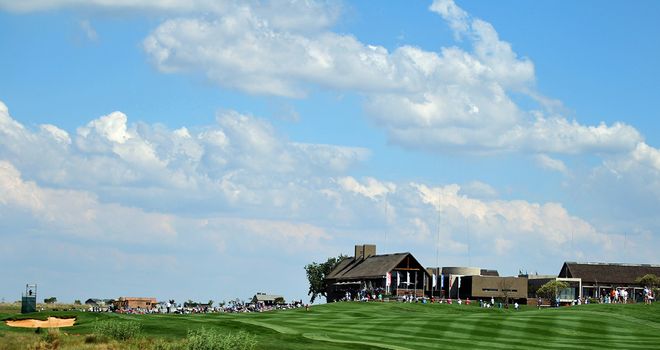 Serengeti is a three-year-old course designed by Jack Nicklaus which staged its first top level professional tournament - last year's South African Open - 12 months ago.
This week's South African Open - first held in 1903 - is one of the oldest national championships in golf.
Many of the big name South African players such as Ernie Els and Retief Goosen aren't in the field but 2011 Masters winners Charl Schartzel lines up, as does Branden Grace, a four-time winner on the European Tour this season.
Martin Kaymer, the man who holed the decisive putt at the recent Ryder Cup, is another high-class name in the field and is the 7/1 favourite with Sky Bet.
Jaco Van Zyl may be the best each-way bet at 25/1.
In his last 24 starts on home soil, the South African has won five, finished second twice, third twice and also posted eight other top 10s.
He was 10th in Singapore last week so is in good nick and came 20th in this event last year to prove he could handle the course.
Darren Fichardt is also worth an each-way punt at 50s.
He has three European Tour wins, 12 Sunshine (South Africa) Tour wins, made the top 25 here last year and closed with a 66 in Singapore last week.
GOOD to REASONABLE RECENT FORM in EUROPEAN TOUR events staged in SOUTH AFRICA
Last Eight Tournaments
(Minimum of Two Top-20 Finishes)
Player: 1 / 2 / 3 / 4 / 5 / 6 / 7 / 8
Jaco Ahlers: 42 / MC / - / MC / 9 / 14 / MC / -
Thomas Aiken: 14 / 14 / 3 / MC / 3 / 14 / 24 / 9
Richard Bland: MC / - / - / - / 13 / 18 / MC / -
Merrick Bremner: MC / MC / 66 / 20 / 20 / 47 / MC / -
Markus Brier: MC / 8 / MC / MC / 13 / MC / 52 / -
Magnus A Carlsson: MC / MC / 39 / 49 / 6 / 10 / 17 / -
George Coetzee: MC / 71 / 7 / 3 / MC / 29 / 14 / -
Carlos Del Moral: 49 / 14 / 18 / 44 / 13 / - / 63 / -
David Drysdale: 23 / MC / 13 / MC / 54 / 18 / 3 / -
Jamie Elson: MC / 51 / 4 / MC / - / 54 / 2 / -
Darren Fichardt: MC / MC / MC / 13 / 25 / 18 / 46 / -
Trevor Fisher: MC / 26 / - / 49 / 6 / MC / 3 / -
Branden Grace: 21 / 8 / 13 / MC / 9 / 14 / Won / Won
Keith Horne: MC / 21 / 20 / 44 / 13 / 62 / 60 / -
James Kingston: 14 / 26 / 7 / MC / MC / 41 / MC / -
Craig Lee: - / - / - / - / - / 8 / 17 / -
Andrew Marshall: - / 18 / 27 / - / - / 47 / 17 / -
Tyrone Mordt: 14 / MC / 33 / 64 / 20 / MC / MC / -
Garth Mulroy: 48 / - / 2 / Won / 9 / 34 / MC / 29
George Murray: 53 / MC / MC / 2 / 54 / MC / 9 / -
Shaun Norris: MC / 8 / MC / 38 / 60 / 14 / 24 / -
Hennie Otto: MC / - / 27 / 7 / Won / - / MC / 16
Lyle Rowe: MC / - / - / - / 13 / 8 / 24 / -
Neil Schietekat: 14 / 18 / 33 / 60 / MC / MC / MC / -
Charl Schwartzel: 4 / 4 / Won / - / - / - / MC / 5
Chris Swanepoel: MC / MC / MC / 66 / 13 / MC / 17 / -
Jaco Van Zyl: 27 / 4 / MC / 3 / 20 / 4 / 3 / -
Marc Warren: - / 61 / 20 / MC / - / - / 3 / -
Peter Whiteford: MC / - / - / 3 / 20 / - / - / -
Key: 1: Durban Country Club; 2: East London; 3: Royal Johannesburg & Kensington; 4: Leopard Creek; 5: Serengeti *; 6: East London; 7: Royal Johannesburg & Kensington; 8: Fancourt **
Note: * - This week's venue; ** - Small field (only 35 competitors)
POOR to MEDICORE RECENT FORM in EUROPEAN TOUR events staged in SOUTH AFRICA
Last Eight Tournaments
(No Top-40 Finishes in Three or More Starts)
Player: 1 / 2 / 3 / 4 / 5 / 6 / 7 / 8
Desvonde Botes: 53 / - / MC / MC / - / 47 / 66 / -
Matthew Carvell: - / - / MC / - / - / MC / MC / -
Neil Cheetham: - / MC / 44 / MC / MC / 76 / MC / -
JG Claassen: MC / - / MC / MC / MC / 76 / Ret / -
Charl Coetzee: MC / 56 / MC / MC / MC / - / - / -
Federico Colombo: - / MC / MC / - / - / MC / Ret / -
Andrew Curlewis: MC / MC / MC / 41 / MC / MC / MC / -
Pelle Edberg: - / MC / MC / - / - / MC / MC / -
Niclas Fasth: - / - / - / MC / MC / - / MC / -
Peter Gustafsson: - / MC / MC / - / - / MC / MC / -
Alex Haindl: MC / 69 / MC / MC / 47 / MC / MC / -
Benjamin Hebert: - / 47 / MC / - / - / MC / 60 / -
Sam Hutsby: MC / 51 / MC / 57 / - / 54 / 62 / -
Mikael Lundberg: - / - / - / MC / - / MC / MC / -
Titch Moore: MC / Dq / - / - / - / 75 / MC / -
Lindani Ndwandwe: MC / - / MC / - / MC / - / MC / -
Prinavin Nelson: MC / MC / MC / MC / MC / MC / MC / -
Jake Roos: MC / 65 / MC / MC / MC / MC / 46 / -
Omar Sandys: MC / - / - / - / MC / - / MC / -
Teboho Sefatsa: MC / MC / MC / - / - / - / MC / -
Thabang Simon: - / 51 / - / - / 72 / - / MC / -
Theunis Spangenberg: - / MC / 49 / MC / MC / MC / 55 / -
Toto Thimba: MC / - / MC / - / MC / - / MC / -
TOP-10 FINISHERS at SERENGETI Last Year
Hennie Otto (Won)
Thomas Aiken (T-3rd)
Richard McEvoy (T-3rd)
Ockie Strydom (T-3rd)
Magnus A Carlsson (T-6th)
Trevor Fisher (T-6th)
Jaco Ahlers (T-9th)
Branden Grace (T-9th)
Garth Mulroy (T-9th)
Lloyd Saltman (T-9th)
LOWEST 12 AVERAGE POSITIONS
For European Tour events staged in South Africa during Last Five Years (since Nov. 1st, 2007)
Average (Events)
16.75: Charl Schwartzel (16)
24.40: Richard Sterne (15)
33.93: Garth Mulroy (15)
36.37: Thomas Aiken (19)
38.47: Jaco Van Zyl (17)
39.88: Gareth Maybin (8)
40.22: Keith Horne (18)
44.50: Branden Grace (18)
46.50: Martin Wiegele (8)
47.53: David Drysdale (17)
47.87: Magnus A Carlsson (15)
48.11: James Kingston (18)
(Min. No. of Events = 8)
MOST TOP 25 FINISHES
At European Tour events staged in South Africa during Last Five Years (since Nov. 1st, 2007)
Total
12: Charl Schwartzel
11: Thomas Aiken
11: Richard Sterne
10: Branden Grace
8: Keith Horne
7: David Drysdale
7: James Kingston
7: Garth Mulroy
7: Hennie Otto
7: Jaco Van Zyl
LOWEST ROUNDS at SERENGETI in 2011
65: Jbe Kruger (Rd 1)
65: Steven O'Hara (Rd 1)
65: Jaco Ahlers (Rd 3)
65: Hennie Otto (Rd 3)
66: Nine times
Serengeti: Par 72; 7,761 yards
Previous Winning Total at Serengeti:
2011 - 274 (Hennie Otto)