Sherwood stat pack
A statistical look at this week's World Challenge at Sherwood CC in Thousand Oaks, California.
Last Updated: 28/11/12 2:10pm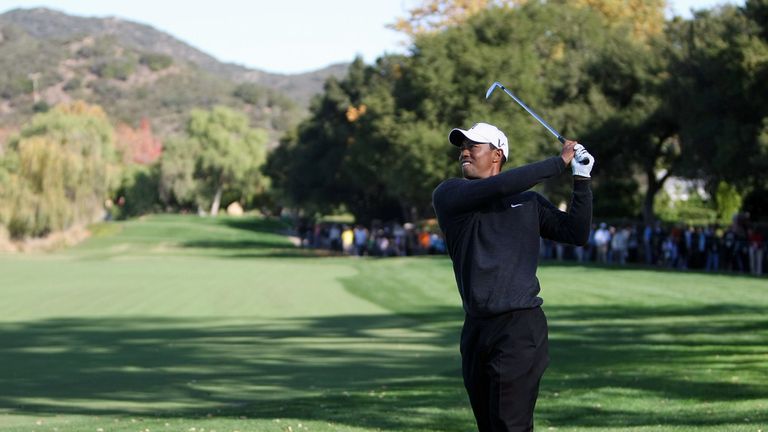 As it has done since 2000, Sherwood Country Club in California stages the World Challenge - a non-official event which has attracted no less than 13 of this year's Ryder Cup participants (11 US, 2 Euro).
Tournament host Tiger Woods is the most successful player in the competition's history with five victories to his name while in 10 previous starts, Woods has only once finished lower than second.
The full field in Sky Bet betting order is: 11/4 Tiger Woods, 12/1 Jason Dufner, 14/1 Dustin Johnson, Ian Poulter, Bo Van Pelt, Jim Furyk, 16/1 Zach Johnson, Bubba Watson, Brandt Snedeker, 18/1 Matt Kuchar, Webb Simpson, 20/1 Nick Watney, Hunter Mahan, Keegan Bradley, 25/1 Jason Day, Graeme McDowell, 33/1 Steve Stricker, Rickie Fowler.
In recent years, the tournament has either capped a brilliant season or been a good indicator for success in the following campaign.
2011: Tiger Woods' win here (his first anywhere since 2009) sparked a four-win season on the 2012 US Tour.
2010: Graeme McDowell caps an amazing year (US Open, joint Euro Tour Player of the Year) by beating Tiger.
2009: Jim Furyk and went on to win the 2010 Fedex Cup; runner-up Graeme McDowell went on to win the 2010 US Open.
2008: Fresh from winning the FedEx Cup, Vijay Singh adds another win here.
Here are some stats regarding this week's event in California ....
FORM at SHERWOOD COUNTRY CLUB
Full History
Player: '00 / '01 / '02 / '03 / '04 / '05 / '06 / '07 / '08 / '09 / '10 / '11
Keegan Bradley: - / - / - / - / - / - / - / - / - / - / - / 17
Jason Day: - / - / - / - / - / - / - / - / - / - / - / 15
Jason Dufner: - / - / - / - / - / - / - / - / - / - / - / -
Rickie Fowler: - / - / - / - / - / - / - / - / - / - / - / T6
Jim Furyk: - / 15 / 6 / - / 6 / T9 / - / 3 / T5 / Won / 11 / T6
Dustin Johnson: - / - / - / - / - / - / - / - / - / - / T16 / -
Zach Johnson: - / - / - / - / - / - / - / 2 / - / T5 / T9 / 2
Matt Kuchar: - / - / - / - / - / - / - / - / - / - / 18 / T4
Hunter Mahan: - / - / - / - / - / - / - / - / T3 / - / 5 / T4
Graeme McDowell: - / - / - / - / - / - / - / - / - / 2 / Won / -
Ian Poulter: - / - / - / - / - / - / - / - / - / T5 / T6 / -
Webb Simpson: - / - / - / - / - / - / - / - / - / - / - / T13
Brandt Snedeker: - / - / - / - / - / - / - / - / - / - / - / -
Steve Stricker: - / - / - / - / - / - / - / T5 / 2 / 10 / 12 / 16
Bo Van Pelt: - / - / - / - / - / - / - / - / - / - / - / T10
Nick Watney: - / - / - / - / - / - / - / - / - / - / 13 / 18
Bubba Watson: - / - / - / - / - / - / - / - / - / - / T14 / T6
Tiger Woods: 2 / Won / 2 / 2 / Won / T14 / Won / Won / - / - / 2 / Won
Size of Field: 12 / 18 / 16 / 16 / 16 / 16 / 16 / 16 / 16 / 18 / 18 / 18
FORM in CALIFORNIA
This Year's Results on PGA TOUR
Player: 1 / 2 / 3 / 4 / 5 / 6
Keegan Bradley: - / 22 / - / 2 / 68 / -
Jason Day: - / - / - / 62 / 60 / -
Jason Dufner: 12 / - / - / 52 / 4 / -
Rickie Fowler: - / 13 / MC / 62 / 41 / -
Jim Furyk: - / - / 40 / 11 / 4 / -
Dustin Johnson: Wd / 43 / 5 / 4 / MC / -
Zach Johnson: 8 / - / 29 / 17 / 41 / -
Matt Kuchar: 22 / - / - / 24 / 27 / -
Graeme McDowell: - / - / - / - / 2 / -
Hunter Mahan: - / 6 / 15 / 24 / 38 / -
Ian Poulter: - / - / 50 / - / 41 / -
Webb Simpson: - / - / - / - / Won / -
Brandt Snedeker: 8 / Won / - / 17 / - / -
Steve Stricker: - / - / - / - / 15 / -
Bo Van Pelt: 54 / MC / - / 8 / 60 / -
Nick Watney: - / 60 / 40 / 34 / 21 / -
Bubba Watson: - / 13 / - / 13 / MC / -
Tiger Woods: - / - / 15 / - / 21 / -
Key: 1 Palm Springs; 2 Torrey Pines; 3 Pebble Beach; 4 Riviera; 5 Olympic Club (US Open); 6 CordeValle
CALIFORNIA AVERAGES
Average Positions for PGA TOUR events staged in California since start of 2009 (last four years)
Average (Events)
14.67: Graeme McDowell (3)
18.00: Steve Stricker (6)
22.80: Tiger Woods (5)
31.14: Keegan Bradley (7)
32.92: Matt Kuchar (12)
34.90: Jim Furyk (10)
35.73: Brandt Snedeker (15)
35.79: Nick Watney (14)
36.50: Webb Simpson (10)
37.43: Hunter Mahan (14)
38.50: Dustin Johnson (16)
39.57: Zach Johnson (7)
43.92: Jason Dufner (13)
45.73: Rickie Fowler (11)
46.00: Ian Poulter (3)
47.00: Bubba Watson (12)
53.60: Bo Van Pelt (15)
65.13: Jason Day (8)
LOWEST ROUND at SHERWOOD COUNTRY CLUB
62: Tiger Woods (2007)
Sherwood: Par 72; 7,027 yards
Winning Totals (Last Three Years):
2011 - 278 (Tiger Woods)
2010 - 272 (Graeme McDowell)
2009 - 275 (Jim Furyk)