Q-School drama
Matt Cooper witnesses a dramatic and draining week at the European Q-School at PGA Catalunya.
By Matt Cooper
Last Updated: 30/11/12 3:04pm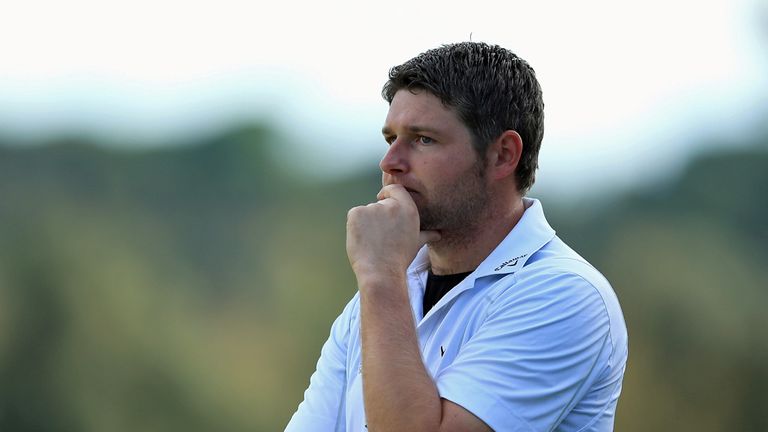 "Qualifying School isn't really about the winner," said a voice on the 18th green yesterday, as England's John Parry completed victory. "And this one might even be about the loser."
The man saying those words wasn't mad and he wasn't being unkind. He was pretty much saying what we all thought. Parry was happy to win, but much happier to have won his card and in that respect he wasn't alone - 28 players gained 2013 European Tour cards and they all felt like winners.
And then there was the other side of the story - the sadness for Scotland's George Murray, who lost out on a card in excruciating circumstances.
Murray and playing partner Gary Orr arrived at the final green on six-under-par, both under the impression that they couldn't afford to drop a shot to earn their cards.
Having found sand with his approach Murray believed it was essential for him to hole his par putt. But he not only missed it, he also missed the two-foot bogey putt coming back.
When Orr also bogied the two Scots left the green devastated and unaware that they had horribly misjudged the situation.
Orr was reprieved: five-under-par was good enough for a card. But that news only compounded Murray's agony because suddenly the short bogey miss became a desperate, desperate error and news of it echoed around the clubhouse.
To highlight the cruel nature of the scene, two golfers - Denmark's Lasse Jensen and Spain's Carlos Del Moral - were behind the green, knowing that dropped shots for the two Scots would gain them cards.
So it was that 20 minutes later, whilst Murray and his caddie were slumped in the locker room, Jensen was posing for a Facebook-style photo in front of the leaderboard. The agony and the ecstasy of Q-School right there.
Other stories play out more quietly, but have their own drama.
24-year-old Englishman Matthew Southgate endured an agony of his own at Q-School's Second Stage, three weeks ago, making double bogey on his final hole to drop from a guaranteed place at Final Stage to seventh alternate.
Took advantage
That proved enough - just - to get a spot in the field and how he took advantage.
He stayed in nearby Lloret Del Mar, rather than the on-site hotel, and it proved a stroke of genius. "I've roomed at the hotel before but I just wanted to be able to get away from it all and relax between rounds," he told us after his fifth round. "It's worked. I've really enjoyed it there, staying with the caddies."
The good vibes helped him shoot rounds of 72-70-65-68-68, enough to be tied for second going into the final round. But like the majority of the leading pack, he found it more difficult on the final day.
Motivation for those in the top ten was problematic. They all knew that only a disastrous round could prevent them winning a card and they played like haunted men - they were tense, twitchy and tentative. Only Sweden's Mikael Lundberg and Argentina's Tano Goya, of those leaders, broke 70.
Further down the field England's Chris Lloyd made the biggest move. His 67, which included three birdies in his final four holes, thrust him from outside the top 25 to right in it, whilst Swedish veteran Michael Jonzon's late burst of three birdies in his last six holes proved crucial in his quest.
"That was tougher than winning on the European Tour," he said afterwards. "You have to admit to yourself that you are nervous. You can't pretend or block it out. You need to accept it and then ask what you can do about it. I would look at the crane on the final hole and say, 'Hey, look, a yellow crane.' It sounds stupid, but it helps!"
For those players who didn't earn a European Tour card for 2013, there was the consolation of having earned playing rights on the Challenge Tour.
But for one player that was no consolation.
Dutchman Taco Remkes came into this week with one aim: to play on the main tour next year. "I can't afford to play on the Challenge Tour," he told Dutch golf journalists last week. "I might get sponsorship for the full tour, but I won't get it for the Challenge Tour and it is too expensive to play."
In the final round he spent 11 holes on the brink of completing his aim at four-under-par. But on the 12th - the 102nd hole of his week - a bad bounce contributed to a triple bogey eight and his spirit was broken.
Hopes dashed he made two more bogies and then told those Dutch journalists that he will be looking for a new job next year.
So that was Q-School for another year. It's a strange environment: the most tension-filled golf you can imagine, played in almost complete silence against a backdrop of dark lakes and snow-capped mountains.
The final thought is that "the agony and the ecstasy" might not be the best description of its drama - the agony and the relief might be better.