Christmas golf gifts
Looking for a Christmas gift for a loved one? From £399 to under £1 we have some suggestions.
By Dave Tindall
Last Updated: 21/12/12 9:18am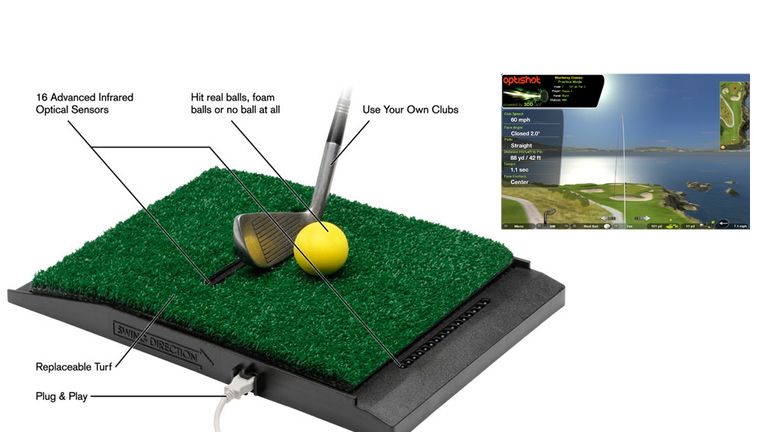 Dancin Dogg OptiShot +3 Golf Simulator - RRP £399
Unless you're very rich with a spare £30k to spend, the idea of owning a golf simulator is well beyond reach. There's always the Wii/Play Station but what if you want to actually use your own clubs and keep your swing honed in the freezing British winter? Well, how about this - a golf simulator that retails for under £400. Instead of firing at a screen, you wire the unit up to a laptop, swing away and watch your shots instantly display. You could either hit a normal golf ball (you'd need to purchase a net as an add-on), strike one of the foam balls provided at a wall or simply swish at an invisible ball. The sensors pick up the strike, launch angle etc and you can play against friends on a range of great courses. You can even connect your computer to a HD TV or projector to enlarge the experience. Fun, instructive and affordable.
SkyCaddie Breeze - RRP £229.99
"Simple, Affordable and Accurate" is the tag line for the latest technology from SkyGolf. It is hands-free and pre-loaded with over 30,000 ground-verified course maps. The trusted, accurate yardages are an invaluable asset in trying to get your handicap down and SkyCaddie continue to set the standard, winning numerous industry and golf magazine awards
Super Stickman Golf - iPad/iPhone app - RRP £0.69
This is a fantastic little app and, like most great games, the beauty is its simplicity. Move the 360 degree aiming arrow left or right, press start to set off the power bar then press it again to make the little stickman strike the ball. Lots of strategy involved as you work your way over and around obstacles and there's also the option to take mulligans or use a sticky ball to fire your ball at a target (side of a hill) and make it stay there. 33 courses and 290 holes make it ideal to keep the kids (or grown-ups) occupied on those long journeys to see relatives.
Sub70 Golf Preston Golf Cardigan - RRP £31.99
The designer golf clothing company launched in 2004 and the new range is their best yet. Their quality garments can be worn both on and off the course, giving you great value for money, with this light weight 100% cotton cardigan a particular favourite.
Adidas Samba golf shoes - RRP £74.99
Lovers of the iconic Samba trainer can now sport their favourite footwear creation on the golf course. Comfort is spot-on, and style is second to none. These golf shoes will not fail to get envious looks and complementary comments from your fellow golfers. They come in black as well as white, and there have also been some special editions made to commemorate the four majors.
The 100 Greatest Ever Golfers by Andy Farrell - RRP £14.99
Don't be put off by the list aspect - this is a cracking book. Not just 100 mini-biographies, but full of good stories and some fantastic quotes. Farrell also makes some excellent and intriguing left-field picks. Full of little nuggets such as the fact that Hale Irwin won more money heading the 1997 Champions Tour money list than Tiger Woods did topping that year's PGA Tour.
Bring Me The Head Of Sergio Garcia by Tom Cox - RRP £8.00
Forget barely flicked at "great golf jokes" books and get the golf-lover in your life something genuinely funny to read. This is the real-life tale of how Cox turned pro and attempted to qualify for The Open. His bid goes disastrously wrong from the very start but the journey is told with what former Ryder Cup skipper Mark James describes as "razor sharp insights and buckets of humour". Tom's first golf book, 'Nice Jumper' is also available again and comes highly recommended.