Colin Montgomerie and Bernard Gallacher think Tom Watson has the kudos to get Team USA firing in 2014 Ryder Cup
Colin Montgomerie and Bernard Gallacher think Tom Watson is the perfect man to lead Team USA.
Last Updated: 13/12/12 2:58pm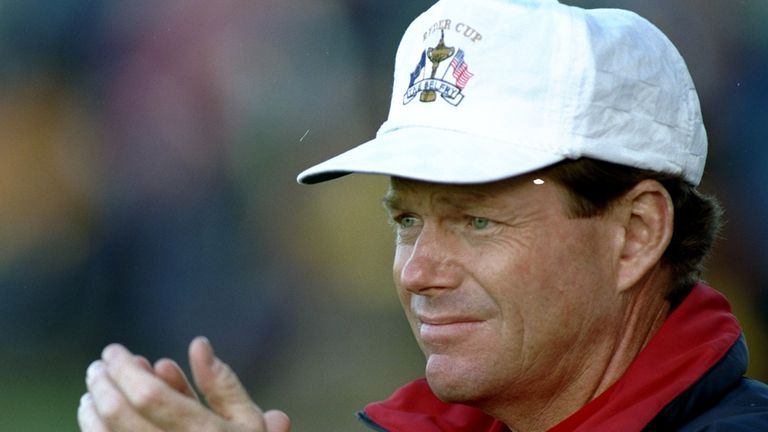 The 63-year-old guided the US squad to victory in the 1993 event at The Belfy, making him the last American skipper to win on foreign soil, and will now be charged with wrestling back the hallowed trophy, which Team Europe retained in such dramatic style in Chicago this year.
And Colin Mongtomerie, who propelled Europe to success at Celtic Manor in 2010, and Bernard Gallacher, Watson's opposing captain in '93, told Sky Sports News why the eight-time Major winner, who has never been part of a losing side at the Ryder Cup, is a very shrewd appointment....
COLIN MONTGOMERIE
"It is a surprise choice but seeing America's failure in the Ryder Cup - Europe have won seven times out of the last nine - they've decided to change things and go with someone who isn't playing alongside the players; if you keep on doing the same things you get the same results, so I think America have been very wise in choosing Tom and have gone back to the future.
"It is also a selection that will keep the Ryder Cup on the front pages in America, more so than some of the other candidates, while as a captain in '93 he was very well respected and he's even more respected now. There's a lot of pressure on him but I'm sure he can handle it - and the egos in the American team."
BERNARD GALLACHER
"The USPGA have conducted a post-mortem after Medinah and decided that, as they look likely to have a young and inexperienced team, they might need a bit of experience over in Scotland to deal with the young players, so Tom, who is probably the most respected figure in the game today and has been there before as a captain and player and won in Europe, is a very clever appointment.
"Tom is very uncomplicated and while he is older than some of the recent captains, he is still in touch with many of the players. He still plays in the British Open Championship - and nearly won it a few years ago - so the players will know him and he is clever enough to makes sure he put himself about and gets to know them.
"I also think Watson is the perfect captain to get the best out of Tiger Woods, something we have not seen in Ryder Cups. Tiger only plays with Steve Stricker, but Tom will get him playing with other players ahead of 2014, plus, I think Tiger respects Tom for being very straightforward and criticising him when he spat and swore on the course."