Exclusive: Ian Poulter
In this exclusive interview with skysports.com, Ryder Cup hero Ian Poulter talks about his memorable 2012.
By Dave Tindall
Last Updated: 17/12/12 1:14pm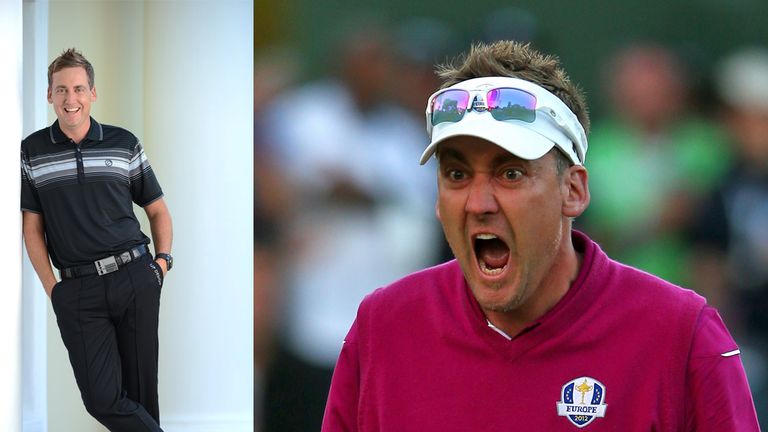 Ian Poulter's Ryder Cup legend grew to epic proportions in 2012.
Already renowned for being one of the event's most inspired performers, Poulter's heroics on Saturday afternoon were the undoubted catalyst for Europe's amazing turnaround.
With Europe 10-4 down and on the ropes, Jose Maria Olazabal's men simply had to win the final two fourball matches to have any chance of keeping the trophy.
Luke Donald and Sergio Garcia sneaked victory over Tiger Woods and Steve Stricker and then, despite having world number one Rory McIlroy as his partner, Poulter took it upon himself to make sure that must-win point became a reality.
Two down with six to play, McIlroy's birdie at 13 cut the gap in half and then Poulter went mad, birdieing each of the final five holes to give Europe the most thrilling of victories and renewed hope.
That hope turned to euphoria on Sunday as Poulter's victory over Webb Simpson in the singles helped Europe win 14.5-13.5 and pull off what we now know as 'The Miracle of Medinah'.
Poulter had already had an excellent season, especially in the majors - 7th at The Masters, 9th in The Open and 3rd in the USPGA - but, fuelled by his Ryder Cup exploits, he ended the season with a bang by winning the WGC-HSBC Champions in China. The win made him only the second European to have won multiple WGC events.
Add in the growth of his IJP clothing line, which saw the release of another brand new collection, and 2012 has been a very special year for the Englishman, who ended the season ranked 12th in the world.
In this exclusive interview with skysports.com, Ian talks about his memorable year...
Sky Sports: Hi Ian. Let's start with your amazing performance in the Ryder Cup. Have you had chance to watch it back yet?
Ian Poulter: The first chance I had to watch was a couple of weeks ago in my hotel room at the World Challenge in California. I watched all of day two's play and even watching it gave me goosebumps and got the adrenaline pumping!
Sky Sports: Paul McGinley said you delivered a great line - "guys, we have a pulse" - after your vital point on Saturday night. Just how important were those final two matches on Saturday afternoon?
IP: I think the last two matches on Saturday turned everything around. From being 10-4 down and on the way to one of the worst defeats in history, winning the last two points to get to 10-6 revived the whole team and made us think, hold on.....we still have a shot at this!
Sky Sports: How were you able to keep the adrenalin under control during your memorable run of five closing birdies. We all saw your eyes popping out so obviously you were feeling it big time.
IP: I'm an adrenaline junkie, it's such a great feeling, I think I just embrace it and the extra focus it gives you. I try and use it to my advantage whereas I think it throws some people off their game.
Sky Sports: At any point on Saturday, did you fear that it just wasn't going to be Europe's week?
IP: I'll be honest, it didn't look great but I have watched many Ryder Cup tournaments and played on a few teams and I know all too well how quickly things can turn around.....good or bad.....so giving up or losing focus was never an option.
Sky Sports: How much fun was it on the first tee when you followed Bubba Watson's lead and got the crowd to cheer through your tee-shot?
IP: We talked about adrenaline earlier.....it was the ultimate adrenaline buzz and the only time you will ever hit a golf shot in that atmosphere. It was a lot of fun and thankfully Justin (Rose) hit a great second shot after what was an average drive and set us up for a nice opening birdie!
Sky Sports: Could you imagine Monty doing the same?!
IP: I'm not quite sure that is Monty's style, but he was a legend in the Ryder Cup!
Sky Sports: When you saw the draw for Sunday's singles, did it increase your hopes of a memorable fightback?
IP: I definitely thought it panned out pretty nicely and gave us a chance to put some blue on the board but I didn't get too excited. Every player on both teams were great players as shown by their ranking. I think all 24 players were ranked inside the top 35 in the world so I knew every match was going to be tough.
Sky Sports: After your Medinah heroics, did you feel you had a great chance of closing the season strongly?
IP: I had been playing great all year, probably my most consistent in my career, and what happened at the Ryder Cup definitely re-affirmed that I could handle high pressure situations and compete against the best. So it definitely gave me a confidence boost for the end of the season.
Sky Sports: Looking ahead to 2013, what are your ambitions?
IP: The same as they have always been, to work hard, compete to win golf tournaments and to have fun. If I can continue the focus and momentum I have had since the Ryder Cup, I think it will be a great year!
Sky Sports: Aside from Augusta, how do you think the other three major courses in 2013 will set up for you?
IP: Honestly, I haven't even thought about it. I know if I am in control of my game I can play any golf course well. Hopefully I time playing well nicely for the majors!
Sky Sports: Do you think the proposed ban on anchoring putters is a good move and have you ever tried a belly or broom?
IP: I do, I have never been a proponent of anchored putters and have never used one. I don't think it is in the spirit of the game and it takes some of the nerves out of the putting stroke.
Sky Sports: The 11th Collection from IJP Design is out now. What's new in this latest incarnation?
IP: The new collection is our best yet and I truly believe we have made improvements in every single collection, which is a testament to our designers who have done a great job. The best thing about this collection and our line in general is how easily you can mix and match items; I never feel like I have to repeat an outfit because so many items go together. We have also made great strides with our fabric technology for cold and warm weather, which makes a big difference to my performance on the course. I am also excited to wear some of the items off the course.
Sky Sports: How has the brand grown since your very first Collection?
IP: It's hard to describe.....we have gone from selling one simple collection in the UK to having a fully functioning line which is sold in over 30 countries around the world and we are set to grow even more in 2013. My team has worked extremely hard to build the brand and we are all excited about what the future will bring for IJP Design.
Sky Sports: Do you have a favourite piece in the new Collection and what's in there to keep UK golfers warm over the next few months?
IP: My personal favourite is the Go Faster shirt, it's a great look. To keep you warm in the winter, on and off the course I would definitely go for the Tartan Army cardigan, it's an awesome knitwear piece.
Sky Sports: Finally, what's the secret to balancing your roles of husband/father, businessman and globe-trotting professional golfer?
IP: I try to be efficient with my time but, mostly, I am just very lucky to have great people around me.
* To view Ian's latest collection, check out the IJP Design website.