Golf review 2012
The full story, including most memorable moments and best quotes, from an amazing year in golf.
By Dave Tindall
Last Updated: 19/12/12 12:08pm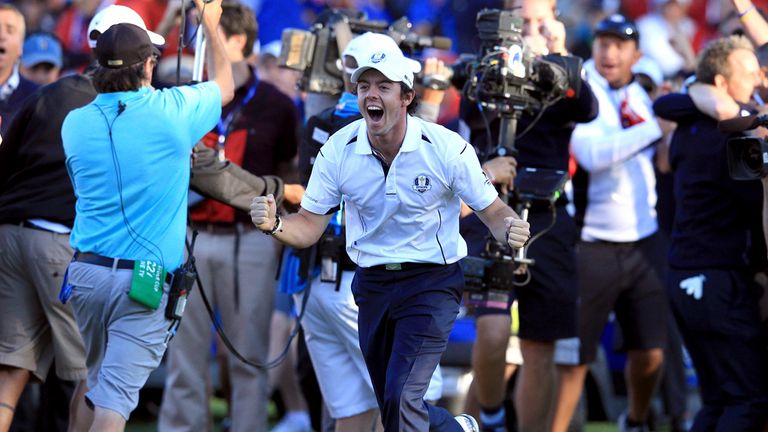 There was one very big star at the top of the tree in 2012 - Northern Irishman Rory McIlroy.
While Tiger Woods posted his first PGA Tour wins (there were three of them) since 2009, the American's return to the victory podium was merely a side-story.
Instead, after a period of transition which saw Martin Kaymer, Lee Westwood and Luke Donald flirt with top spot in the rankings, 23-year-old McIlroy marked himself down as Woods' natural successor and the next genuine world number one by winning the Money Lists on both sides of the Atlantic and capturing his second major by a whopping eight shots.
That victory in the USPGA at Kiawah Island was one of four wins in the US, while he iced the cake on his amazing year by winning the European Tour's season-ending DP World Tour Championship in Dubai.
McIlroy had already wrapped up the Race To Dubai before the event started (prompting the European Tour to produce a more competitive closing schedule in 2013) but, wanting to go out on a high, he thrillingly birdied the final five holes to overtake Justin Rose and confirm his status as a genuine superstar.
To prove he could do no wrong, McIlroy also won his Ryder Cup singles clash against Keegan Bradley after arriving at the course just minutes before his tee-time. Had he missed it by five minutes he'd have forfeited the point and Europe would have lost; as it happened, his singles win played a key part in one of the most astonishing fightbacks in Ryder Cup history.
Trailing 10-4 with two matches to play in Saturday's afternoon fourballs at Medinah Country Club, near Chicago, Jose Maria Olazabal's men had been dragged back into the contest by an astonishing display from Ian Poulter.
Already renowned for being one of the event's most inspired performers, the Poulter Ryder Cup legend grew to epic proportions as he holed birdie putts at each of the final five holes to give he and McIlroy (Rory a passenger on this occasion) an incredible last-hole win over Zach Johnson and Jason Dufner.
Buoyed by Poulter's super-human performance and a collective will to do it for the late Seve Ballesteros, Europe top-loaded their Sunday singles line-up, won the first five matches and completed an almost impossible turnaround as Kaymer holed a nerves-of-steel putt on 18 which retained the trophy. Moments later, the jubilation became euphoric disbelief as Woods conceded a putt to Francesco Molinari, meaning Europe had actually won the contest outright 14.5-13.5.
At least there was some serious consolation for some of the beaten US team. Bubba Watson produced a mind-blowing hooked wedge from the trees to beat South African Louis Oosthuizen in a play-off for The Masters while Webb Simpson came with a late burst to edge out Graeme McDowell and win the US Open at Olympic Club in San Francisco. Brandt Snedeker, meanwhile, landed the $10m jackpot for winning the FedEx Cup.
The 141st Open at Lytham was a classic case of triumph and despair. The latter befell Australian Adam Scott who blew a four-shot lead with four to play while the glory belonged to Ernie Els, who holed a key putt on 18 which turned out to be the one that gave him a second Open title and fourth major in total.
Simpson and Els had won using belly putters and the season ended with the R&A and USGA proposing a ban on anchoring the putter to any part of the body. The rule is set to come into play in 2016.
Top 10 memorable moments:
1) Martin Kaymer's putt to retain the Ryder Cup: Had he missed, Tiger Woods would surely have taken more care in the final match - by either holing his putt and definitely not conceding Francesco Molinari's - and the final outcome would have been flipped. As it was, the German showed nerves of steel to hole out and retain the trophy for Europe.
2) Poulter's five closing birdies in Saturday's Ryder Cup fourballs: One went in, then two, then three. The eyeballs were popping wildly. Surely Poulter couldn't keep this going could he? He could. A fourth birdie putt dropped at the par three 17th and, ridiculously defying the odds, he sank the match clincher on 18. It proved the catalyst for the Europeans' amazing Sunday fightback.
3) The first-tee Ryder Cup crowds shouting through Bubba Watson and Ian Poulter's drives: Golfers can get tetchy if someone rustles a sweet wrapper during their swing so it was startling to hear the din as Bubba launched his drive. Watson had asked the crowd to go wild as he said the eerie quietness would make him more nervous. Typically, Poulter responded in kind and whipped up the fans to cheer through his tee-shot too.
4) Rory's five closing birdies to win the DP World Tour Championship: Having watched playing partner Poulter do it in the Ryder Cup, Rory thought he'd have a go too. And what a time to do so. Justin Rose's flying finish looked set to be decisive in the European Tour's finale but Rory found an extra gear to sprint past him with birdies at each of the final five holes and crown a magnificent season.
5) Bubba Watson's hooked wedge from around trees in the Masters play-off: Watson looked to be in all sorts of trouble after going way right off the tee at 10, the second extra play-off hole, but he produced a shot for the ages to curl his wedge 90 degrees around the corner to set up a two-putt winning par.
6) Louis Oosthuizen's albatross at Augusta in the final round: Although Sunday would ultimately prove a huge disappointment for the South African as he lost to Bubba's play-off wonder-shot, he did produce a thunderclap moment of his own. Tied for the lead at -7, his second to the par five second smacked down on the green and tracked straight into the hole for an astonishing albatross. The noise was off the scale.
7) Justin's Rose birdie putt v Mickelson in the Ryder Cup: For most of Ryder Cup Sunday there was a feeling that Europe's brave fightback would fall just short. But when Rose sank his monster 35 footer for birdie at 17, the mood changed suddenly, and dramatically, to "wow, we can do this".
8) Tiger Woods' chip in at Memorial: One behind with three to play. Woods had left himself in thick greenside rough at 16. But with every chance of chipping into the water beyond the flag, Woods, with a full swing, floated a perfect lob wedge onto the treacherously fast green and watched it topple into the hole for a birdie which paved the way for victory.
9) Olympic swimmer Michael Phelps' 153 foot putt in the Dunhill Links Championship: Terry Wogan's 99 foot putt at 2014 Ryder Cup venue Gleneagles was previously regarded as the longest televised putt but Phelps, playing alongside Paul Casey, smashed it with a ludicrous effort at Kingsbarns in October. The ball took 17 seconds to drop into the hole.
10) Kyle Stanley's collapse and bounce back: The big-hitting American, seeking a first PGA Tour win, arrived at the final hole at Torrey Pines with a three-shot lead. Fifteen minutes later he was holing out for an eight before, still in shock, losing a play-off. His response? Winning the following week's PGA Tour event in Phoenix.
Quotes of 2012:
"Ryder Cup is what memories and dreams are made of. We just knew we had a chance and you know what, this is history right there. This has been unbelievable." - Ian Poulter after Europe's amazing win
"I don't have a reaction yet. We are all kind of stunned." - Davis Love III, the USA's beaten Ryder Cup skipper
"It was incredible, a pleasure to watch and I had the best seat in the house for the whole thing. It was one of those amazing days and he'll look back on it and smile.' - Lee Westwood on the incredible Ryder Cup debut of Belgian playing partner Nicolas Colsaerts"It is the most special and unique golf tournament we have, period. There's nothing better than celebrating a win with your teammates." - Rory McIlroy on the epic victory at Medinah
"This is indescribable. I was so nervous in the last two or three holes. Now I know how it really feels to win the Ryder Cup." - Martin Kaymer after holing THAT putt on 18
"Seve (Ballesteros) will always be present with this team. He was a big factor for this event, for the European side, and last night when we were having that meeting, I think the boys understood that believing was the most important thing, and I think they did." - European skipper Jose Maria Olazabal on the inspiration his men took from Seve
"At 69-years-old I've been in golf my whole life and this is the greatest golfing spectacle I think I've ever seen. I thought I'd seen everything you could possibly see. This tops them all." - Sky Sports expert Butch Harmon on the 'Miracle of Medinah'.
"I've never had a dream go this far, so I can't really say it's a dream come true. I don't even know what happened on the back nine. I was nervous on every shot, every putt. . . I got in these trees and hit a crazy shot that I saw in my head and somehow I'm here talking to you with a green jacket on." - Bubba Watson on winning The Masters
"You're just looking around, you don't know how to express yourself, and then you see your dad jumping up out there blowing kisses. These moments don't come every day." - Indian qualifier Anirban Lahiri describing the emotions he felt after his hole-in-one at The Open
"I really feel for my buddy Scotty, because I've been there. I've blown majors and I just hope he doesn't take it as bad as I did." Open champion Ernie Els expresses sympathy for Adam Scott after the Australian blew a four-shot lead with four to play at Royal Lytham
Ones to watch in 2013:
Thorbjorn Olesen: With a first win, a bold showing in The Open and a 21st place finish in the Race To Dubai, 2012 was a fine one for the Dane. But 2013 could be a real breakout one. He's got huge talent with a fine temperament and many good judges reckon he'll be on the 2014 Ryder Cup team. By climbing to No.50 in the world, he's also just earned himself a first trip to The Masters while that ranking will also get him into all the other big events in 2013.
George Coetzee: The European Tour caddies, who get to see all the players close-up week in, week out, believe Coetzee is the real deal. Yes, he's still not posted that elusive first Tour win but it seems just a matter of time before his raw talent takes him down the same path trodden by South African compatriots Charl Schwartzel, Louis Oosthuizen and Branden Grace. One place above Olesen in the world rankings, he too is set for an Augusta debut next April.
Ross Fisher: The Englishman may have fallen off the radar in the last couple of years but we have a sneaking feeling that he could make a big impression in America this year after cruising through Q-School. Fisher's high-ball flight makes him a great fit for PGA Tour courses and he showed that back in 2009 when finishing inside the top 30 of the three US majors, including a fifth in the US Open. That season also saw him win the Majors Cup - the award given to the lowest 16-round total across the four majors. In other words, Fisher has more than a touch of class.