Shot Centre
Welcome to our Shot Centre archive where we've collated all the swing analysis performed by our experts.
Last Updated: 25/01/13 5:18pm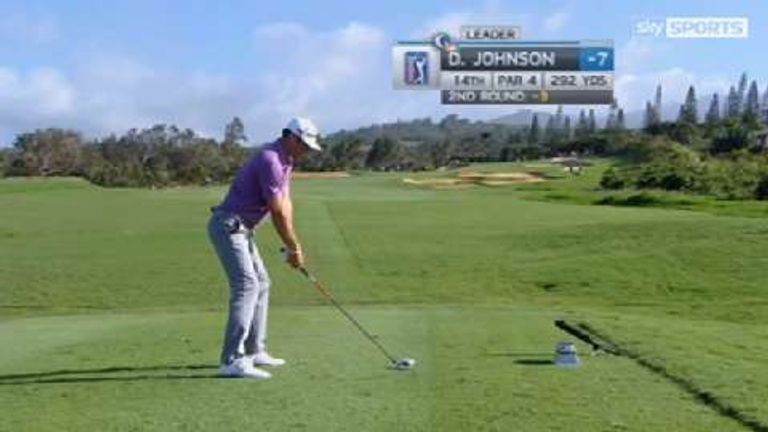 Welcome to our Shot Centre archive where we've collated all the swing analysis performed by our Sky Sports experts.
If you missed it first time or want to re-examine the exact mechanics of a certain player, this is where you'll find the in-depth insights of renowned instructors Denis Pugh and Simon Holmes.
Here's some of the action from the opening events of the season with comments from Denis and Simon. Click down the right-hand side of the page for more Shot Centre analysis.
Tiger Woods: Denis on Tiger's fade: "He has two ways to of fading the ball. There is the old-fashioned way he grew up and Sean Foley really doesn't like him to do it. If you see Tiger aiming his body too much to the left at address, these shots are risky because when he swings across the ball to fade it sometimes they stay left, sometimes they fade. Under Sean, they keep the ball forward in the stance but put the clubface aiming to the left, feet pointing to the target. The swing's going to go across the ball. That's the preferred method now. So when you see Tiger aiming way left it's dangerous as there could be the old double cross in there."
Dustin Johnson: Denis said: "It's a marvel to see an athlete playing golf. Someone who really does have some natural sporting skills. You can see how he does it but you can only really marvel at how he does it. He can get the club so very high in the back swing whilst maintaining the angle in his spine. The springiness in his body and the absolute power into the finish whilst still maintaining that body angle - that's the secret to the athleticism. It may well be possible that when you look at him you think 'I could do that' but I know I can't and you probably couldn't either. But, you can marvel at how these athetes perform a sport we play as our hobby, it's fantastic!"
Rory McIlroy: Denis, when comparing Rory's 2012 and 2013 swings at the Abu Dhabi Championship: "A year ago the swing was a little bit longer, a little bit looser at the top. Perhaps less tension. But all that's happened is that his hand and arm co-ordination today wasn't 100% right. This is a golf swing that looks very similar really. You can make a lot of theoretical discussions about equipment, about fitness, about all those things but actually Rory just had a bad day. It happens, even to number one in the world."
Phil Mickelson: Simon said: "Mickelson obviously hits it left-handed but he is actually right-handed and I think that makes a big difference for him. Mickelson typically gets quite a lot of right-arm rotation. As he opens up, it's a pull down to the ball because he's a right-handed guy so his body is spinning open and the consequence is that shaft gets narrow and steep. I think Phil's natural right-handedness probably in some sense hurts him. His swing is held together more by rhythm and timing than it is by superior mechanics."
Rickie Fowler: Denis on Fowler's iron play in windy conditions at Kapalua. "He's a young man but he plays like a veteran. He's got ball control and he's using traditional skills to control and flight the ball. He grips down the club which is going to take some of the speed off the action, keep the ball down, keep the spin down on the golf ball. Where Rickie's really got a big advantage is that he's got an upbeat swing tempo, he keeps things going. Keeping the ball under control by keeping the swing under control is something that he's doing extremely well. He's a shotmaker and he does use traditional ways in which to get the job done."
Tommy Gainey: Denis on Tommy's putting in the windy Hyundai Tournament of Champions. "Different strokes for different folks on the greens and when it gets windy Tommy 'Two Gloves' Gainey has a very good stroke for the windy conditions. The first thing about Gainey is that he's well crouched over the ball, his eyes are pretty close to the ball and his hands are forward and the stroke itself is a shortish stroke and very much a pushing action. The quick stroke through the ball is really useful when it gets windy. It's not very elegant to look at but he could be a good bet to play well in the wind."
Steve Stricker: Denis on Stricker's wedge play at the Hyundai. "Most players stand quite open to the target and use a lot of wrist action in the backswing which picks the club up quite vertically with quite a narrow backswing and then hit down and hard through the ball. It creates a lot of spin on the ball and usually a deep divot. Stricker's whole game is played with much softer, much more passive hands so as he goes back the arm swing is longer and the wrist action is much less as he goes through. The action is more of a sweeping arm swing and he just nips the ball off the turf and it serves him very well when there's lot of grain."
Scott Langley: Simon Holmes on Langley playing from rough, out and under the trees at the Sony Open. "To keep the ball low, out of this bermuda rough he's obviously taking a club that he can hit easily below the tree. A three-quarter swing, he really sets the club into a good position and is very passive with his body. This is what he does so well. No real speed, doesn't accelerate it, doesn't try to punch it and he just lets that club sweep and never, ever threatens to catch those trees. Clever control from a difficult position. He's a very, very complete player."
Scott Piercy: Simon Holmes on Piercy's driving. "He makes a pretty good move towards the top of the backswing. As he starts down the pelvis tends to come towards the ball a little bit and what happens when he does that is that the shaft then shallows which gets him into this position where, as he says, he gets underneath it. It's very important for the Tour players, especially as hard as they're hitting the ball, to try and keep that pelvis out to start the ball in a neutral position. From there, it really should be very easy for him to play that little cut shot that he likes and stop hitting those high, push cuts."