Russell Henley can win majors and play in Ryder Cup after dream debut, says Denis Pugh
Denis Pugh tipped rookie Russell Henley as a future major champion after his win at the Sony Open.
Last Updated: 14/01/13 9:22am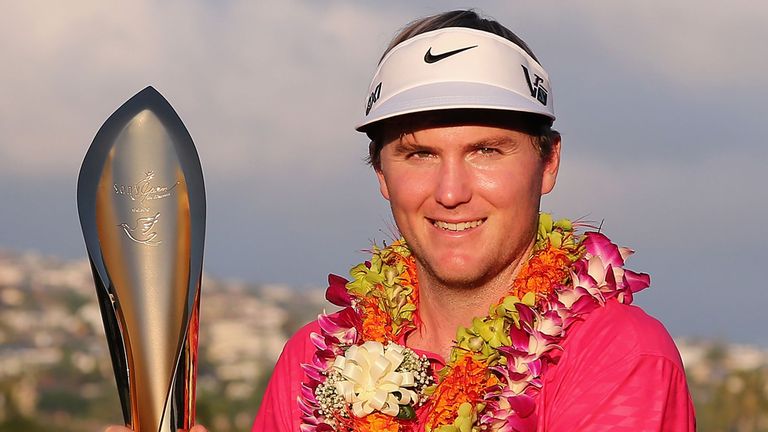 The 23-year-old, playing in his first ever PGA Tour event, produced the best 72-hole score in Tour history as he finished on 24-under-par to beat Tim Clark by three shots and write his name into golf's record books.
American commentator Johnny Miller tipped him as the next "really, really top player" and after watching him birdie the final five holes, Sky Sports pundit Pugh agreed that the sky is the limit for the young American.
"The last hour or hour-and-a-half of golf was as good as I've seen. It was as good as you can see," he told Sky Sports.
"Even Johnny Miller, who's not known to be overcoming with praise for the young guys, said this guy could win The Masters. That's how good the performance was.
"It stunned us all to hole those putts. It was brilliant shot-making and he rolled the ball in the hole as well. It was unbelievable.
"He said he was nervous, which is acceptable. You've got to be nervous, but he handled himself so well.
"I think we're looking at someone who is going to be around for a long time; majors, Ryder Cups... everything is possible for this young man."
Special
Henley claimed the tournament scoring record on his way to a famous victory, but fellow Sky Sports expert Peter Oosterhuis pointed out that there were plenty of nervous moments along the way.
And he says the fact the rookie was able to bounce back from setbacks on numerous occasions was another sign that he has the potential to reach the top.
Oosterhuis said: "It was just unbelievable play from tee to green. There were lots of putts made, a great attitude and it was just awesome throughout the week.
"I think he could be very special indeed.
"He came back a couple of times. He had a shaky tee shot at eight, then at number nine, which is a tough tee shot, he hit it miles down the middle of the fairway.
"On 14 he had a dodgy approach shot and left it about 45 feet away, but brushed it in for a birdie. It seemed to be routine that if he had a shaky shot he would come back with a brilliant shot.
"He'll play well at the Masters!"