Bernd's big goals
We talk to Bernd Wiesberger - the two-time Euro Tour winner in 2012, who has eyes on the Ryder Cup.
By Dave Tindall
Last Updated: 31/01/13 10:14am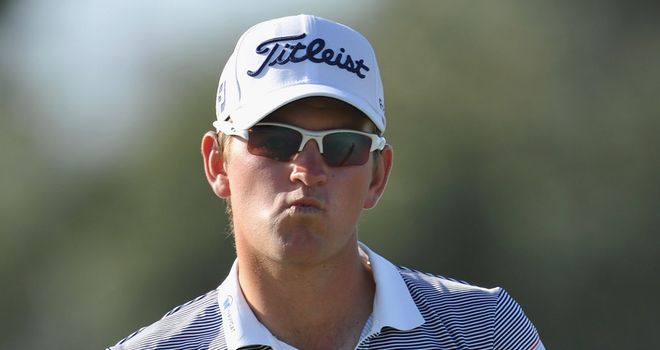 For Bernd Wiesberger, 2012 was a year to remember.
After a two-win season on the Challenge Tour in 2010, the Austrian was hoping he build upon his 2011 campaign which produced two second places and an impressive 64th place finish on the Race To Dubai.
And he did so in spectacular style.
In late April, he claimed his maiden European Tour title at the Ballantine's Championship, twice setting the course record and trouncing the field by five strokes.
And three months later he became only the second Austrian to win his home Open, securing his win in thrilling fashion by carding a closing 65 and birdieing three of the last four holes. No wonder he called it "the best day of my life".
The 27-year-old is now hot property and, to prove it, he's just become the face of FootJoy's Performance Apparel Collection in Europe.
Sky Sports: Having won twice in an excellent 2012 season and finished 22nd on the Race To Dubai, what are your goals for 2013?
Bernd Wiesberger: Last year was great and I want to at least match my success of last year and give myself the best chances to win big tournaments and improve my world ranking to enable me to compete in as many Major Championships and World Golf Championships as possible. It's all about winning championships and getting myself into good positions to challenge for big titles this year.
Sky Sports: Austrian ski legend Franz Klammer is a regular in the Dunhill Links Championship in Scotland so have you played much golf with your legendary compatriot?
BW: Unfortunately I have never played with him, but we always meet up for dinner at the Dunhill Links every year. He is a very keen golfer and a great sporting legend in Austria. It's great to see him at the Dunhill playing the game he loves and he is also uses Titleist equipment like me. Above all he's a really nice guy.
Sky Sports: Staying with skiing, there has been a history of some high-profile golfers who have had serious accidents on the slopes and I believe you also had a really bad fall once. Do you still ski?
BW: I still ski, but I broke my collar bone about 10 years ago when I was very young, going too quickly down the slopes. You learn from those accidents and now as a professional golfer I am a lot calmer. As an Austrian we spend a lot of time on the slopes and it is great fun, but I am much more sensible now, and I will only go for an hour or two.
Sky Sports: If you were rating you game, what are your strengths and weaknesses?
BW: My strengths have been my overall game and I haven't developed too many weaknesses. My consistency of ball striking and driving has been key over the past year, and I haven't dropped many silly shots throughout the last few seasons. My short game, wedge play and yardage work needs some hard work. Picking up shots here and there is what I am working on at the moment to maximize my scoring potential.
Sky Sports: Is there a type of course you prefer playing and which is your favourite course?
BW: My first major championship was at Kiawah Island and I loved it, but unfortunately the course was very rough on me. I missed the cut by one, but it was a really nice experience to play my first major championship on such a good golf course and one that every professional I am sure remembers.
Sky Sports: You have recently become the face of FootJoy's Performance Apparel Collection in Europe - can you tell us a little about the importance golf clothing plays in your game?
BW: I really enjoy looking good on the golf course and feeling comfortable, so naturally I am really excited to be one of FootJoy's Apparel ambassadors in 2013. I really enjoy the FJ collection and have just been introduced to the whole line up for the 2013 season, which I am honoured and excited to be wearing this year on tour. It's important that you wear high performing golf apparel so that you can play your best in whatever weather conditions you may face out on the course. Whether it is golf clubs or apparel, a golfer's equipment should be the best fitting for that individual to perform their best and this is where FJ excel.
Sky Sports: As a Titleist Brand Ambassador as well, can you talk us through the equipment you are currently using. I believe that you recently put the new 913 Driver and Fairway metalwood in your bag?
BW: I've been using the new 913 Driver ever since I was first fitted for it in the lead up to the2012 French Open by Titleist European Tour Technician, Mattias Jelver, I haven't changed my driver or spec since and I am very happy with the overall performance. My fairway metal is the new 913 FD which I was fitted for at the Dunhill links, it's a great all round performance club from the tee and fairway. I have been using the Titleist 712 CB's irons since they were first launched in August 2011 and I am really happy with them.
Sky Sports: You spent a month in California during the winter - presumably due to the weather being better than it is in Austria! Would you like to play the US PGA Tour one day?
BW: Yes I've been in California for just over three weeks and spent a lot of time on the golf course while it was snowing in Austria, so my preparation is much better for this year. To be able to relax after a packed season and full schedule last year is great. Golf is such a global game now and a lot of golf championships and majors are played over there. I can see myself playing in the States in the future, but my main focus is to play well and establish myself in Europe first and climb up the World Rankings.
Sky Sports: Did you watch the recent Ryder Cup and do you think you have a chance of making the team in maybe 2014 or 2016?
BW: Yes, I believe I have a chance to be part of the team over the next few years. I watched the 2012 Ryder Cup whilst at St Andrews with some of the guys from Titleist. It was a fun night to see the Europeans turning around the Ryder Cup; it was probably the nicest moment for the European Tour last year.
Sky Sports: Who are your best friends on Tour?
BW: Obviously a couple of Austrians - I hang out with Marcus Brier and Martin Wiegle most because they are my fellow countrymen, but I also spend a lot of time with Germany's Marcel Siem out on tour. There are also a number of guys who have graduated from the Challenge Tour in 2010 alongside me and I have become really good friends with - the likes of Joel Sjoholm and Thorbjorn Olesen. They are very similar ages to me, but there are so many good guys on tour and you can always find someone to hang out with.
Sky Sports: What are your favourite other sports?
BW: I played football up until I was 14 and then got more serious with my golf. If I was to choose two other sports it would be skiing in winter and I like to play basketball in the summer, as my brother plays in a semi professional team and I play with them every night at home. Obviously I have to be careful on court to avoid any silly injuries. It is much more quick and physical compared to golf, but I enjoy it and it gets my mind off golf and allows me to meet up with friends on the basketball court.