Phil Mickelson tipped for Masters challenge by Denis Pugh, after Phoenix win
Phil Mickelson's superb win in Phoenix suggests he can challenge for the majors this season, says Denis Pugh.
Last Updated: 04/02/13 9:44am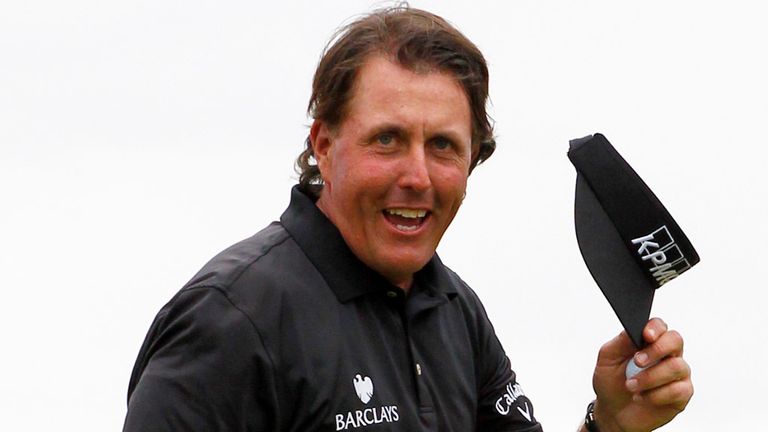 The American stormed ahead with an opening round 60 at the Waste Management Phoenix Open and backed that up over the weekend to seal a four-shot victory ahead of Brandt Snedeker.
Mickelson's 28-under score matched Mark Calcavecchia's record tournament low and Pugh says the 41-time PGA Tour winner must be considered among the favourites for April's Masters at Augusta.
"You can't say anything other than 'that was brilliant'," Pugh told Sky Sports.
"I just say 'thanks Phil for showing us a counter to how good Tiger was last week [when he won at Torrey Pines]'. We've got a genuine battle going on now - and Rory's not out of it either.
"With the new grip Mickelson's assumed on his putter, there's less of a forward press and there's more chance of getting the ball rolling consistently for pace - and that's the most important thing at Augusta: getting the pace of the greens right.
"He's also convincing himself he's driving the ball better. He's never been a great driver of the ball but he drives so aggressively and he takes things on."
Mark Roe was equally impressed with Mickelson's performance and agrees the Masters will be a key target for the Californian in 2013.
"No doubt he'll be thinking about the Masters now," said Roe.
"He's got a driver he feels confident with and he's driving the ball well. He's won the Masters three times already and he's very often in contention when he doesn't win, so you'd have to think a fourth green jacket will really be on his horizon."
Number one
However, unlike his rivals McIlroy and Woods, Mickelson has never reached number one in the world rankings. It's a rare blemish on the four-time major winner's career record and one Roe fears he may come to regret at the end of his playing days.
"Mickelson had a massive opportunity during Tiger's break from the game to become world number one," he said.
"Martin Kaymer, Lee Westwood and Luke Donald all made it to number one during that period. Mickelson had the chance too, but he seemingly found a way not to go through the door which was half-open to him on several occasions. Why didn't he do that? That will be a question he'll have to answer in the future."
But Pugh isn't ruling out a charge to the top from the 42-year-old in 2013 - and reckons it will be a great season for golf fans if Mickelson can mount a serious challenge to the world's current top two.
"I hope he can still get to number one," he said. "It will certainly be great fun watching him try.
"But Rory is currently number one by a good stretch and he's pulling away and playing well."