Pebble betting guide
Dave Tindall's in-depth preview and best bets for the AT&T Pebble Beach National Pro-Am.
By Dave Tindall
Last Updated: 05/02/13 7:57pm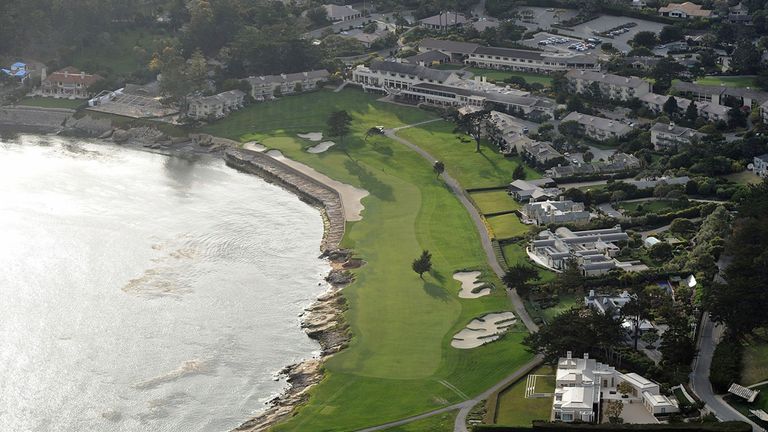 If you want unrivalled beauty on your screens this week, tune into Sky Sports for their coverage of the AT&T Pebble Beach National Pro-Am.
The iconic Pebble Beach course hugs the rugged coastline of the Monterey Peninsula and its ocean holes are simply breathtaking.
Pebble Beach has staged five US Opens, including Tiger Woods' amazing 15-shot romp in 2000, but this week's format is different.
Instead of four rounds at Pebble, the 156 professionals play Monterey Peninsula CC, Spyglass Hill GC and Pebble Beach Golf Links in rotation. After three days the cut is made and the top 60 players and ties return to Pebble Beach for the final round.
Each professional plays with one amateur partner and one third of the amateurs in the field are 'celebrities' made up of famous names from the movie, music and sports industries. The top 25 pro-am pairings also return to Pebble Beach for the last round.
As usual, Sky Sports have live coverage of all four days.
The courses
Pebble Beach is short by modern standards but the wind can obviously play a huge factor - especially on the holes along the coastline (4, 5, 6, 7, 8, 9, 10, 17 & 18). The famous downhill par three seventh is just a flick with a wedge on calm days but provides a real challenge when it gusts. Spyglass Hill is also just over 6,800 yards but is considered the hardest of the three. The first five holes at Spyglass are exposed to the ocean but the rest of the course is inland, tree-lined and features huge changes in elevation. The Monterey Peninsula Shore course is a links style track. The first four holes and last two holes have some protection from the Cyprus trees but the rest of the course runs along the sea front and is very exposed to wind. Again, it's under 7,000 yards but par is 70. It's worth remembering that Pebble won't play like it does in the US Open. It, and the other courses, are set up with the amateurs in mind so there is little rough, pin positions are accesible and low scoring is the norm. The winning totals for the last 10 runnings are -17, -15, -16, -15, -10, -20, -17, -19, -16, -14. By contrast, Graeme McDowell won the 2010 US Open at Pebble with even par.
The weather
The forecast suggests temperatures will be low, struggling between 10 and 12 degrees for all four days of the tournament. There is a chance of showers on Thursday and Friday while the winds are predicted to be around 18mph on Thursday, dropping to 9mph for the final round on Sunday.
Last year - Phil Mickelson
Paired with Tiger Woods in what was set up to be one of the classic final round duels, Mickelson blew his great rival away with a stunning 64 to Tiger's 75. Mickelson actually started the day six shots behind Charlie Wi, who played in the final group with Ken Duke, but the left-hander never looked back after playing the first six holes in five-under. Wi, meanwhile, saw his hopes of a first PGA Tour title stumble immediately after four-putting the first from 40 feet although he recovered to finish runner-up. Woods, who isn't playing this week, slipped down to tied 15th.
The leading contenders (and Sky Bet odds)
An * next to course form means that the result was achieved in the US Open. e.g. Mickelson was 3rd in 2010 US Open.
Phil Mickelson (7/1): It used to be Mark O'Meara who had the title 'Prince of Pebble' after he won there for a fifth time in 1997. Tiger then assumed the mantle after winning the US Open at Pebble by 15 shots in the same season he'd come with a flying finish to win the regular Tour event there. But the new 'Prince of Pebble' has to be Mickelson after he took the title for a fourth time (previous wins came in 1998, 2005 and 2007) with a brilliant closing round 64 last year. Lefty bids to tie O'Meara on five wins on the back of a superb wire-to-wire win in the Phoenix Open on Sunday. Phil did the Phoenix-Pebble back-to-back double in 2005 while in both 2007 and 2012 he won Pebble and lost a play-off at Riviera seven days later so he can definitely stay hot on the West Coast swing for two weeks on the spin.
2013 form: 1-51-37
Course form: 1-9-3*-8
California form: 51-37-65-2
World ranking: 10
Dustin Johnson (8/1): DJ could also lay claim to the 'Prince of Pebble' moniker after back-to-back wins in this event in 2009 and 2010 along with a fifth last year and a seventh on debut in 2008. He was also leading by three going into the final round of the 2010 US Open at Pebble before collapsing with a final round 82. Johnson started the year with a victory in the Hyundai Tournament of Champions and, after a couple of quiet weeks, will be relishing the chance to tee it up and challenge at Pebble again. "Pebble is gonna be a blast...I already know it!!! #LetsGo" he said on Twitter last week.
2013 form: 51-Wd-1
Course form: 5-55-8*-1
California form: 51-MC-4-5
World ranking: 16
Brandt Snedeker (12/1): Although he hasn't quite got his nose in front, three podium finishes (back-to-back second places at Torrey Pines and Phoenix the last two weeks and a third at the season-opening Hyundai) have taken Snedeker to the top of the FedEx Cup standings. He's first in Birdie Average this season and gives the impression that he can hole from anywhere. Even his missed putts shave the edge more often than not and he's now justifiably the world number six. He hasn't played that well in this tournament before (no top 20s in five appearances) but in his current form he has to be a danger anywhere.
2013 form: 2-2-23-3
Course form: MC-8*-21-MC
California form: 2-23-17-1
World ranking: 6
Lee Westwood (16/1): Westwood has had two good US Opens at Pebble (5th in 2000, 16th in 2010) but he's played this event just once. However, now he's based in the States he's added this tournament to his schedule and will be hoping to build upon a promising seasonal-debut fifth in Dubai. "I played a lot more this winter than I would normally play. There's no rust," said Westwood ahead of Dubai and clearly being able to practice in sunny Florida made him much more ready than a clubs-stuck-in-the-garage winter in the UK. Westwood said he "played lovely" in Dubai and he'll also have his dad as a pro-am partner at Pebble so all is set for a strong performance from the Englishman.
2013 form: 5
Course form: 16*-62-5*
California form: 4-21-34-40
World ranking: 8
Nick Watney (18/1):
The Californian was fourth at Torrey Pines on his only start this season in the Golden Sate so he'll be hoping to shine on home turf again. Watney lists Pebble as his favourite course in the world although he's never really set this tournament alight and has just two top 10s in nine appearances. However, the glass half full approach suggests if he can finish sixth (2011) and seventh (2006), he can kick on and take the title. His switch to Nike hasn't been an instant success although he's actually struck the ball very well, finishing second in greens in regulation at Phoenix and sixth in G.I.R. at Torrey Pines. The problem so far is a cold putter.
2013 form:
43-4-13
Course form:
40-6-76*-27
California form:
10-16-3-MC
World ranking:
21
Padraig Harrington (22/1): Harrington revealed ahead of his seasonal debut in South Africa that he'd really put in the hours over the winter. And having finished fourth there, 23rd in Abu Dhabi and ninth in Phoenix, he's getting some early rewards. Fifth in the 2000 US Open at Pebble, he's been a regular visitor since 2007 and racked up four top 25s, including a seventh place last year. Harrington feels good about his game and reckons the greater emphasis he's put on his putting over the break should hopefully help him turn good performances into the wins which he's found elusive in recent years.
2013 form: 9-23-4
Course form: 7-63-22*-16
California form: 4-44-7-55
World ranking: 47
Hunter Mahan (25/1): Although it ended in heartbreak, it must still grate on Mahan that he didn't make it into the US Ryder Cup team at Medinah. It looked to be on his mind when 26th out of 30 in the season-opening Hyundai Tournament of Champions but he's since found form with back-to-back top 20s at Torrey Pines and Phoenix. Mahan, a California boy, was runner-up at Pebble in 2011 and last year's 15th is one of three other top 20s. When second two years ago, Mahan's best two rounds were both at Pebble (66 and 67) so no wonder he said later: "I love coming here. It's a beautiful place." Mahan is 16th in Strokes Gained - Putting this year so the signs are good that he can flourish on the poa annua greens he knows so well.
2013 form: 16-15-26
Course form: 15-2-MC*-64
California form: 15-38-34-15
World ranking: 26
Jim Furyk (28/1): We shouldn't feel too sorry for multi-millionaire golfers but Furyk certainly took some blows last year. He faltered down the stretch when all set to win the US Open and then buckled over the final few holes to lose an absolutely crucial Ryder Cup singles to Sergio Garcia. He got back on the horse by finishing third in the McGladrey a few weeks after Medinah but this is his first start of 2013. Furyk has bags of experience at Pebble and has made the top six four times although the last of those was in 2007.
2013 form: MC-20-11
Course form: 46-MC-16*-35
California form: 4-11-40-35
World ranking: 27
Best of the rest
Webb Simpson (33/1): Simpson won his 2012 US Open title in California although the good vibrations didn't work at the Humana Challenge a few weeks ago when his return to the area resulted in a missed cut. There wasn't too much wrong though and he actually shot a 65 in round three. Before that he was 20th in the Sony Open and 11th in the Hyundai so his seemingly quiet start to the campaign is more a case of him being overshadowed by the hot form of others like Mickelson, Woods, Johnson and Snedeker. He's played this event twice, missing the cut in 2009 and finishing 46th in 2010.
2013 form: MC-20-11
Course form: 46-MC
California form: MC-1-MC-13
World ranking: 17
Jimmy Walker (35/1): If you're looking for a California specialist, look no further than Walker. In his last nine starts in the Golden State he's finishes in the top 10 no less than seven times and that includes a pair of ninth place finishes here in 2011 and 2012. His most recent was a fourth at Torrey Pines, his third top four in his last four California starts. He could only manage 54th in Phoenix but he closed with a 67 and his confidence will still be high.
Tim Clark (40/1): The South African definitely belongs in the horses-for-courses category after a great sequence of results here. He teed it up at Pebble seven times between 2003 and 2010 and five times he finished in the top 12. A runner-up in the Sony Open a few weeks ago, Clark will hope his love affair with Pebble can resume again after missing this event for the last few years with injury.
Dark horses
Bryce Molder (66/1): Molder was 10th here in 2010 and sixth in 2011 but, on both occasions, he left Pebble with a sense of disappointment. In 2010 he was the halfway leader and third going into the final round while a year later he was second after three rounds. Three opening 67s in Phoenix last week helped him to a top 25 finish and he also won the Frys.com Open in California in October 2011.
Kevin Chappell (125/1): Another Californian, who was sixth on his Pebble Beach debut in 2009. He's also finished third and 10th in his only two US Open starts so has a touch of class about him. This season he closed with a 62 to finish eighth in the Humana Challenge while he closed with a 66 to make the top 25 in Phoenix last week.
Conclusion
In an event which throws up so many repeat winners and same names at the top of the leaderboard I'm definitely putting a lot of emphasis on course form this week.
Which makes it hard to know what to do with four-time winner Phil Mickelson and two-time champ Dustin Johnson. I want to be on both but their single figure prices really don't leap off the page, especially after we landed a 25/1 payout on Mickelson last week.
The added dilemma is that Mickelson has history of staying hot for fortnightly spells and indeed did the Phoenix-Pebble double in 2005 and won the 2006 Masters on the back of a dominant win at the BellSouth Classic.
I can see both Mickelson and DJ being a big factor but will take them on with two players who could have their beating and also remove them from the equation by playing the market without them and the hugely in-form Brandt Snedeker.
Two of Hunter Mahan's five PGA Tour wins have come in the month of February so this is definitely a good time to catch him.
The signs are there that he's about to peak again after finishes of 15th and 16th in the last two weeks and his 16th place in the Strokes Gained - Putting stats bodes well for a player who was only 112th last year.
Mahan was runner-up here two years ago when his best two rounds were both at Pebble and he has the class to go one better this time.
Tim Clark is a definite course specialist here and only an amazing performance by rookie Russell Henley stopped him winning the Sony Open a few weeks ago.
A long-term injury which wrecked Clark's last couple of seasons had a big effect on his world ranking and the South African is well aware that he needs some big displays to climb back to where he was.
At the Sony he said: "My ranking has fallen quite a lot, and I need to get myself back in the majors. I want to play a lot now and see where that can put me. I'm in the Masters, but I need to get in the US Open and British Open."
At 40/1 you're backing a player with plenty of incentive.
With Mickelson, Johnson and Snedeker playing so well, it's worth looking at the market without the front three in the betting.
And the main one I like is Bryce Molder.
The American has been right up there at Pebble in two of the last three seasons before fading somewhat on the final day.
But having still managed 10th and 6th he's a bit of a course specialist and a top 25 in Phoenix suggests he's ready to challenge here again.
By backing him without Mickelson, Johnson and Snedeker, we could still collect if he finishes eighth so it's worth taking the slightly lower 50/1 than the 66s in the main market.
Using the same reasoning, give Kevin Chappell a whirl at 100s without the front three.
He said recently: "Been working with Mark Blackburn on my golf swing. I've seen some great results moving the ball both directions and really starting to play golf again, rather than play golf swing, which has been such a joy."
Having only just retained his card last year, 2013 could be a breakthrough year.
Best bets
2pts e.w. Hunter Mahan at 25/1 (1/4 1,2,3,4,5)
1pt e.w. Tim Clark at 40/1 (1/4 1,2,3,4,5)
1pt e.w. Bryce Molder 'without Mickelson, Johnson and Snedeker' at 50/1 (1/4 1,2,3,4,5)
1pt e.w. Kevin Chappell 'without Mickelson, Johnson and Snedeker' at 100/1 (1/4 1,2,3,4,5)