Africa stat pack
Some key stats and a form guide for this week's Euro Tour event - the Africa Open at East London.
Last Updated: 11/02/13 9:32pm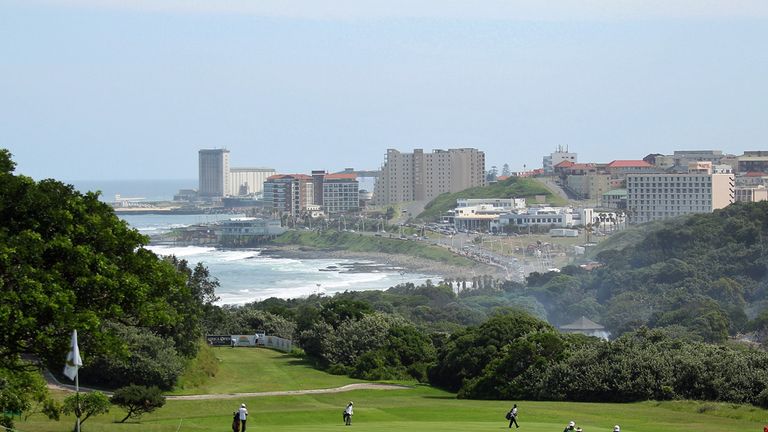 The European Tour travels approximately 500 miles south from Johannesburg to East London for the Africa Open.
Opened 120 years ago, East London Golf Club enjoys spectacular views over the Indian Ocean and is one of the country's finest golfing venues.
This coastal location has small greens while wind is a constant factor which, when combined, puts an even greater emphasis on accurate iron play than normal.
SELECTED PLAYERS with GOOD to REASONABLE FORM at EAST LONDON
Since Africa Open was first co-sanctioned in 2010
Player: '10 / '11 / '12
Thomas Aiken: 2 / 14 / 14
Adilson Da Silva: MC / 26 / 18
Trevor Fisher: 4 / 26 / MC
Keith Horne: 18 / 21 / 62
James Kingston: 8 / 26 / 41
Jbe Kruger: 3 / 8 / MC
Doug McGuigan: 55 / 23 / 29
Shaun Norris: MC / 8 / 14
Neil Schietekat: 21 / 18 / MC
Dawie Van Der Walt: 21 / MC / 18
Tjaart Van Der Walt: 43 / 26 / 2
Jaco Van Zyl: 28 / 4 / 4
SELECTED PLAYERS with POOR to MEDICORE FORM at EAST LONDON
Since Africa Open was first co-sanctioned in 2010
Player: '10 / '11 / '12
(No Top-40 Finishes from two or more starts)
Christiaan Basson: MC / MC / MC
Desvonde Botes: 64 / - / 47
Merrick Bremner: MC / MC / 47
Jamie Elson: MC / 51 / 54
Andrew Georgiou: MC / MC / 59
Vaughn Groenewald: - / MC / 70
Alex Haindl: MC / 69 / MC
Justin Harding: - / MC / MC
Jean Hugo: MC / 51 / MC
Alexandre Kaleka: MC / MC / -
James Kamte: MC / 65 / -
PH McIntrye: MC / 44 / MC
Colin Nel: - / MC / MC
John Parry: MC / - / MC
Joel Sjoholm: - / MC / MC
Lee Slattery: MC / MC / -
Theunis Spangenberg: - / MC / MC
Ulrich Van Den Berg: MC / MC / MC
Justin Walters: 49 / MC / 70
TOP-10 Finishers at EAST LONDON in 2012 (Not Already Listed)
Alastair Forsyth: (5th)
Craig Lee: (T-8th)
Lyle Rowe: (T-8th)
Matthew Baldwin: (T-10th)
Magnus A Carlsson: (T-10th)
Emiliano Grillo: (T-10th)
Peter Karmis: (T-10th)
LOWEST 15 STROKE AVERAGES at EAST LONDON
(Last Four Years - 2009/12)
Average (Rounds)
68.83: Jaco Van Zyl (12)
69.08: Thomas Aiken (12)
69.42: Tjaart Van Der Walt (12)
69.50: Jbe Kruger (10)
69.88: Alastair Forsyth (8)
70.00: James Kingston (12)
70.10: Trevor Fisher (10)
70.13: Matthew Nixon (8)
70.20: Shaun Norris (10)
70.30: Oliver Bekker (10)
70.30: Neil Schietekat (10)
70.33: Keith Horne (12)
70.40: Magnus A Carlsson (10)
70.50: Adilson Da Silva (10)
70.50: Andrew Marshall (10)
70.50: Doug McGuigan (12)
Note: Min. No. of Rounds = 8
LOWEST ROUNDS at EAST LONDON
(Since course first hosted Africa Open in 2010)
62: Louis Oosthuizen (2012)
63: Branden Grace (2012)
64: 4 times
East London: Par 73; 6,691 yards
Winning Totals (Last Three Years):
2012: 265 (Louis Oosthuizen)
2011: 276 (Louis Oosthuizen)
2010: 272 (Charl Schwartzel)