In a Golden State
Englishman Andy Hughes recalls his time as assistant pro at Riviera and gives us the lowdown on the course.
By Dave Tindall
Last Updated: 17/02/14 9:12am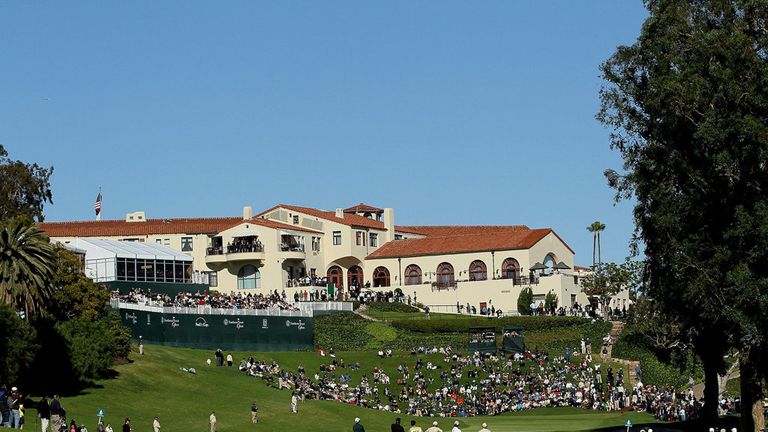 For nearly four memorable years from the start of 2007 until late 2010, golf-mad policeman Andy Hughes and wife Helen swapped Hertfordshire for the glitz of Los Angeles.
And, against all odds, for three of those Andy was the assistant pro at one of the most famous golf courses in the world - Riviera Country Club.
The iconic venue at Pacific Palisades was opened in 1927 and is the annual host of the Northern Trust Open, formerly the Los Angeles Open, which will be played this week.
Riviera has also held three major championships, the last in 1995 when Colin Montgomerie lost a play-off to Steve Elkington.
Now back in the UK working at The Grove in Hertfordshire (where Tiger won the 2006 WGC-American Express Championship), we caught up with Andy to hear his improbable story.
Sky Sports: Firstly, tell us how on earth a policeman in Hertfordshire ends up becoming assistant pro at Riveria!
Andy Hughes: Well, where do I start?! As you say, I was a police officer in Hertfordshire without a care in the world, playing golf as much as possible. I tried the EuroPro Tour Q-School and had a wake-up call. I just was not good enough.
Then one night after work I went on a boys night out in Watford where I met Helen, who is now my wife. Helen was offered the opportunity to work in L.A. so we flew over to the States to check it out.
Not long after, we made the decision to relocate and on January 1st 2007 we packed up and set off for a new life in L.A.
Without realising, we'd moved next door to the son of famed golf coach Eddie Merrins, an honoured member of the World Golf Teachers Hall of Fame and former coach at UCLA. Eddie's son Mason and I struck up a friendship and we discussed the golf industry as a possible career.
I had several interviews but was told I lacked the necessary experience until Candlewood Country Club - about an hour away - decided to take a chance on me.
I had a great time at Candlewood, working for a great Head pro and GM, and they looked after me very well. They were a small club with great members and it was invaluable how they showed me the ropes in such a small time.
Six months at Candlewood made me fully aware of The Riviera's historical significance and I'd drive past the course - it was just five minutes from my house - wondering what and who was behind the gates.
Then one day I was told The Riviera were interviewing and I went to my head pro and told him I wanted to give it a go. At first he laughed but then told me 'Well, you have to always move onward and upward'.
I got through the paper feed and then had two interviews and thought they went well but when I saw the quality and level of golf pros applying I certainly didn't get my hopes up.
But a short time later my phone rang. It was the Riviera and they wanted to offer me the job!
Basically, I went from a great job at my first Country Club which no one has heard of to the Riviera with a membership made up of L.A.'s most rich and famous.
Sky Sports: How many rounds do you reckon you played there and what was your lowest score?
AH: Wow, it will have been hundreds as I was playing three of four times a week. My lowest score was a 69.
Sky Sports: Riviera has been described as a fader's paradise due to the many left to right doglegs? Does it really suit a fader or is that idea overplayed?
AH: No, I agree with that assessment. The caddies will tell you that fading the ball around the 'Riv' is a lot safer.
Sky Sports: What skill-sets are most important to succeed at Riviera?
AH: The winners over the years have always had different skill-sets but I think scrambling would be very high up there due to the unforgiving grass which gives you no breaks.
Sky Sports: What is your favourite hole?
AH The par three 16th - the scene of my first ever hole-in-one! The pin was hidden behind a bunker to the left. I took my 7 iron, played a smooth cut and at first I thought it was short and had hit the fringe. My playing partners and I walked up to the hole and one saw my pitch mark just in front of the hole, put his hands in the air and shouted: "We have a ball in the hole". I shouted: "It's my first, it's my first."
Sky Sports: Given its setting in Los Angeles, a lot of celebrities play at Riviera. Does that mean the course is set up much easier during the rest of the year?
AH: The Riv is a great all-round course with four different tee-boxes so you can play it as hard or as easy as you wish.
Sky Sports: Did you get to play with many celebs?
AH: I was lucky enough to play with a lot of the members and a lot of them were famous. Seriously, I had to pinch myself at times.
Sky Sports: Was there a standout moment?
AH: Just going to work every day was the best job I have ever done.
Sky Sports: What's your favourite Riviera fact?
AH: Jack and Tiger have never won there. So you could say it's both Bear and Tiger proof! Tiger missed the cut there as a 16-year-old in 1992 and hasn't won in 11 starts there.
Sky Sports: Will you be watching on Sky this week?
AH: Every minute, wishing I was there!