Snow golf
Dave Tindall travels to Swedish Lapland to try his hand at snow golf. Is it really the game as we know it?
By Dave Tindall
Last Updated: 15/03/13 1:33pm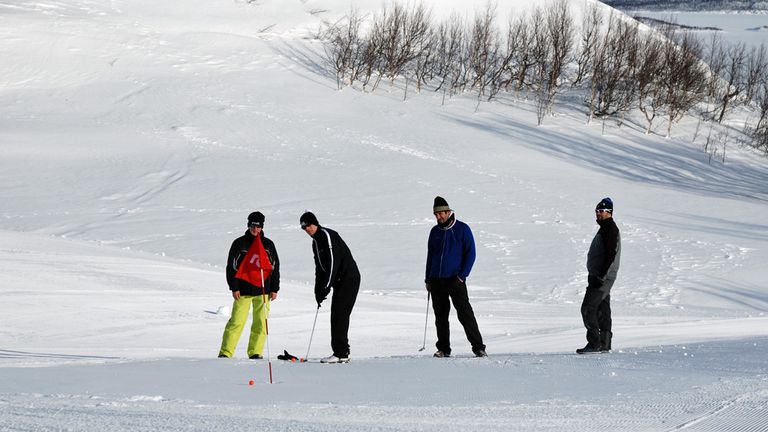 When snow falls on a British golf course, there's a collective groan. No play today.
When it covers the fairways in northern Sweden, the locals see it as an opportunity.
They call it snow golf. Greens turn to whites, orange balls replace normal ones and the greenkeepers (sorry, whitekeepers) prepare the course with snow ploughs (see here for more photos).
I've arrived in the resort of Björkliden in Swedish Lapland to see if golf really can be played in snow. Is it a recognisable version of the game as we know it? Or is it one of those Nordic curiosity sports which deserve a classification of their own.
The surprising thing I find during my two-day trip is that in many ways snow golf is just like the real thing. In other ways, though, it can be absurdly different.
I discover both truths with my very first snow golf tee-shot - a horrid shank into the trees down the right.
Unfortunately, it's a familiar feeling as it happens to me on grass. On the other hand, beneath the base layers, two pairs of thermal socks, three shirts, scarf, woolly hat, ski pants and jacket (well, it is -12) I'm thinking that maybe I didn't turn through the ball at impact due to the amount of clobber I've got on.
Sheepishly, I head right to find my orange ball but, shockingly, my feet go from underneath me and I disappear up to my waist in a snowdrift. A heavy downfall overnight has left the 'rough' about three feet deep in places. I make a mental note to keep it in the fairway.
It's been an amazing effort to get the course ready to play - the staff were up at 5am getting it prepared - although, as we discovered during our drive from Kiruna Airport to Björkliden the day before, clearing snow is done with the minimum of fuss in this part of the world.
After losing another one in the (very) thick stuff, I take a drop on the fairway and wedge my fifth over a hill.
The snow in the fairways has been compacted so when I climb the incline I find my ball sitting up with a nice lie. It's here that I get my first view of the green/the white.
All the putting surfaces have been packed down hard and smoothed - so much so that they make Augusta's look positively pedestrian.
The extremity varies but, on the whites that are set on slopes, putts that aren't heading straight for the widened cups (the same size as winter green ones in the UK) come straight back to your feet if underhit or roll away off the edge if struck from above the hole.
As potential birdie putts turn into double bogeys, our guide Peder says they will have to flatten them a little when this same six-hole course stages the Swedish Snow Golf Championships in a few weeks' time. Peder should know. He was the champion two years ago.
While the putting element probably more resembles crazy golf, hitting from the tee and fairways is refreshingly fair and tests good ball-striking. Take too much snow and you'll hit fat shots that land 50 yards away; pick the ball cleanly, with the bottom of your blade just brushing the top of the snow, and you'll be rewarded.
Chipping, too, is a matter of making the right connection and by our second circuit around the course in the afternoon I feel much more confident. Indeed I manage to level our match (myself & Mark v Peder & Alex) with a birdie chip-in on the fifth. I dink the ball onto the white, watch it take the spin and raise a fist as it curls left into the hole.
It's surprising how normal it feels when we play our afternoon match. We've adjusted. It's still a challenge to the senses to see white all around us but, in essence, this is just like any other match play clash with both teams concentrating on how to take each other down.
Bizarrely, despite the temperatures saying -12, it doesn't feel overly cold either. The air under the blue skies is dry (breathe out and you see nothing) so I'm able to take my winter gloves off to play each shot without fear of frostbite.
A half at the last means we finish all square so it's going to take more holes to find a winner. It's then that things turn very strange...
Snow golf by night
It's now dark outside, the snow is blowing sideways and we're tucking into some delicious Arctic char (the same fish which 2003 Masters winner Mike Weir chose for the Champions dinner in 2004). To be honest, we've also had a few.
Peder, though, has a wicked smile on his face. "We must find a winner," he declares and then reveals that our duel shall be settled in the dark.
Out on the course, spotlights have been placed by the tee and green on the first hole which we will play three times to decide who wins.
We half think he's joking but, no, once the creme brulee has been polished off, we put on our thickest winter clothes (out come the balaclavas as well) and head outside into the cold.
The obvious question is 'how do we see our golf balls once struck from the tee?'
The answer is simple. We're given glow-in-the-dark ones!
On the surface, they look like any other other golf balls but give them a sharp tap and they light up for seven minutes (this fascinates me no end and eight thuds per hour can be heard coming from my direction for the rest of the trip).
I'm first to hit in this most extreme form of snow golf and, after a decent strike, I watch my glowing green ball trace through the pitch black and settle somewhere up on the hill. And then luminous orange (Alex), yellow (Peder) and blue (Mark) ones also make glowing arcs in the sky.
Okay, we're a bit disappointed that the driving snow and clouds have prevented us from seeing the Northern Lights but we've lit up the sky with some magic colours of our own.
A couple of our shots have missed the fairway and buried, but when we get near we see them sending out a glow from under the snow like little hiding E.T.'s. They're dug out and the game goes on.
Yes, it's freezing. And, yes, we can't see our backswings when hitting from the fairway (actually, this is probably a good drill for getting a sense of feel!) but this is massively exhilirating. I'm loving it. I feel, as the Swedes might say, "a liddle bit cray-zee".
The previously smooth and immaculate putting surfaces are roughed up now and with the match still all square after playing this par four first hole twice, Peder's ball has gathered in a little clump just six feet from the cup. He has this to win the match.
As he steadies himself over the ball with the snow blowing hard into his face, Mark and I do our best to put him off - "he will have dreamt about this moment since he was a little boy growing up in Sweden", "can he take the pressure?" etc etc - but Peder holds his nerve, sinks the putt and let's out a roar.
Alex and Peder are the champions although the gloss is rather taken off their victory celebrations which are spent searching in the dark for a six-iron which, erm, one of us has left near a tree.
It's been an amazing experience and great fun too.
Playing golf in winter doesn't have to be a case of fleeing somewhere hot.
Don't be put off by the elements, embrace them instead. Think outside the box and try snow golf.
* Lapland Resorts offers a three night Snow Golf package from 4525 SEK (£465) per person from Thursday to Sunday on a half board basis, including transfers, 'white' fees, golf balls and basic club hire. This price is based on based on two people sharing a double room at Hotell Fjället, excluding flights and optional activities. Lapland Resorts is part of Mantis, collection of award winning, privately owned, properties located around the world that offer in-the-know travellers the most exceptional properties and experiences.
* For more information and to book, visit http://en.laplandresorts.com/