Tiger Woods' WGC-Cadillac Championship win at Doral impresses Butch Harmon
Butch Harmon reckons Tiger Woods is putting as well as ever and has really hit form ahead of the Masters.
Last Updated: 22/03/13 4:34pm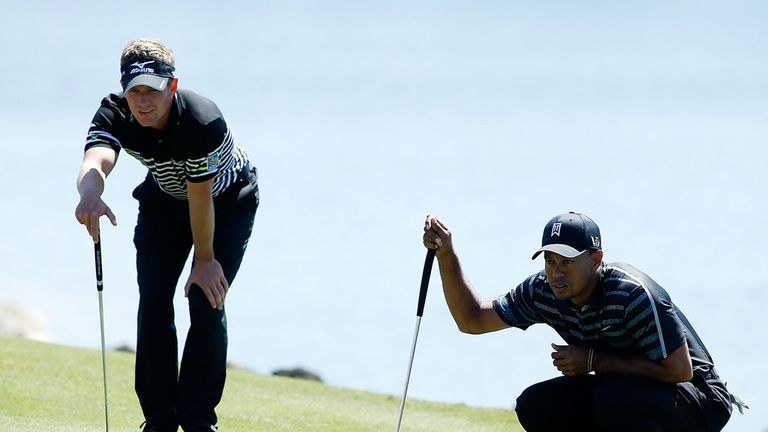 The American held a four-shot advantage going into the final day of the WGC-Cadillac Championship and posted a fourth-round 71 to finish on 19-under and seal his 17th WGC title and second success of 2013.
Following on from his victory at Torrey Pines in the Farmers Insurance Open in January, Woods looks in good shape heading towards April's Masters - and his former coach Harmon told Sky Sports he'd never seen the 37-year-old putt better.
"It was all about the consistency Tiger played with this week," he said. "Up until holes 16 and 18 he'd almost been flawless for four rounds.
"He controlled his ball off the tee and when he did get into trouble he just took his medicine and got back into play.
"He putted beautifully, as well. It's as good as I've ever seen the young man putt. It's beautiful to watch.
"For all of us that love golf it's great to see Tiger Woods back on his game, coming up with the Masters soon. We'll see him in a few weeks at Bay Hill but they all point for the Masters and I was very impressed with the Tiger Woods we saw this week."
For Harmon, Wood's victory was never in doubt after his opening 66 on Thursday and he reckons the 14-time Major winner has regained confidence in his swing after several years re-working his action.
"Tiger ended up winning by two shots but it seemed like five or six," said Harmon. He was never tested on Sunday.
"Phil Mickelson and a couple of others went on little runs but Tiger just started knocking the ball right back at the flag, where he needed to be. He's the champion and it didn't ever look like it would be anyone except him.
"He was going through a lot of swing changes over the last few years and now he feels very comfortable with all the work he and Sean Foley have done. He looked good this week, for sure.
"Now he'll have one more try before the Masters - at the Arnold Palmer Invitational at Bay Hill - so that will be interesting to watch.
"But we can't say enough about Tiger Wood's golf game. Is he back to where he was in 2000, 2002 or '05, '06 and '07? That remains to be seen but I know one thing: he was awfully good this week."
Special
Another player who will be satisfied with his work in Florida will be Rory McIlroy. After a disastrous performance at the Honda Classic, which led to him abandoning his round, the Northern Irishman bounced back with a bogey-free 65 on Sunday to finish tied for eighth in Doral - and Harmon was pleased to see the world's top-ranked golfer returning to form.
"Over the last three rounds McIlroy achieved something special," he said.
"The first round wasn't good at all and he gutted it out to shoot a 73. He has struggled with his game and he had to eat humble pie after what happened last week. But I think he handled that as a gentleman and the way he played on Sunday was the Rory of old.
"He says he's not going to play Bay Hill but I hope he does because I want to see him keep on playing."