Potter and the Par 3 jinx
Dave Tindall blogs about the fun and games at the Par 3 Contest and another memorable day for Bubba.
Last Updated: 11/04/13 12:15am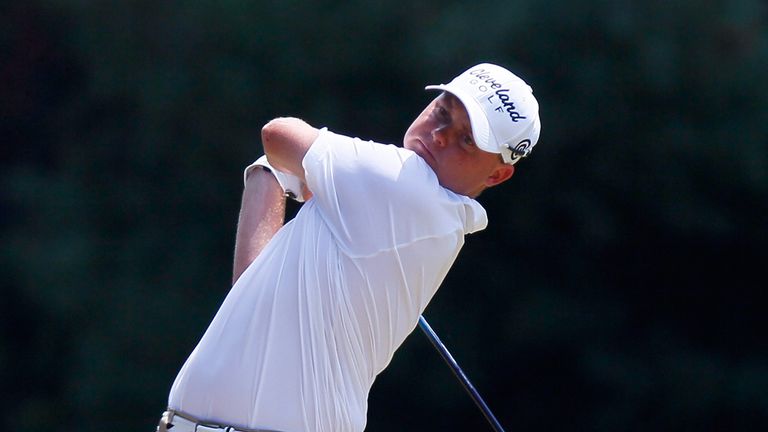 Wednesday at The Masters is the calm before the storm... perhaps literally this year given the forecast for Thursday afternoon.
The calm comes in the form of the traditional pre-tournament Par 3 Contest where sons, daughters, mothers, fathers, wives and girlfriends don white caddie outfits which, whatever size they are, always look too big.
It's all good family fun although, bizarrely, most players don't want to win it.
The well-documented reason for this is that no player has won the Par 3 and The Masters in the same week and because of that the word 'jinx' gets its busiest outing of the sporting year.
As each year passes, the players seem to get even twitchier about it so there were somewhat unusual scenes today when Phil Mickelson raced into the lead with a hole to play.
Speculation was rife that he'd deliberately dunk his tee-shot at the ninth and final hole into the water in front of the green so there was a collective double-take when the scoreboard in the media building showed that Phil had in fact birdied it to move into a two-shot lead.
What was he thinking? Didn't he want to win a fourth Green Jacket? We all know the jinx is all-powerful and will never be broken.
So when an hour or so later Phil's name disappeared from the Par 3 leaderboard it seemed he'd come to his senses and disqualified himself for reasons unclear.
Normal service was resumed and it would be left to a lesser light to have their moment in the sun.
Except later in the day, Phil's name was re-installed and that meant he was tied for the lead again with then clubhouse leaders Ernie Els and Nick Watney - two other Green Jacket hopefuls who should have known better.
Bo Van Pelt understood the jinx and acted as any good superstitious Masters contender should. He'd taken the lead at five-under with a hole to play but, at the last, he'd let his kids putt for him, thus disqualifying himself.
The trio of leaders expanded to five later in the day as first, left-hander Ted Potter Jr and then Matt Kuchar also posted four-under.
So what would happen now? Would the title be shared and a massive five-man curse be struck. Or would they return for a play-off? Would any of them want to? Would they all be hiding inside the Butler Cabin, cowering beneath a window ledge in case a man with a green jacket spotted them and instructed them to play off?
In the end, three of them did return - Mickelson, Kuchar and Potter Jr.
I did tell a fellow journalist that Potter Jr would be a mortgage job if there was a play-off and, lo and behold, the man who wanted to lose least went and won it.
He and Kuchar birdied 8 (Mickelson going out with a par) before Potter Jr added another birdie at 9 to win.
Given the Potter surname and all this talk of jinxes, I did briefly think about photo-shopping Ted's head onto Harry's but it was late in the day and, as a creative force, I was spent.
Wednesday morning
The early part of the day was spent following the three-ball of Adam Scott, Ernie Els and Louis Oosthuizen.
It still seems a bit odd that Scott should be hanging out with the man who pinched the Open Championship from him but it shows how strong their friendship must be.
Els seemed a bit loose, finding bunkers and hitting a couple of poor pitches so it was a surprise to see him do so well in the Par 3 later on. That probably shows that it's dangerous to read too much into practice rounds.
The media building is just a lob wedge away from the first fairway and it's where Sky Sports have a raised platform on which you'll see the likes of Denis Pugh and Butch Harmon doing live pieces to camera.
I popped up there at lunchtime to get some photos for the blog and also spent a nice few minutes talking with Denis' wife. She's German and, to my surprise, knew a small place in Bavaria (Wolfratshausen) where I used to go as a kid.
She was dressed as a caddie, apparently about to carry the bag for Denis' pupil Francesco Molinari. That seemed nice and all made sense so it was a bit confusing when I went back in to check the scores and saw that Molinari was on the fourth hole.
I did toy with the idea of going back out to tell her but, like Par 3 play-off absentees Watney and Els, I pretended I didn't know.
And so Wednesday's fun and games are over.
Now it's the real thing and I'm getting a sneaking feeling that Bubba Watson might make a big defence of his title.
Whilst following the Els-Scott-Oosthuizen group down the second fairway this morning I heard a huge roar in the distance. An almost definite hole-in-one roar.
It turned out that the ace belonged to Bubba who three holes earlier had also eagled 13.
One journalist tweeted that Watson used nine-iron for either his tee-shot or approach on seven of the back nine holes. That's phenomenal and shows how the monster-hitting left-hander can overpower this course perhaps like no other player in the field.
Bubba is out early on Thursday morning and, who knows, might just be the last man standing on Sunday afternoon.
Three men have defended the title before so at least there's no jinx to worry about there.