Zurich stat pack
Some key stats and a form guide for this week's Zurich Classic of New Orleans in Louisiana.
Last Updated: 23/04/13 4:44pm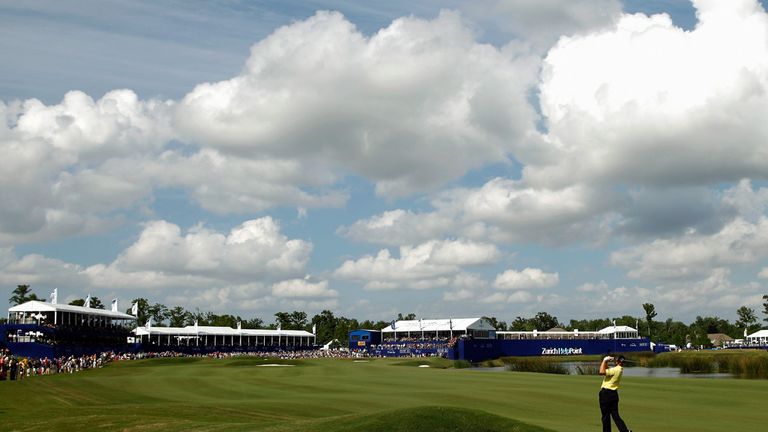 The Tour travels to the Deep South for an event first staged 50 years ago.
The pros have been heading to the Gulf of Mexico since 1963, although the current venue - TPC Louisiana - first staged the tournament eight years ago.
SELECTED PLAYERS with GOOD to REASONABLE FORM at TPC LOUISIANA
Full Tour History
Player: '05 / '07 / '08 / '09 / '10 / '11 / '12
Jason Bohn: MC / - / 20 / MC / Won / 67 / MC
Greg Chalmers: - / - / - / 24 / 5 / 8 / 30
KJ Choi: - / - / - / 24 / 37 / 3 / 39
Brian Davis: 17 / MC / 33 / 19 / 57 / 56 / 39
Brendon de Jonge: - / MC / - / MC / MC / 26 / 18
James Driscoll: 2 / - / 12 / MC / MC / MC / 45
Jason Dufner: - / 44 / - / 9 / 7 / 3 / Won
Ken Duke: - / 2 / MC / MC / 21 / - / 7
Bob Estes: MC / 8 / 33 / 13 / MC / MC / MC
Lucas Glover: 3 / 8 / MC / 19 / - / - / 66
Charley Hoffman: - / 66 / MC / 19 / 28 / 40 / MC*
Charles Howell: 59 / - / - / 2 / 43 / 13 / 39
Matt Jones: - / - / 64 / 70 / 10 / 6 / 45
Jerry Kelly: 65 / - / - / Won / 67 / MC / MC
David Mathis: - / - / - / 42 / - / 8 / 10
George McNeill: - / 44 / 70 / 67 / Wd / 6 / 24
John Merrick: - / 18 / 7 / 42 / 62 / 26 / 52
Sean O'Hair: 14 / 15 / - / - / - / MC / -
Jeff Overton: - / MC / MC / 13 / 2 / 69 / 18
Greg Owen: 65 / - / - / 19 / 16 / - / 30
John Rollins: 17 / - / - / 13 / 21 / 26 / 7
Andres Romero: - / - / Won / Dq / 37 / 8 / MC
Rory Sabbatini: - / - / - / 2 / 53 / MC / -
John Senden: - / - / 12 / 34 / 43 / 13 / 39
Chris Stroud: - / 5 / 64 / MC / 21 / 26 / 24
Josh Teater: - / - / - / - / 16 / 16 / MC
Nicholas Thompson: - / - / 4 / 24 / 7 / - / -
David Toms: MC / 44 / - / 5 / 28 / 18 / 45
Cameron Tringale: - / - / - / - / 28 / 18 / 7
Nick Watney: 47 / Won / 42 / MC / - / 20 / MC
Bubba Watson: - / 5 / 70 / MC / 43 / Won / 18
Boo Weekley: - / MC / - / 13 / 10 / MC / -
Charlie Wi: 68 / 44 / MC / 2 / 21 / 16 / -
MC* - Missed Additional 54-Hole Cut
Note: There was no tournament in 2006 due to damage caused to the course by Hurricane Katrina in August of the previous year
SELECTED PLAYERS with POOR to MEDICORE FORM at TPC LOUISIANA
Full Tour History
(No Top-35 Finishes from three or more starts)
Player: '05 / '07 / '08 / '09 / '10 / '11 / '12
Stephen Ames: - / - / - / MC / MC / MC / MC
Justin Bolli: 59 / - / 57 / - / MC / - / -
Steven Bowditch: - / MC / - / - / - / MC / MC
Robert Garrigus: - / - / MC / MC / MC / - / -
Tim Herron: MC / - / - / - / MC / 51 / 39
Chez Reavie: - / - / 42 / - / MC / 70 / MC
Mike Weir: - / - / MC / MC / MC / - / -
TOP-10 Finishers at TPC LOUISIANA in 2012 (Not Listed Above)
Ernie Els: (2nd)
Graham DeLaet: (T-4th)
Ryan Palmer: (T-4th )
Rickie Fowler: (T-10th)
Justin Rose: (T-10th)
LOWEST 15 STROKE AVERAGES at TPC LOUISIANA
(Last Four Years - 2009/12)
Average (Rounds)
68.75: Jason Dufner (16)
69.67: Charlie Wi (12)
69.69: Greg Chalmers (16)
69.75: Stuart Appleby (8)
69.75: Rickie Fowler (8)
69.75: Cameron Tringale (12)
69.83: David Mathis (12)
69.88: Charles Howell (16)
69.88: John Rollins (16)
69.93: Bubba Watson (14)
70.00: KJ Choi (16)
70.00: Greg Owen (12)
70.00: Nicholas Thompson (8)
70.00: David Toms (16)
70.13: Jeff Overton (16)
(Min. No. of Rounds = 8)
LOWEST ROUNDS at TPC LOUISIANA
64: Kyle Reifers (2007)
64: Troy Matteson (2009)
64: Dean Wilson (2011)
64: Greg Chalmers (2012)
64: Russell Knox (2012)
64: Ryan Palmer (2012)
65: 19 times
Note: To date, no one has carded as low as 64 in the final round at TPC Louisiana
TPC Louisiana: Par 72; 7,341 yards
Winning Totals (Last Three Years):
2012: 269 (Jason Dufner)
2011: 273 (Bubba Watson)
2010: 270 (Jason Bohn)