Flying finish
There was a thrilling finish in Dubai as the curtain fell on the amateur Matchplay Championship.
Last Updated: 01/07/13 12:53pm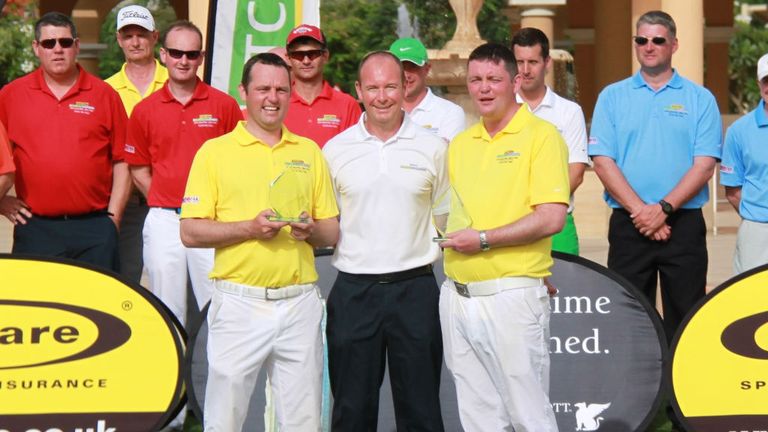 It's been a great week in Dubai for our amateurs who have bagged one of the best prizes available for your average golfer.
The old cliché will tell you that 'we are all winners' but in this case it's hard to argue as all 40 have been whisked off to sunny Dubai and put up in the five-star JW Marriott Marquis.
Four rounds at The Els Club thrown in for good measure, and today we had thrilling finishes, a sizeable gallery and more TV cameras following the action to provide highlights for Sky Sports next month.
The addition of the VPAR live scoring system certainly added to the drama on the final round, with competitors knowing exactly where they stand during the closing holes there's really no excuse.
The whole idea of the Golf care Matchplay Championship, which celebrates its tenth anniversary this year, is to give your average golfer a taste of the high life, for just a £30 entrance fee, and they certainly delivered just that this week.
Nowhere was it more thrilling then in the men's pairs event when Irish brothers Mervin and Michael Hehir claimed top honours, but only after a count back after they had tied with overnight leaders Martin Firth and Andrew Taylor on 119 points.
"I can't believe it. We got off to a fast-start today, with a par at the first and a birdie at the second. After that it's all a bit hazy, but I guess you could say we were in the zone. Although when we dropped a shot on the closing hole, a par-5, I thought we may have blown it," said a thrilled Mervin Hehir. "The Live Scoring element made it very tense coming in, because there was pressure on every shot. You knew exactly where you stood and what you had to do to win."
Martin Pyke from Dartford Golf Club and his playing partner Anne Wheble cleaned up in the mixed pairs event as they finished ten shots clear of husband and wife pairing David and Tracey Morris with 118 points.
In the men's singles Paul Llewellyn successfully defended the title he won last year as he just about got the better of Maartens van Rensburg in what effectively became a two-man shootout.
Llewellyn pipped van Rensburg by just a point after a tense finish, but Saimir Guri stole the show on the final green when he tapped in his final putt looking at the Sky Sports cameras instead of his ball and really playing up the crowd that had assembled.
In the category for non-active players, Simon Gardner and Dean Abeal won by three points in their head-to-head dual with Carl Peirson and Philip Amber.
With two days now to relax after the competition and enjoy Dubai, remaining in their five-star accommodation, they really are all winners - and all for the cost of their £30 entrance fee - plus they can sit back and watch the action on Sky Sports next month!
If you fancy your chances of making the finals in Dubai next year you can still enter the 2014 event. Click Here for details of how to enter.