US Open guide
Dave Tindall's in-depth preview and best bets for this year's US Open at Merion in Pennsylvania.
By Dave Tindall
Last Updated: 13/06/13 9:10am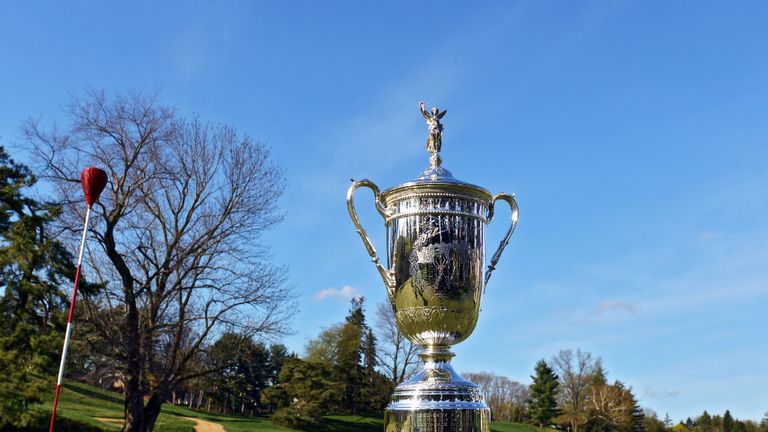 It's a journey into the unknown for the vast majority of the field seeking victory at this week's US Open.
Merion, in suburban Pennsylvania, has not hosted a major championship for 32 years and had seemed destined for the status of forgotten gem.
However, to the credit of the USGA, they've put class before cash and decided to return to a venue which has a storied history.
Bobby Jones won US Amateur titles there in 1924 and 1930 while Ben Hogan famously captured the US Open in 1950, just 16 months after a near-fatal road accident.
More recently, the course staged the 2005 US Amateur and there are some clues from the tournament which might help punters pick the winner this time.
Sky Sports have exclusive live coverage with the first broadcast hitting our screens at 2pm on Thursday (SS2).
Pennsylvania is five hours behind the UK so timings will be more fan friendly than last year's US Open in San Francisco.
The course
At just 6,996 yards (the shortest since Shinnecock in 2004) and set in grounds half the size of most US Opens, Merion is certainly something of a throwback. Indeed, USGA Executive Director Mike Davis is calling this a "boutique U.S. Open." The first hole on the East Course is just 350 yards (a sycamore tree is likely to prevent players from trying to drive the green) while there are other par 4s of 360, 359 and 303 yards. But while there are obvious birdie holes, these are offset by others where players will want to make their par and head to the next tee. These include three of the four par 3s which can be played in excess of 235 yards (the USGA often move tees up so they may be shorter). "A true blend of short and long," says Davis. "There are going to be more birdies made, trust me, at this US Open than any we have seen in recent history." Strategy off the tee will be crucial (think 3-woods and irons rather than driver) while the rough is long and thick in places. One final thing - the wicker baskets on top of the pins. As well as providing a visual quirk, they make a practical difference too. They don't move so offer no clues as to which way the wind is blowing.
The weather
The incessant rain has been the big pre-tournament story and means the course is likely to play much softer than was hoped. As to the difference it will make, Mike Davis said. "I would contend that if you saw Merion firm for four straight days versus soft for four straight days, you may see an 18- to 20-shot difference in the winning score." Thunderstorms are also in the forecast for Thursday and Friday although better weather is expected on the weekend.
Last year - Webb Simpson
The 25-year-old Simpson found birdies where others couldn't in Sunday's final to snatch victory at Olympic Club in San Francisco. Jim Furyk appeared to be in control of the tournament but fell out of the lead for the first time after taking a six at the par five 16th. Furyk and fellow former US Open winner Graeme McDowell had started the day tied for the lead but, as both stalled, Simpson made his run with birdies at six, seven and eight and a final-round 68 meant he was the only one of the last 18 players to tee-off to break par.
The leading contenders (and Sky Bet odds)
Tiger Woods (11/2): The 2008 US Open at Torrey Pines (when he won on one leg) remains the last of Tiger's 14 major victories and four wins already in 2013 suggests he'll add to that tally sooner rather than later. His other US Open wins came in 2000 (by 15 shots at Pebble Beach) and 2002 (Bethpage Black) so it's a tournament he's won just once in 11 years. However, he'd had an even leaner time of it at Sawgrass (no win there since 2001) but that didn't stop him winning this year's Players Championship on a course requiring precision so Tiger backers have plenty to encourage them.
Adam Scott (20/1): Scott was one of the first to arrive at Merion this week as he seeks to make it back-to-back major victories. It's clear that the Aussie has become expert at peaking for the majors and he's kept his schedule deliberately light with just two outings (19th at Sawgrass, 13th at Memorial) since his sensational breakthrough victory at Augusta. His US Open record is very modest but the fact that his best result (tied 15th) came at Olympic Club last year is perhaps more evidence that he's now able to raise his game for the majors.
Matt Kuchar (20/1): Aside from Tiger Woods, Kuchar is the only other multiple winner on the PGA Tour this season after following up his WGC-Matchplay win with another excellent victory at the Memorial Tournament two weeks ago. Those wins have actually trebled his number of career victories on the PGA Tour so he's now getting the job done. The next step is a first major and he's clearly building towards that goal. In his last 13 starts at this level, he's reeled off five top 10s and six other finishes of tied 27th or better. He was sixth in the 2010 US Open at Pebble Beach.
Phil Mickelson (20/1): The left-hander may spray it off the tee but his results in the US Open make a mockery of those who say his game isn't suited to it. The bottom line is that Mickelson is a five-time runner-up in the US Open and all those have come on the East Coast where he's thrived on the old-fashioned courses which require far more than just straight driving. Merion should be right up his street therefore and he'll head to Pennsylvania on the back of a tied second at the St Jude Classic on Sunday. His putter looks hot and after all the near misses in this event, this could be his year.
Rory McIlroy (22/1): True, McIlroy owns a bunch of US Open records after his sensational eight-shot win at Congressional in 2011 but that was on a course very different to this and, in fact, it didn't feel like a US Open at all. That's not to say an in-form Rory couldn't contend here but he continues to look out of sorts after a missed cut at Wentworth and a tied 57th at Memorial on his last two starts. He enjoyed his practice round at Merion and the softening of the course should suit him but it remains to be seen whether playing alongside Tiger Woods over the first two days will be a hindrance (Woods has shot the lowest round 9 times in the 12 rounds they've played together).
Graeme McDowell (22/1): G-Mac has thrived in this event, with a victory at iconic Pebble Beach in 2010 and a near-miss tied second at Olympic Club last year when he started the final day tied for the lead. In fact, the Northern Irishman has an excellent record in the majors in general with 11 top 20s in his last 19. Adding to the mix is some hugely impressive recent form which shows two wins in his last four starts - the first in The Heritage at Hilton Head and the most recent in the Volvo World Match Play Championship in Bulgaria. He's also ranked 1st in the PGA Tour's Driving Accuracy stats for 2013 so it's no surprise that the bookies are taking cover by offering him at similar prices to McIlroy.
Lee Westwood (28/1): Westwood has made the top 10 in 10 of his last 19 majors and seven of those have been top threes but, of course, he still hasn't won one. So he provides a conundrum. Is there too much mental scar tissue for him to ever win one or is it just a case of putting himself in contention again and finally getting a break - the circumstances which saw Ernie Els get over the line again at Royal Lytham when many, himself included, wondered if he'd ever win another major. Westwood's short-game is definitely sharper since the extra attention he's given it since moving to sunny Florida but a final-round collapse at Wentworth gave the doubters more ammunition in the debate over whether he'll win a big one.
Justin Rose (28/1): Holing four and five footers for par is a key skill at a US Open and there must be doubts about Rose in this department. Poor putting cost him at Augusta this year when, tee to green, he looked excellent and it hasn't improved (he's a lowly 156th in Strokes-Gained Putting on the PGA Tour). If Rose can sort out his troubles on the greens, he'd be a live contender. He has the calm demeanor required of a US Open winner and has posted top fives in each of the four majors.
Brandt Snedeker (30/1):
Snedeker had a golden chance to win The Masters at Augusta earlier this year before uncharacteristic poor putting cost him in the final round. He posted a fine eighth place in the Players Championship at Sawgrass two starts later but since then he's failed to make the weekend at Memorial and St Jude. To be fair he went into The Masters on the back of a pair of missed cuts so he can blow hot and cold and his US Open record is sneakily impressive with three top 11s in his last four starts in the year's second major.
Best of the rest
Webb Simpson (40/1): Simpson took victory at Olympic Club in San Francisco last year but says of Merion: "I tell people all the time, it's my favorite golf course in the world. A lot of the courses we play are just a bomber's paradise, but Merion's the opposite." It's asking a lot to win this tournament two years in a row (Curtis Strange was the last to do it in 1988/89 but Simpson is certainly a big talent. His last four finishes include a second place at The Heritage and a 15th at Sawgrass.
Rickie Fowler (66/1): "It's one of my favourites. It's got a lot of variety and a lot of options," said Fowler after a practice round on Sunday. Those views weren't just shaped by nine holes, they reflect his past exploits at the course when he starred for the US in the 2009 Walker Cup held at Merion. Fowler won four points out of four as the Americans romped to a seven-point win so he has some extremely fond memories of the Pennsylvanian course. His recent form isn't great but he was fifth in Putting Average when 37th at Muirfield last time out and it would be no surprise if everything clicks again at a Merion course he loves.
Ernie Els (60/1): The current Open champ is also a two-time US Open winner although you have to go a long way back to find his name on the list of champions (1994 and 1997). However he's had five top 10s in this event since then, including two in the last three years after finishing third at Pebble Beach and ninth at Olympic Club. Els was sixth at Wentworth recently and loves old-fashioned tracks like Merion so the big South African could well be in the mix come Sunday.
Dark horses
Ryan Moore (80/1): After winning the 2004 US Amateur, Moore would have been the defending champion at the following year's event at Merion but by that stage he'd turned pro. To be honest, he hasn't lived up to the vast promise he showed during his amateur career but a victory in Las Vegas last October gave him a second PGA Tour win and time is very much on his side. He loves fast, bentgrass greens, hit an incredible 96.4% of fairways when 13th at The Memorial on his last start and was runner-up in the 2010 AT&T National in Pennsylvania so could be an interesting contender.
Michael Thompson (125/1): After a tied second place in last year's US Open, Thompson can clearly challenge at this level and he's proved in 2013 that his runner-up finish in San Francisco 12 months ago was no fluke. Back in March he captured the Honda Classic on a tough layout and followed that up with an eighth place in the WGC-Cadillac Championship. He was also eighth on his last start at Memorial so he's clearly being underrated
Conclusion
Six of the last seven US Open winners were ranked higher in Driving Distance than Driving Accuracy for the week so let's immediately kill the myth that you have to be a straight-hitter.
Sure, it's best not to go in the thick rough but, when you do, those who are strong and hitting shorter clubs into the green will have an advantage. Hence why big powerful hitters like Angel Cabrera can win a US Open when logic says they can't.
Quite simply, keeping the ball in the fairway isn't the be all and end all and that's why my main pick is Phil Mickelson.
Not playing the week before The Masters clearly agitated Mickelson (he thought this year's pre-Augusta venue wouldn't give him proper preparation) so it wasn't a big surprise that it affected his perennial challenge for the Green Jacket.
However, ahead of this week's US Open he did get his desire to play on a course he thought would get him into the competitive groove and he made a point of picking out the similarities between Merion and TPC Southwind.
To prove that a huge part of golf is played in the mind, a happy Mickelson went on to finish tied second at the St Jude Classic on Sunday and that sets him up perfectly for a crack at a tournament that has cruelly eluded him.
Five times the left-hander has finished runner-up in this event and clearly that makes a complete mockery of the idea that US Open set-ups don't suit him.
Mickelson actually played at Merion in the 1989 US Amateur but it's a recent reconnaissance mission which got him particularly excited about this year's US Open.
Talking about Merion, he revealed: "It's really a wonderful set‑up. It's the best I've seen. They give you birdie opportunities on the easy holes, and they made tough pars a little bit harder, which allows the player that is playing well to separate himself from the field. I thought that it was probably the best Open set‑up I've seen."
Mickelson's second place on Sunday followed on from a third at Quail Hollow two starts earlier when he showed some remarkable powers of recovery (a vital US Open skill) so his form is good and, mentally, he seems absolutely spot on to finally land a first US Open title.
Oh, and with the likelihood of having more birdies in a US Open than ever before, check out the name at the top of the PGA Tour's Birdie Average stats.... P Mickelson.
With his putter looking hot, Lefty can realise his US Open dream and land us some 20/1.
Like Mickelson, Rickie Fowler loves shaping shots and that's a requirement at Merion.
He isn't the most consistent player around but when he's on he's on and having excelled at Merion in the 2009 Walker Cup he's got proven form on this track. Few in the field can say that.
That extra course knowledge can help him get a fast start while others adapt so as well as backing Fowler outright at 66/1, take him at 60/1 for first round leader.
At bigger prices, two more Americans I like are Ryan Moore and Michael Thompson.
Like so many recent major winners, both have the benefit of a victory in the last 12 months and, quite simply, Americans are far better at winning majors than Brits.
Next, I don't think Ernie Els will win but a top five certainly seems within reach after a ninth last year and a third in 2010.
He boasts nine top 10s during his US Open career so is often on page one of the leaderboard. The 12/1 that he make the top five again is worth taking.
Finally, back to the first round leader market and I like the look of Dustin Johnson at 45/1.
Conditions are likely to be at their soggiest on Thursday and DJ is known as a "mudder" after wins in poor conditions.
I just wonder if he can keep focus over four days of a US Open so rather than the outright market I like him best for day one leader.
He's finished round one in the top 10 in four of his last seven starts on the PGA Tour and that includes sitting third after the opening day of this year's Masters.
Best bets
2pts e.w. Phil Mickelson at 20/1 (1/4 1,2,3,4,5,6)
1pt e.w. Rickie Fowler at 66/1 (1/4 1,2,3,4,5,6)
1pt e.w. Ryan Moore at 80/1 (1/4 1,2,3,4,5,6)
1pt e.w. Michael Thompson at 125/1 (1/4 1,2,3,4,5,6)
2pts Ernie Els to finish in the top five at 12/1
1pt e.w. Rickie Fowler to be first round leader at 60/1 (1/4 1,2,3,4,5)
1pt e.w. Dustin Johnson to be first round leader at 45/1 (1/4 1,2,3,4,5)