Glorious Gullane
Those visiting Muirfield for this year's Open must also see the three superb courses at Gullane GC.
By Matt Cooper
Last Updated: 08/07/13 11:53am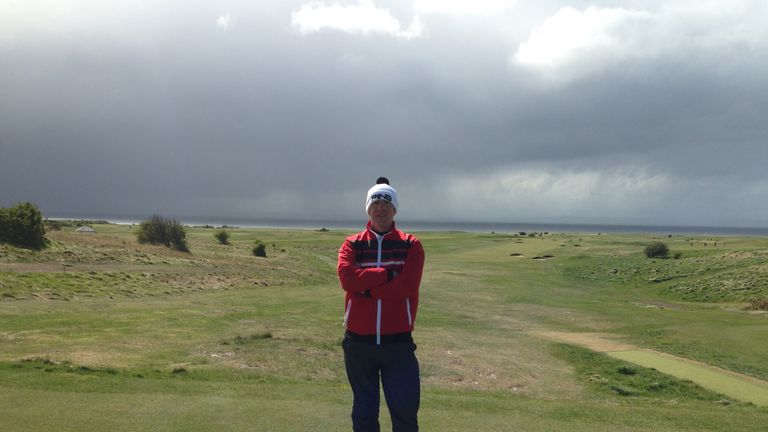 There are very few golf towns quite like Gullane in East Lothian, writes Matt Cooper.
About 15 miles east of Edinburgh, it has it all: a short but bustling high street crammed with golf shops and pubs devoted to the game, a practice ground instead of a town square, an Open Championship course (Muirfield) at one end of town and a golf club with three wonderful courses at the other end.
The golf club is just yards from the high street and after teeing off on either of the three courses you climb Gullane Hill and then find yourself looking down onto a huge expanse of magnificent linksland.
Inspired by the sight, the great golf writer Bernard Darwin wrote in 1934: "Gullane is one of the most beautiful spots in the world."
Taking in that view it is impossible not to smile and feel your heart soar.
Even when the wind is gusting at 50 mph and dark clouds are hurtling across the sea in your direction, ready to toss hailstones in your face.
Really - even then it is impossible not to smile and feel your heart soar.
Player
As the winner of nine major championships and 165 tournaments worldwide South Africa's Gary Player knows a thing or two about golf.
Of East Lothian he says: "Golf there is something every enthusiast should experience. It's unique in the world due to its concentration of fantastic courses dotted along one very picturesque coastline. It's really no wonder it's know as Scotland's Golf Coast."
It's a feeling we understood throughout our short trip.
After a late arrival the night before, colleague Dave Tindall and I woke in the new Lodge at Craigielaw Golf Club: big beds, big showers and a big breakfast - the perfect start to a long day of golf.
Our morning was spent at Muirfield (click here for Dave's review) and then we crossed town to have lunch in the Gullane GC clubhouse, peering out at the clouds, the occasional bursts of rain and the flag sticks twisting and bending in the wind.
Locals had spotted our presence via Twitter and were offering kind advice. For example: "Don't put an umbrella up on the 7th tee or you'll take off and never be seen again."
An hour later we had some idea what they meant. On the third tee of the no.1 course we had climbed the hill and were greeted by a special sight: the three courses spread out below us and beyond that the Firth of Forth glistening in the sun which occasionally broke through the clouds which hurtled towards us from the Kingdom of Fife.
Moments later we were walking backwards down the fairway, trying to keep the hail from our faces before attempting to hit straight shots into a gale that threatened to tear the clothes from our bodies.
Fortunately that lasted only one hole and left us with a slightly bizarre combination of feelings: exhaustion at attempting to stand up straight, exhilaration at playing such a fine golf course, wonder at the tenacity of any local who coped playing week in-week, and sheer joy at the views.
The view from the 7th tee was so wonderful I could do nothing but laugh out loud. Away beyond the town we could see Muirfield high above the beach and crashing waves (who knew it was so close to the cliff edge?).
Turning back to the course we were playing, we attempted - haplessly - to hit drives into the gale. But there were high points in our golf too - shots that were carried absurd distances on the wind and holes that presented fun challenge after fun challenge.
That evening we took a walk round North Berwick, the other great golfing town in East Lothian, and just a ten minute drive from Gullane. As we watched the sun fall over the famous links there, Dave expressed surprise about the region.
"I didn't realise there were so many courses in such a small area," he said. "I thought North Berwick was nearer Berwick, in other words near England! I didn't realise that everything is just a short drive away."
That, as Gary Player noted, is the beauty of Scotland's Golf Coast.
For more information about Golf East Lothian click here and for more information about Gullane GC visit their website.