Royal Birkdale
Royal Birkdale - scene of this week's Senior Open - should be on everyone's must-play list.
By Dave Tindall, Mark Kendall, Matt Cooper and Harry Emanuel
Last Updated: 26/07/13 7:44am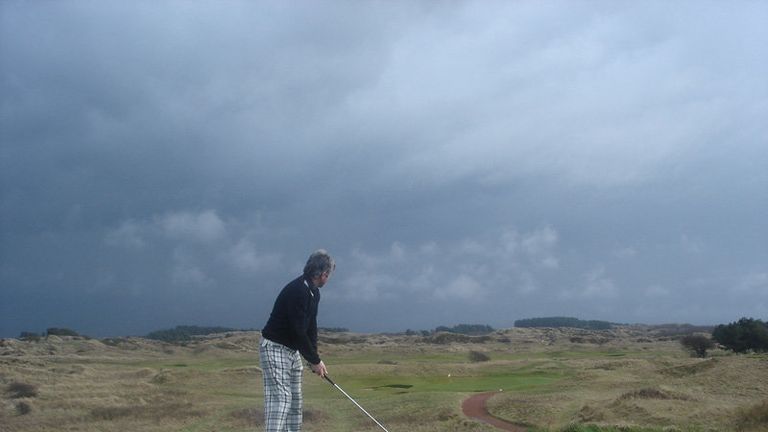 Dave Tindall (handicap 22)
When you're a 22 handicapper and you tell people that on your first visit to the great Royal Birkdale you birdied the extremely tough par four first hole it does come across a bit Kim Jong-Il - the North Korean dictactor who claimed to have shot 38-under-par with 11 holes-in-one in his first golf outing.
But, no word of a lie, I carded a three.
Given that I'm going to dine out on this for years to come, I thought I'd check a bit of the hole's history and was delighted to find out that Padraig Harrington played it in bogey, par, par, par on the way to winning the 2008 Open at at Birkdale while it was the second toughest hole in the 1998 Open.
The most satisfying thing was that it was a proper three - not a flukey hole out. In short, a decent drive of about 220 yards, a career hybrid from 210 out which bounded onto the green and a 25 foot putt right into the middle of the hole.
If I'd been shot dead there and then I'd have died a happy man although little did I know that seven holes later the grim reaper threatened an appearance as bolt lightning circled overhead.
At this point I mentally googled "golfers who have been struck by lightning" and my brain threw up Retief Goosen (twice) and Gordon Heron, a guest on the Alan Partridge Christmas special who was confined to a wheelchair after being struck on the 18th hole of the Colgate Cup and was now being pushed around by his wife Liz (with her lovely bird laugh).
Not wanting to join them, we finally decided to abandon our clubs and leg it to the safety of the clubhouse where a cup of tea warmed us up.
It was a shame that the final 10 holes were played with freezing hands and soggy clubs but I did manage one more Kim Jong-Il moment when birdieing the 12th.
Still, despite the elements, I absolutely loved Royal Birkdale. It's a fabulous layout, constantly makes you think and two birdies amongst my usual collection of double bogeys was a real thrill.
And, if truth be known, the wild weather actually added to the authenticity of the whole experience.
Mark Kendall (handicap 18)
This was my first experience of playing an Open course and, despite the weather which ensured numb extremities come the close, Birkdale did not disappoint.
Having been present for the Open in 2008, it felt all a little surreal standing on the first tee looking out down the fairway having been the other side of the barriers watching Ernie Els and company doing likewise.
Equally bizarre was the transformation from beautiful spring sunshine at the fourth hole to full-on thunderstorm complete with chunky hailstones and menacing lightning forks by the eighth.
An unwelcome distraction it may have been - especially for this writer whose form nosedived rather after the enforced dash for the sanctuary of the clubhouse - but the unforgiving weather did serve to make proceedings somehow more memorable.
Not that the course needs any help in etching a place in the memory. The spectacular seaside setting, stunning rolling landscapes, rugged yet immaculate upkeep, pristine greens - there's simply nothing not to like.
Virtually every hole seems like a feature hole, each offering its own challenges, joys (the par at the devilishly difficult sixth will live long in the memory) and, of course, frustrations.
But while the golf was a not unexpected pleasure, it was the warmth of the welcome at the club in general that really added to the experience.
Steeped in tradition and home to some of the sport's greatest history it may be, but you can put aside any preconceived ideas of stuffiness or snootiness inside the clubhouse. We were made to feel most welcome visitors by staff and members alike, all rightly proud of what is a very special place to play golf.
Matt Cooper (handicap 13)
I had previous experience of playing Royal Birkdale and the memory of that occasion has stuck with me ever since - not just the fact that it is the best course I have ever played (severe, fair, majestic to behold) but also the friendliness of the welcome in the clubhouse.
Many great golf clubs are intimidating places yet on that first visit (two days before Christmas a few years ago, taking advantage of a bargain green fee) we were greeted like old friends, our excitement at playing an Open venue was indulged (we were shown a Christmas card Peter Thomson had sent the club) and the course was opened after overnight frost despite us and a fourball of members being the only players in sight.
This visit was no different. On arrival I took a wander around the clubhouse, peering at the photographs and scorecards that adorn the walls. One member of staff tapped me on the shoulder. "Come and look at this," he said with a twinkle in his eye.
He led me to a photograph of Tom Watson holding aloft the claret jug after his 1983 Open win at the course. I smiled. "Take a closer look at the jug," I was urged. So I did and burst out laughing because it was clearly a little bit wonky. "He dropped it accidentally," my new friend explained. "Apparently he got a bit excited but the R&A had it repaired in time for the official photographs!"
The staff even rescued me later in the day. After Harry had been chauffeured to the railway station by his valet, Dave, Mark and myself drove into Southport for dinner. On arrival I realised I had left my clubs behind. I returned to find a dark and apparently empty clubhouse.
Hastily I raced around the back, desperately hoping to find a sign of life which I finally did at the bar. I knocked on the window and discovered the bar staff had not only found my bag but had waited 15 minutes for me to realise my error - how's that for a) kindness and b) service?!
On the course (bolstered by the maiden journey of my Johnny Miller-like Sub Seventy tartan trousers) I had a curious day. I played one truly dreadful shot on every hole yet was playing to my handicap and on the 8th green in two when the storm came.
On return I four-putted the 8th (more Sienna Miller than Johnny) and, although I improved after that, I must hold my hands up to Harry's play on the final four holes (something I can do now but struggled to at the time, so cold were they).
When I parred the 14th to leave Dave and I three up with four to play I confess I was mentally weak (I thought the match was won). Harry did no such thing. His resilience was quite a lesson, bolstered by a dogged long game, a hot putter and his faithful caddie Glenfiddich.
Harry Emanuel - handicap 17
It never ceases to amaze me how different Open venues feel when you return to play them after watching an Open Championship. The grandstands, throngs of punters, burger vans, bars and competitors are replaced by beautiful rolling terrain with ocean views.
Despite the calm surroundings the air is still tinged with that special atmosphere only the world's oldest and best courses hold. You can sense the history from the moment you wander the corridors of the clubhouse looking at the pictures of past champions to the final green where great sporting deeds have been accomplished.
Birkdale, which hosted the most recent of its eight Opens in 2008, is a joy to play. It is challenging without striking fear into high handicappers and the greens are some of the best you will ever see. A great mixture of long and short holes, doglegs and challenging par threes it is a truly great golf venue that will live long in the memory.
Birkdale is close enough to the capital that you can enjoy the experience comfortably in a single day. From London you can take the gentleman's train at 9.30 and be at the track by 12.30. You can have lunch, play a round, enjoy a few drinks at the bar and catch the last train home to be safely back in the metropolis by midnight.
Our match had a bit of everything from the majestic - the Wise One's opening birdie (accompanied by his mumblings of I have never been under par on a golf course before and mine that we should never have given him so many shots) - to the bizarre with the entire team running for cover under one of the fiercest thunderstorms I've ever seen on a golf course.
My partner (Mark Kendall) kept us in the match with some steady play on the front nine. I returned the favour late in the match which saw us make a miraculous recovery from three down with four to play to sneak a half.
Many thanks to Glenfiddich for caddying for me (a better reader of putting lines I am yet to meet) and the beautiful young girl on the train who had the dubious pleasure of helping me wash down three bottles of wine and a few rounds of gin and tonic which saw us both fall out of the carriage and sway arm in arm merrily into the night.